Specific Item Information
: Introduced by Pullman in the mid-1960s, the PS-4427 low side covered hopper became the backbone car for many of the large grain hauling railroads as well as the car of choice for many leasing companies. The 4427 also was used to haul malt and sand products, which increased their venerability. Many of these hoppers wore colorful, diverse schemes, which featured large logos or lettering. Some of these cars still exist in service today.
Features:
NEW! Gate tracks on chute
Upgraded Brake Wheel
Sturdy Body
Crips Lettering
Accurate paint schemes
Knuckle couplers
Model Information: In the 1990s, Walthers decided that they should develop their own toolings in China to manufacture their own rolling stock. In the past they had imported N Scale rolling stock from European manufacturers such as Roco with their own paint schemes and packaging, but China was new. Many other manufacturers were able to vastly reduce their costs by working with Sanda Kan, Kader and other Hong Kong based manufacturers to produce good quality plastic rolling stock and locomotives and them importing them to the United States.

This is an example of one of the handful of toolings Walthers developed to be produced in China and imported with Walthers branding. It is not particularly special. These cars are similar in terms of mold detail to the stuff being put out by Roco, Atlas, Rivarassi, Mehano, Lima etc since the late 1960s. The printing is 1990s grade which is to say a lot better than 1967. They feature the ubiquitous truck-mounted Rapido couplers with low-profile plastic wheels. Either because it wasn't very popular or Walthers was able to keep exclusive rights to the tooling, this model was never imported by Life-Like Model Power or anyone else.
Prototype History
: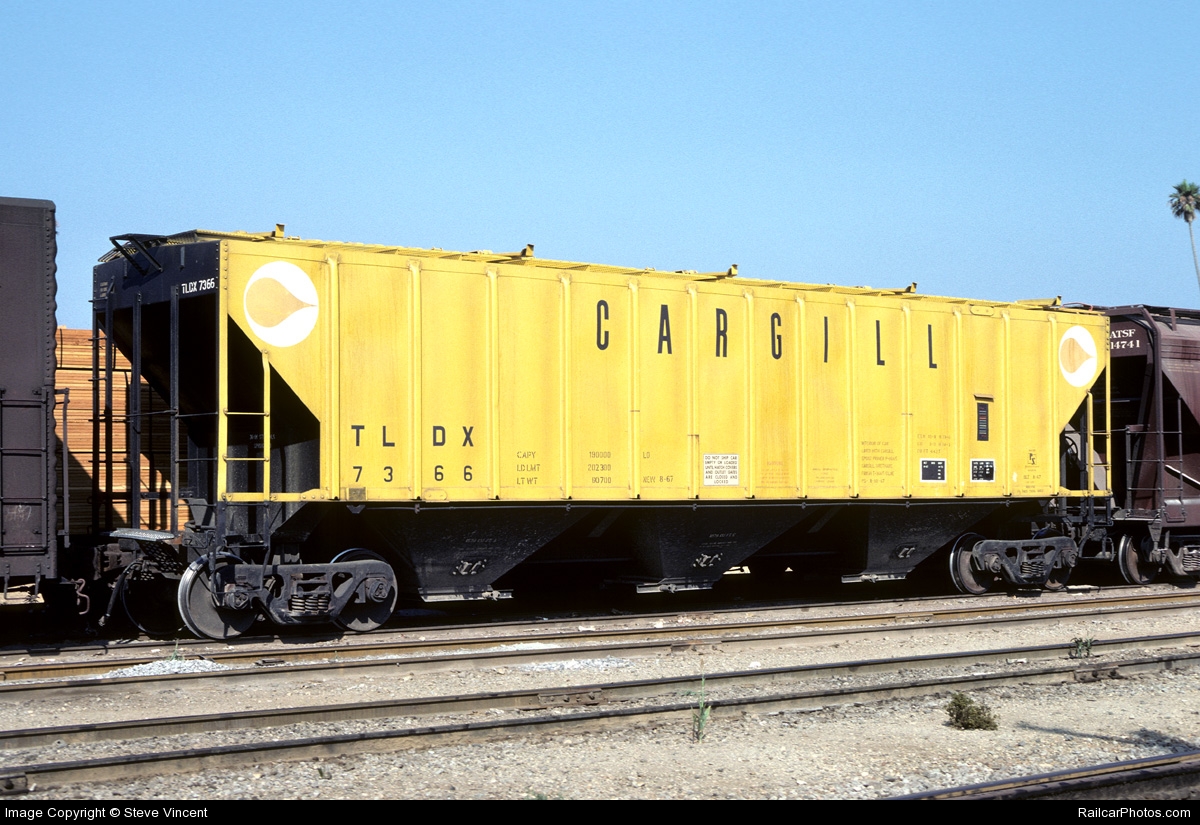 Valued for its large capacity, roof trough hatches, and center discharge gates, the 4427 PS-2 CD High-Side Covered Hopper was a favorite for hauling grain. These large hoppers could be found across the continent hauling grain and other medium-density loads beginning in the 1960s, often in multi-car cuts or unit trains. Many are still seen in service during the fall harvest, 30 years after their construction.
Even with Pullman Standard Car Manufacturing Company's passenger car designs and patents spun off to a separate company called Pullman Technology in 1982 (which was eventually sold to Canadian based Bombardier in 1987) and Pullman Standard's remaining railcar manufacturing plants and freight car designs and patents sold to Trinity Industries in 1984, American manufactured Pullman freight and passenger cars were (and to this point in time still are) well known in North America.
When it came to hauling dry bulk goods such as agricultural commodities, cement, clay, dry chemicals, salt, or sand. many railroads and private owners selected the Pullman Standard PS-2 series covered hopper.
Utilized to transport dense and heavy granular products like cement, clay, potash, and sand, due to North American axle weight load limits, two (and later) three bay models were often chosen.
When it came to hauling much lighter commodities such as barley, corn, grain, malt, oats, soybeans, sugar, and wheat, these kinds of products would most commonly be transported in three or four bay covered hoppers.
Unlike two bay models, large four bay cars lend themselves to rapid load and discharge operations.
While there are a wide range of products covered by the PS-2 designation, it was Pullman's 4427 cubic foot capacity covered hopper that stood out as being the first of the larger capacity models to be manufactured in greater numbers.
Introduced as the PS-2CD (center discharge) in late 1963, the early production "low hip" design 4427 cubic foot capacity cars had low body sides, which concealed most of the hopper bay area.
The manufacturing of "high hip" design raised side 4427 models commenced in November 1966.
Over 19,300 PS2-CD 4,427 cars were produced.
Visibly apparent are a few different body style variations.
With the latter style being the most popular choice, the top of the covered hoppers could be fitted with large trough style openings, or, a series of round ones.
With the latter position being most common, brake wheels could be positioned high up on the body end, or, low mounted.
Road Name History
:

The Consolidated Rail Corporation, commonly known as
Conrail
(reporting mark CR), was the primary Class I railroad in the Northeast U.S. between 1976 and 1999. Conrail is a portmanteau of "consolidated" and "rail" from the name of the company.
The U.S. federal government created Conrail to take over the potentially profitable lines of multiple bankrupt carriers, including the Penn Central Transportation Company and Erie Lackawanna Railway. With the benefit of industry-wide regulatory requirements being reduced (via the 4R Act and the Staggers Act), Conrail began to turn a profit in the 1980s and was turned over to private investors in 1987. The two remaining Class I railroads in the East, CSX Transportation and the Norfolk Southern Railway (NS), agreed in 1997 to split the system approximately equally, returning rail freight competition to the Northeast by essentially undoing the 1968 merger of the Pennsylvania Railroad and New York Central Railroad that created Penn Central. Following Surface Transportation Board approval, CSX and NS took control in August 1998, and on June 1, 1999, began operating their portions of Conrail.
Brand/Importer Information
: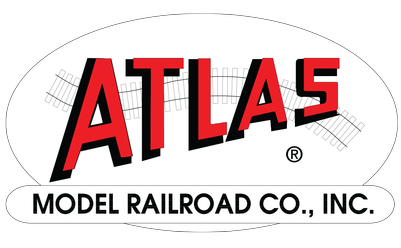 In 1924 Stephan Schaffan, Sr. founded the Atlas Tool Company in Newark, New Jersey. In 1933 his son, Stephan Schaffan, Jr., came to work for his father at the age of sixteen. Steve Jr. built model airplanes as a hobby and frequented a local hobby shop. Being an enterprising young man, he would often ask the owner if there was anything he could do to earn some extra spending money. Tired of listening to his requests, the hobby-store owner threw some model railroad track parts his way and said, "Here, see if you can improve on this".
In those days, railroad modelers had to assemble and build everything from scratch. Steve Jr. created a "switch kit" which sold so well, that the entire family worked on them in the basement at night, while doing business as usual in the machine shop during the day.
Subsequently, Steve Jr. engineered the stapling of rail to fiber track, along with inventing the first practical rail joiner and pre-assembled turnouts and flexible track. All of these products, and more, helped to popularize model railroading and assisted in the creation of a mass-market hobby. The budding entrepreneur quickly outgrew the limitations of a basement and small garage operation. Realizing they could actually make a living selling track and related products, Steve and his father had the first factory built in Hillside, New Jersey at 413 Florence Avenue in 1947. On September 30, 1949, the Atlas Tool Company was officially incorporated as a New Jersey company.
In 1985, Steve was honored posthumously for his inventions by the Model Railroad Industry Association and was inducted into the Model Railroad Industry Hall of Fame in Baltimore, Maryland. In addition, Steve was nominated and entered into the National Model Railroad Association Pioneers of Model Railroading in 1995.
In the early 1990s, the Atlas Tool Company changed its name to
Atlas Model Railroad Company, Inc.
Item created by:
CMK
on 2020-01-22 07:03:41. Last edited by
CMK
on 2021-09-09 06:55:57
If you see errors or missing data in this entry, please feel free to
log in
and edit it. Anyone with a Gmail account can log in instantly.