Specific Item Information: Introduced in the 1968 catalog - disappeared a couple of years after.
Non prototypical, based on a European coach car.
Model Information: Introduced in 1968 as the first N scale Passenger car of Lima in its Italian Az version, this body style was then used for several other European road names up until the early 1980's.
With a length of 138mm, this car is shorter than the UIC-Y prototype; it should be 153 mm at N scale (1/160) to be prototypically correct.
For a short period of time after 1968, this body style has also been used repainted with North American paint schemes, until Lima introduced more prototypically correct body styles of North American Passenger cars.
Prototype History
: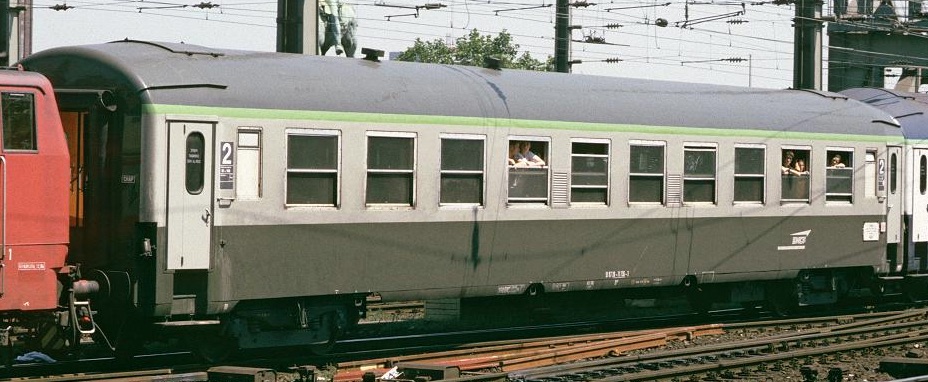 The UIC (
Union International des Chemins de fer
) type Y is a type of passenger car defined in UIC bulletin 567 together with UIC type X. Initially ordered by the Italian
Ferrovie dello Stato
(FS), with 24 manufactured, they have primarily been produced for the French SNCF with 1,327 manufactured from 1963 to 1976.
The East German railways (DR) derived their
OSJD/OSShD
type B cars to deliver from 1966 to 1970 a new series close to the UIC-Y, and then from 1969 a series of type Y/B 70 that is compatible to UIC-Y standards. These Eastern German cars have been acquired by several railways of Eastern Europe: : Czechoslovakia (ČSD), Poland (PKP), Hungary (MÁV), Bulgaria (BDŽ), Romania (CFR).
Ferrovie dello Stato (FS): 20 Az (1st class), 1 ABz, 1 Bz, 1 AcBcz and 1 Bcz;
French National Railway Corporation (SNCF): 185 A9 (1st class), 43 A7D (1st class + Baggage), 53 A4B5 (1st/2nd class), 305 B10 (2nd class), 118 B5Dd2 (2nd class + Baggage), 175 A4c4B5c5x (1st/2nd class sleeper), 448 B9c9x (2nd class sleeper);
Eastern Germany Railways (DR) - type Y : 22 Age (1st class), 66 ABge (1st/2nd class), 142 Bge (2nd class)
Czech Railways (ČSD) - type Y/B 70 : 43 Ame (1st class), 60 Bme (2nd class), 7 BDmse (2nd class + Baggage).
With a standard length of 24.50 m (80' 4-9/16")), they are shorter than the UIC-X and UIC-Z types. They are qualified for at least 120 km/h.
The east-German UIC-Y cars have a higher roof than the French and Italian ones.
From Wikipedia
(in French)
See also these detailed articles (in Italian) for more information about both the prototypes and the N scale models:
UIC-Y
and
UIC-Y from SNCF
.
Road Name History
: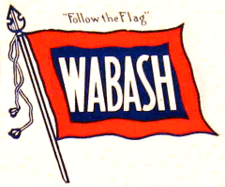 Wabash was the product of an 1889 restructuring (under the leadership of Jay Gould) of several railroads centered around the Wabash St. Louis & Pacific. Wabash was unusual in that it evenly straddled the border between "eastern railroads" and railroads west of the Chicago-St.Louis-Memphis-New Orleans border. In the west, Wabash connected Kansas City, Omaha and Des Moines. Heading east from those points, Wabash reached St. Louis, Decatur, and Chicago. Then, clearly in the eastern territory, Wabash reached Fort Wayne, Detroit, Toledo and finally Buffalo. Total length was about 2500 miles. The Detroit to Buffalo line cut though southern Ontario, Canada on Canadian National trackage rights. That route also required a car float operation across the Detroit River. As a result, Wabash's Buffalo traffic was a fraction of that of competitors Nickel Plate and New York Central. However, Wabash's Detroit-Kansas City and Detroit-St. Louis service was a force to be reckoned with and well patronized by Michigan's automakers. The Wabash Cannonball was the name of the daytime passenger run between Detroit and St. Louis. The song of the same name was a hit long before it was ever applied to the train itself. Wabash bought control of the Ann Arbor in 1925 and soon after, Wabash and Delaware & Hudson jointly bought control of the Lehigh Valley (Wabash's principle connection in Buffalo.) This got the attention of the Pennsylvania Railroad who bought control of Wabash under the auspices of their "Pennsylvania Company" subsidiary in 1928.
As PRR planned their merger with New York Central, it became obvious that they could not take Wabash with them. The first step was to transfer control of Ann Arbor from Wabash to Detroit Toledo & Ironton (also in the Pennsylvania Company family.) Up to that point, Ann Arbor was routinely included in the official Wabash system map. Then PRR arranged for Wabash to be included in the Norfolk & Western-Nickel Plate-Pittsburgh & West Virginia merger that was being planned. PRR didn't overtly control the N&W but they did have considerable influence over them. The deal was made and the new, larger Norfolk & Western leased the Wabash for 50 years in October of 1964. At that point, Wabash became a paper railroad. They were finally merged out of existence by N&W successor Norfolk Southern in the 1990s.
Brand/Importer Information: Lima N scale European models were numbered with 3 digits until 1978. They were renumbered after 1978 by adding "320" before the previous number. e.g. "306" became "320306".
Manufacturer Information
:

Lima S.p.A (Lima Models) was a brand of railway models made in Vicenza, Italy, for almost 50 years, from the early 1950s until the company ceased trading in 2004. Lima was a popular, affordable brand of 00 gauge and N gauge model railway material in the UK, more detailed H0 and N gauge models in France, Germany, Italy, Switzerland, and the United States as well as South Africa, Scandinavia and Australia. Lima also produced a small range of 0 gauge models. Lima partnered with various distributors and manufacturers, selling under brands such as A.H.M., Model Power, Minitrain and PMI (Precision Models of Italy). Market pressures from superior Far Eastern produce in the mid-1990s led to Lima merging with Rivarossi, Arnold, and Jouef. Ultimately, these consolidations failed and operations ceased in 2004.
Hornby Railways offered €8 million to acquire Lima's assets (including tooling, inventory, and the various brand names) in March of the same year, the Italian bankruptcy court of Brescia (town near Milan, last headquarters of Lima) approving the offer later that year. In December 2004, Hornby Railways formally announced the acquisition along with the Rivarossi (H0 North American and Italian prototypes), Arnold (N scale European prototypes), Jouef (H0 scale French prototypes), and Pocher (die-cast metal automobile kits) ranges. As of mid-2006, a range of these products has been made available under the Hornby International brand, refitted with NEM couplings and sprung buffers and sockets for DCC (Digital Command Control) decoders.
From Wikipedia
Item created by:
Alain LM
on 2020-02-10 15:01:31. Last edited by
Lethe
on 2020-05-07 00:00:00
If you see errors or missing data in this entry, please feel free to
log in
and edit it. Anyone with a Gmail account can log in instantly.