Specific Item Information: 3-pack, A-B-A configuration, A units are motorized, B unit is dummy.
198 Deutsche Mark
Model Information
: Model introduced in 1993 and fully revised in 2002 with the same mechanism as the FA-1/FB-1 introduced 2 years before.
The 1993 version consisted of powered FA-2 units and dummy FB-2 units, sold separately. It features a plastic chassis that supports the motor and weights above the truck towers. Couplers are truck-mounted with an open pilot.
The 1993 version was imported in Europe by Brawa as 3-packs (A-B-A configuration) in a Brawa packaging.
The 2002 version, sold as FA-2/FB-2 set, with both engines powered, features:
split-frame
open-sided, skew-wound 5-pole motor
dual flywheels
all wheels geared and provide power pickup
non directional headlight
DCC Information: No provision for DCC for any of the two versions.
Prototype History
: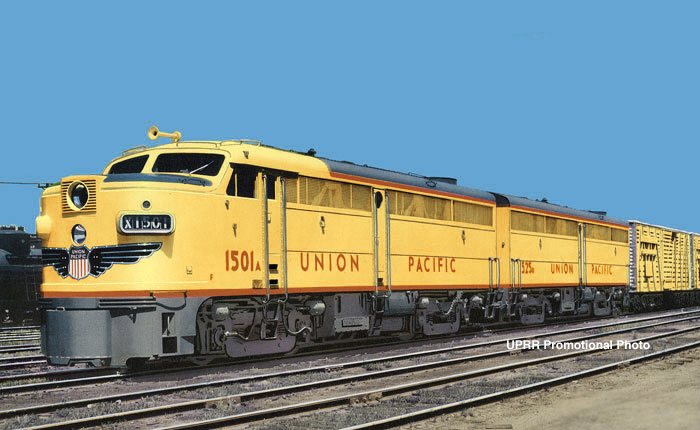 The ALCO FA was a family of B-B diesel locomotives designed to haul freight trains. The locomotives were built by a partnership of ALCO and General Electric in Schenectady, New York, between January 1946 and May 1959. They were of a cab unit design, and both cab-equipped lead (A unit) FA and cabless booster (B unit) FB models were built. A dual passenger-freight version, the FPA/FPB, was also offered. It was equipped with a steam generator for heating passenger cars.
Externally, the FA and FB models looked very similar to the ALCO PA models produced in the same period. Both the FA and PA models were styled by General Electric's Ray Patten. They shared many of the same characteristics both aesthetically and mechanically. It was the locomotive's mechanical qualities (the ALCO 244 V-12 prime mover) and newer locomotive models from both General Motors Electro-Motive Division (EMD) and General Electric (the partnership with ALCO was dissolved in 1953) that ultimately led to the retirement of the FA/FB locomotive model from revenue service. Several examples of FAs and FBs have been preserved in railroad museums, a few of them in operational status on such lines as the Grand Canyon Railway and the Napa Valley Wine Train. ALCO's designation of F marks these locomotives as being geared primarily for freight use, whereas the P designation of the PA sets indicates that they were geared for higher speeds and passenger use. However, beyond this their design was largely similar, and many railroads used FA and PA locomotives for both freight and passenger.
Externally, the FA-1/FB-1 could be distinguished from the FA-2/FB-2 (FPA-2/FPB-2) by the position of the radiator shutters – the FA-1/FB-1's shutters were at the far end of the carbody, whereas on the FA-2/FB-2 they were further forward, the design having been modified to allow the installation of a steam generator behind the radiator.
The FPA-4/FPB-4 were visually different due to the additional radiator space that was positioned below the shutters.
From Wikipedia
Read more on
American-Rails.com
.
Road Name History
: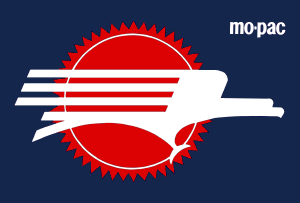 The Missouri Pacific Railroad (reporting mark MP), commonly abbreviated MoPac, with nickname of The Mop, was one of the first railroads in the United States west of the Mississippi River. MoPac was a Class I railroad growing from dozens of predecessors and mergers, including the St. Louis, Iron Mountain and Southern Railway (SLIMS), Texas and Pacific Railway (TP), Chicago and Eastern Illinois Railroad (C&EI), St. Louis, Brownsville and Mexico Railway (SLBM), Kansas, Oklahoma and Gulf Railway (KO&G), Midland Valley Railroad (MV), San Antonio, Uvalde and Gulf Railroad (SAU&G), Gulf Coast Lines (GC), International-Great Northern Railroad (IGN), New Orleans, Texas and Mexico Railway (NOTM), Missouri-Illinois Railroad (MI), as well as the small Central Branch Railway (an early predecessor of MP in Kansas and south central Nebraska), and joint ventures such as the Alton and Southern Railroad (AS).
In 1967, the railroad operated 9,041 miles of road and 13,318 miles of track, not including DK&S, NO&LC, T&P and its subsidiaries, C&EI and Missouri-Illinois.
On January 8, 1980, the Union Pacific Railroad agreed to buy the Missouri Pacific Railroad. Lawsuits filed by competing railroads delayed approval of the merger until September 13, 1982. After the Supreme Court denied a trial to the Southern Pacific, the merger took effect on December 22, 1982. However, due to outstanding bonds of the Missouri Pacific, the merger with Union Pacific become official only on January 1, 1997.
Read more on
Wikipedia
.
Brand/Importer Information
: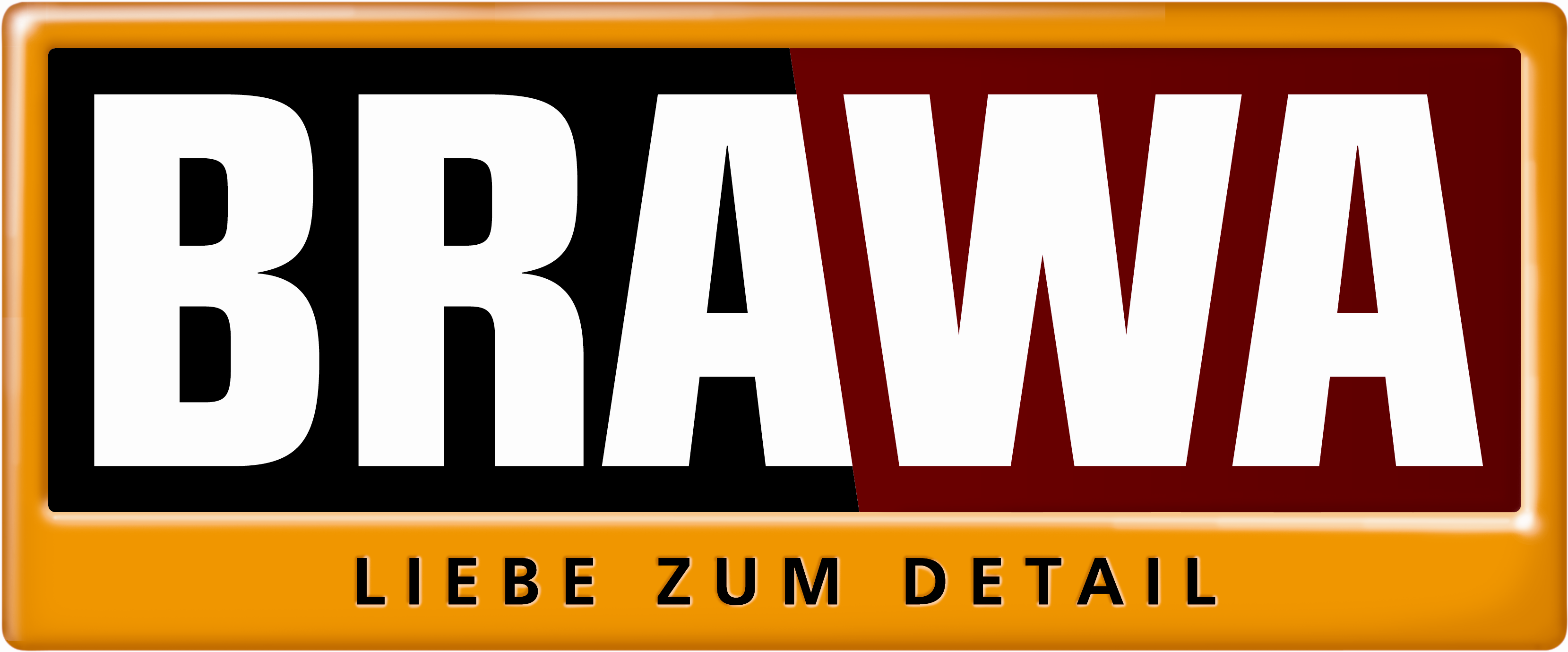 Brawa Artur Braun Modellspielwarenfabrik GmbH & Co. was founded in 1948 by Artur Braun in Waiblingen, Germany, to distribute model trains from other toy makers; eventually they began to manufacture their own lighting accessories such as streetlights and signals. In 1963 they acquired the complete line of motorized trolleybus and ski lift models from Eheim. They also began to expand their own line to include scenery items, and by 1993 they'd added locomotives and rolling stock to their product range. This medium-sized business is today jointly managed by the second and third generations of the Braun family: Günter Braun, son of the founder, and his daughter Katrin Braun are the company's managing partners.
Brawa range covers HO, O and N scales. The N scale range is focused on European rolling-stock, German locomotives and accessories like signals, streetlights, clocks and telephone booths.
Here is how the company describes itself:
At BRAWA, continuity and sustainable thinking and action - as the particular strengths of a family business - have a double impact. Changes are carefully considered and strategic decisions taken on the basis of a long-term vision, thus enabling the company to respond quickly and deliberately to the demands of the market. In addition, cross-generation collaboration ensures a vibrant coexistence of tradition and innovation.
In short, our future course is set and all signals are pointing towards continuity and growth. Our presence at our site in Remshalden shows our commitment to this area and highlights the sustainable nature of our company's location in the region. Sustainability is, as it were, an intrinsic value of our family business.
Item created by:
Alain LM
on 2020-04-20 15:36:14. Last edited by
Lethe
on 2020-05-07 00:00:00
If you see errors or missing data in this entry, please feel free to
log in
and edit it. Anyone with a Gmail account can log in instantly.