Specific Item Information: with a red 40' trailer
Model Information: Unlike many other Atlas releases from the 1960's, the Atlas 50 Foot Flatcar was actually produced by Atlas in the United States at their New Jersey facility. This model was first announced in the 1967 catalog with two road names with two Piggyback trailers permanently affixed to the car (TOFC). The two models first appeared for sale in the 1969 catalog at $2.50 each. The 1969 catalog shows two different road names and that is all that was available for 20 years. In 1988, a large new release appears with two dozen road names in two configurations: single 40 foot trailers and twin 24 foot trailers.

Early versions featured Rapido couplers and metal wheels and later versions have Accumate couplers with plastic low-profile wheels. In 1996 (likely when they moved the tooling to China) they started producing multiple road numbers for each paint scheme. By 2008, this tooling was almost 40 years old and showing its age, especially when compared to some of the higher quality models Atlas was producing as part of their new 'Master' line. Rather than retire this very popular (and low-cost) model, Atlas moved the model to their 'Trainman' line along with other older models. This model has been released and re-released a dozen or more times in the last 50 years with a wide range of road names and road numbers.

This model at first glance appears to be very similar to the Rivarossi-produced 40 foot flatcar with stakes, but the TOFC model is 10 scale feet longer and close inspection reveals a different tooling.
Prototype History
: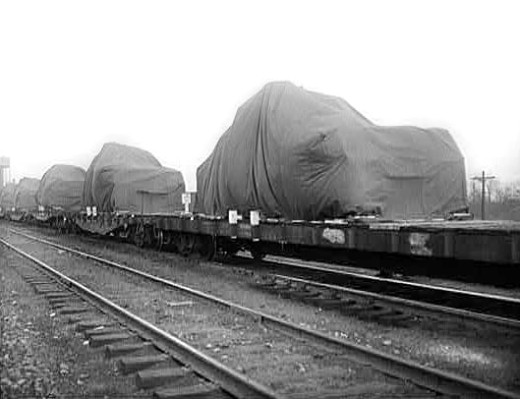 A flatcar (US) (also flat car (US) or flat wagon (UIC)) is a piece of railroad (US) or railway (non-US) rolling stock that consists of an open, flat deck mounted on a pair of trucks (US) or bogies (UK), one at each end containing four or six wheels. Occasionally, flat cars designed to carry extra heavy or extra large loads are mounted on a pair (or rarely, more) of bogeys under each end . The deck of the car can be wood or steel, and the sides of the deck can include pockets for stakes or tie-down points to secure loads. Flatcars designed for carrying machinery have sliding chain assemblies recessed in the deck.
Flatcars are used for loads that are too large or cumbersome to load in enclosed cars such as boxcars. They are also often used to transport intermodal containers (shipping containers) or trailers as part of intermodal freight transport shipping.
From Wikipedia
Road Name History
: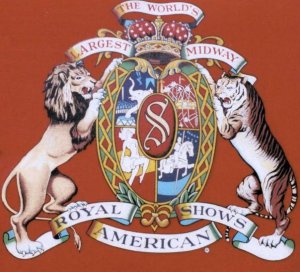 Royal American Shows was founded by Carl J. Sedlmayr, who was born in Nebraska in 1886, Royal American Shows was one of the largest American carnivals throughout most of the twentieth century. Although Royal American's first contract with the Calgary Stampede was in 1934, the company was unable to travel to Canada from 1942 to 1945, during the Second World War, as it relied on a large train (up to 90 rail cars) for transportation. During the war, use of the rail system was restricted by the United States government to the movement of military personnel and equipment.
In 1967 Royal American Shows was at its pinnacle in terms of size, over 800 people along with livestock and equipment and over 80 railroad cars in 1971. Royal American Shows carried the greatest number of flatcars ever carried by any traveling amusement organization in the world. The show traveled with a full complement of carpenters, canvas men, electricians, painters, full working machine shops with mills, lathes, drills, welders, mechanics, cookhouse, portable showers, and mail department.
Royal American Shows faced the changing economy in the 1970's that would have a huge impact on continuing to stay in business. Towards the end of the 1970's there was a tremendous loss of revenue for Royal American Shows caused by greater distances traveled with ever increasing costs with railroad transportation just to move the show from place to place. In addition, Royal America Shows lost its Canadian route in 1977 during a tax issue causing Royal American to lose all of that revenue on top of mounting expenses.
The carnival equipment seized from the 1975 tax issue at Edmonton and Regina was held in storage until the mid-1990's, at which time the assets were sold at auction and the proceeds were used to pay the outstanding fines. Royal American Shows continued to operate in the United States for the next twenty years, diminishing in size over time; Royal American Show's last spot was in Lubbock, Texas, in October 1997.
Brand/Importer Information
:

Ak-Sar-Ben Hobby Co
Information on AkSarBen Hobby and their history is sketchy at best. Of course, AkSarBen is Nebraska spelled backwards so one might assume that they got their start in the Husker state. The most recent evidence of their existence, however, was in the 2010 Model Retailer Hobby Industry Directory listing them in Jacksboro, TN. The phone number listed is disconnected, so, who knows for sure? What is known is that AkSarBen Hobbies was owned by Allen Miller and got their start in the 1980's producing very high quality custom, limited edition HO and N Scale products. They probably have left the model train business for more than 20 years ago.
Item created by:
CNW400
on 2020-06-05 11:57:05. Last edited by
Alain LM
on 2020-06-10 06:21:42
If you see errors or missing data in this entry, please feel free to
log in
and edit it. Anyone with a Gmail account can log in instantly.