Specific Item Information: Original Retail Price (MSRP) as per 2020 price list.
Model Information
:
Atlas Track True-Track®
comes with Code 65 rail, which is smaller than similar track currently on the market, enhancing the track's scale look while at the same time allowing most equipment to operate flawlessly. With tie spacing matching US prototype, mottled highlights and dark brown ties and simulated ballast roadbed.
Note: Radius is always measured to the center of the rails.
Road Name History
:

Can't have model trains without track can we? The track on a railway or railroad, also known as the permanent way, is the structure consisting of the rails, fasteners, railroad ties (sleepers, British English) and ballast (or slab track), plus the underlying subgrade. It enables trains to move by providing a dependable surface for their wheels to roll upon. For clarity it is often referred to as railway track (British English and UIC terminology) or railroad track (predominantly in the United States). Tracks where electric trains or electric trams run are equipped with an electrification system such as an overhead electrical power line or an additional electrified rail.
Text and Images From Wikipedia
Rail codes:
The code refers to the actual height of the rail. The followings heights are used for N-scale:
- Code 80 = 0.080" tall or about 13" N scale height - the mostly used for sectional tracks.
- Code 70 = 0.070" tall or about 11" N scale height
- Code 55 = 0.055" tall or about 9" N scale height - the mostly used by modelers wishing a realistic effect for their layout. Can be used with all modern rolling stock (low flange wheels).
- Code 40 = 0.040" tall or about 6" N scale height
Turnout codes:
The turnout number describes the length needed for the diverging track to be 1 foot apart from the straight one . So the lower the number, the sharper the curve, and the higher the number, the more gradual curve on the diverging track.
- In a #4 turnout, the rails are 1 foot apart at a distance 4 feet beyond the frog
- In a #6 turnout, the rails are 1 foot apart at a distance 6 feet beyond the frog
- In a #8 turnout, the rails are 1 foot apart at a distance 8 feet beyond the frog
Note that European brands such as Minitrix or Fleischmann use a different notation for turnouts and refer to the radius of the curvature of the diverging track.
Brand/Importer Information
: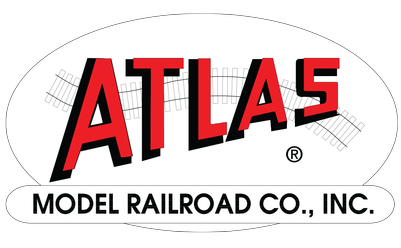 In 1924 Stephan Schaffan, Sr. founded the Atlas Tool Company in Newark, New Jersey. In 1933 his son, Stephan Schaffan, Jr., came to work for his father at the age of sixteen. Steve Jr. built model airplanes as a hobby and frequented a local hobby shop. Being an enterprising young man, he would often ask the owner if there was anything he could do to earn some extra spending money. Tired of listening to his requests, the hobby-store owner threw some model railroad track parts his way and said, "Here, see if you can improve on this".
In those days, railroad modelers had to assemble and build everything from scratch. Steve Jr. created a "switch kit" which sold so well, that the entire family worked on them in the basement at night, while doing business as usual in the machine shop during the day.
Subsequently, Steve Jr. engineered the stapling of rail to fiber track, along with inventing the first practical rail joiner and pre-assembled turnouts and flexible track. All of these products, and more, helped to popularize model railroading and assisted in the creation of a mass-market hobby. The budding entrepreneur quickly outgrew the limitations of a basement and small garage operation. Realizing they could actually make a living selling track and related products, Steve and his father had the first factory built in Hillside, New Jersey at 413 Florence Avenue in 1947. On September 30, 1949, the Atlas Tool Company was officially incorporated as a New Jersey company.
In 1985, Steve was honored posthumously for his inventions by the Model Railroad Industry Association and was inducted into the Model Railroad Industry Hall of Fame in Baltimore, Maryland. In addition, Steve was nominated and entered into the National Model Railroad Association Pioneers of Model Railroading in 1995.
In the early 1990s, the Atlas Tool Company changed its name to
Atlas Model Railroad Company, Inc.
Manufacturer Information: 'Atlas Model Railroad' represents the New Jersey manufacturing facility for Atlas brand model railroad products. Atlas also imported European made models in their early years and those items will be noted as having manufacturers set appropriately. In the 1990s Atlas moved all their toolings to China.
Item created by:
Alain LM
on 2020-06-22 12:16:53
If you see errors or missing data in this entry, please feel free to
log in
and edit it. Anyone with a Gmail account can log in instantly.