Specific Item Information: 3 Pack: 289244, 410498 & 491678
Model Information: This model was originally manufactured by Kato for Con-Cor. Manufacturing was later moved to Con-Cor's Chicago facility. The model sort-of resembles the PRR C41 prototype.

These models have issues, and I would advise most modelers and runners to stay away. First, they use a wonky clip-in truck that is not easy to swap out for MTL (or other knuckle-coupler equipped) trucks. For all of the samples of this model I have seen, the metal underframes, though nicely detailed, arrive out-of-the-box scuffed. The early Kato versions come with some very nice low-profile nickel-silver plated wheels, but the Con-Cor made version have some of the WORST wheelsets I have ever seen. They are plastic, low-profile jobs which have casting flaws that make them run horribly. Since you cannot swap the trucks easily, you simply cannot run this junk. Perhaps Con-Cor improved their wheelset quality in later runs, but the ones I looked at (VNOR 7739) are awful. Furthermore the Con-Cor releases have LOWER quality pad-printing than the earlier Kato releases. Unfortunately, the Kato releases used a high-gloss paint that looks terrible. So no matter which version you get, it will be disappointing.
Prototype History
: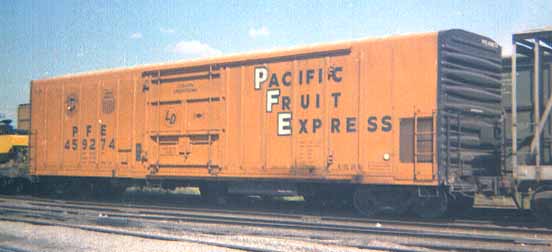 While the 40-foot boxcar was a standard design, and it did come in different setups depending on the type of freight being transported, it was not large enough for efficient mass commodity transportation. The 50-foot boxcar made its first appearance in the 1930s and steadily grew in popularity over the years, which further improved redundancies by allowing for even more space within a given car. Today, the 50-footer remains the common boxcar size. After the second world war ended, and steel became once again readily available, steel became the go-to choice for construction of boxcars. Pullman Standard and ACF were some of the most prolific builders of these cars.
These cars came in many variations. For instance, double-doors became practical for large/wide loads, end-doors useful for very large lading such as automobiles, and interior tie-down equipment was helpful in keeping sensitive products from being damaged in-transit. In 1954 the Santa Fe developed its "Shock Control" (and later "Super Shock Control") technology for new boxcars with upgraded suspension systems to further improve the ride-quality and reduce the chance of damaging freight.
In the 1960s, the flush, "plug" style sliding door was introduced as an option that provides a larger door to ease loading and unloading of certain commodities. The tight-fitting doors are better insulated and allow a car's interior to be maintained at a more even temperature.
Road Name History
: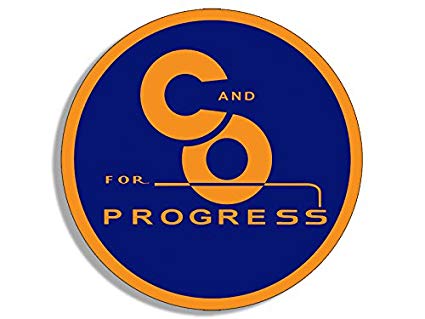 The Chesapeake and Ohio Railway (reporting marks C&O, CO) was a Class I railroad formed in 1869 in Virginia from several smaller Virginia railroads begun in the 19th century. Led by industrialist Collis P. Huntington, it reached from Virginia's capital city of Richmond to the Ohio River by 1873, where the railroad town (and later city) of Huntington, West Virginia was named for him.
Tapping the coal reserves of West Virginia, the C&O's Peninsula Extension to new coal piers on the harbor of Hampton Roads resulted in the creation of the new City of Newport News. Coal revenues also led the forging of a rail link to the Midwest, eventually reaching Columbus, Cincinnati and Toledo in Ohio and Chicago, Illinois.
By the early 1960s the C&O was headquartered in Cleveland, Ohio, USA. In 1972, under the leadership of Cyrus Eaton, it became part of the Chessie System, along with the Baltimore and Ohio and Western Maryland Railway. The Chessie System was later combined with the Seaboard Coast Line and Louisville and Nashville, both the primary components of the Family Lines System, to become a key portion of CSX Transportation (CSXT) in the 1980s. A substantial portion of Conrail was added in 1999.
C&O's passenger services ended in 1971 with the formation of Amtrak. Today Amtrak's tri-weekly Cardinal passenger train follows the historic and scenic route of the C&O through the New River Gorge in one of the more rugged sections of the Mountain State. The rails of the former C&O also continue to transport intermodal and freight traffic, as well as West Virginia bituminous coal east to Hampton Roads and west to the Great Lakes as part of CSXT, a Fortune 500 company which was one of seven Class I railroads operating in North America at the beginning of the 21st century.
At the end of 1970 C&O operated 5067 miles of road on 10219 miles of track, not including WM or B&O and its subsidiaries.
Read more on
Wikipedia
.
Brand/Importer Information
:

Con-Cor
has been in business since 1962. Many things have changed over time as originally they were a complete manufacturing operation in the USA and at one time had upwards of 45 employees. They not only designed the models,but they also built their own molds, did injection molding, painting, printing and packaging on their models.
Currently, most of their manufacturing has been moved overseas and now they import 90% of their products as totally finished goods, or in finished components. They only do some incidental manufacturing today within the USA.
Important Note: The Con-Cor product numbering can be very confusing. Please see here in the article how to properly enter Con-Cor stock numbers in the TroveStar database.
Item created by:
CNW400
on 2020-09-09 15:41:47
If you see errors or missing data in this entry, please feel free to
log in
and edit it. Anyone with a Gmail account can log in instantly.