Specific Item Information: Life-Like packaging with Brawa Stickers on front and back and Brawa Part number on the side. Inlet with Life-Like part number 7158.
Shell mounted dummy knuckle coupler at front.
Model Information: Life-Like first released this model in 1995. Dummy B units were later released in 1997.
The model was completely revised in 2003 and supplemented by a powered E8B. It was re-run again in 2006 (after Walthers acquired Life-Like); it was sold either as single A-unit or as A+B set, both powered.
Dummy body-mount knuckle coupler in front of A units. Rapido hook in rear of A units and on both sides for B units., truck-mount for the early releases, and body-mount for the 2003/2006 releases.
DCC Information: None of the versions have support for DCC
Prototype History
: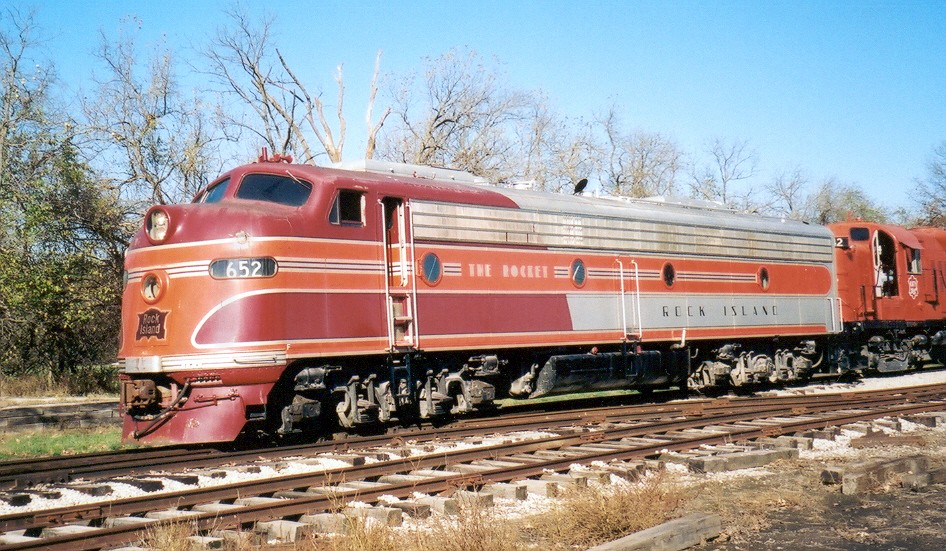 The E8 was a 2,250-horsepower (1,678 kW), A1A-A1A passenger-train locomotive built by General Motors' Electro-Motive Division (EMD) of La Grange, Illinois. 450 cab versions, or E8As, were built from August 1949 to January 1954, 447 for the U.S. and 3 for Canada. 46 E8Bs were built from December 1949 to January 1954, all for the U.S. The 2,250 hp came from two 12 cylinder model 567B engines, each driving a generator to power the two traction motors on one truck. The E8 was the ninth model in the line of passenger diesels of similar design known as EMD E-units. Starting in September 1953 at total of 21 E8As were built which used either the 567BC or 567C engines.
Most of the premier passenger trains including the AT&SF "Super Chief," various CB&Q "Zephyrs," Great Northern's "Empire Builder," New York Central's "Twentieth Century" and Pennsylvania Railroad's "Broadway Limited" were pulled by EMD "E" unit diesel locomotives from the 1940's to the 1970's.
In profile the front of the nose of E7, E8, and E9 units is less slanted than earlier EMD units, and E7/8/9s (and their four axle cousins, the F-unit series) have been nicknamed
bulldog nose
units. Earlier E-unit locomotives were nicknamed
slant nose
units. After passenger trains were canceled on the Erie Lackawanna in 1970, the E8s were re-geared for freight and were very reliable for the EL. These units were on freight trains until the early years of Consolidated Railroad Corporation ("Conrail").
Units noted with the designation E8m were rebuilt using components from earlier EMC/EMD locomotives. Externally the units look just like E8s. The difference in horsepower produced in these E8m units is because the older generators are reused.
From Wikipedia
Read more on
American-Rails.com
Road Name History
: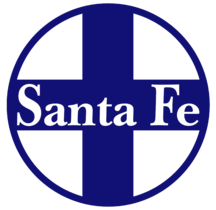 The Atchison, Topeka and Santa Fe Railway (reporting mark ATSF), often abbreviated as Santa Fe or AT&SF, was one of the larger railroads in the United States. Chartered in February 1859, the railroad reached the Kansas-Colorado border in 1873 and Pueblo, Colorado, in 1876. To create a demand for its services, the railroad set up real estate offices and sold farm land from the land grants that it was awarded by Congress. Despite the name, its main line never served Santa Fe, New Mexico, as the terrain was too difficult; the town ultimately was reached by a branch line from Lamy.
The Santa Fe was a pioneer in intermodal freight transport, an enterprise that (at one time or another) included a tugboat fleet and an airline (the short-lived Santa Fe Skyway). Its bus line extended passenger transportation to areas not accessible by rail, and ferryboats on the San Francisco Bay allowed travelers to complete their westward journeys to the Pacific Ocean. The ATSF was the subject of a popular song, Harry Warren & Johnny Mercer's "On the Atchison, Topeka and the Santa Fe", written for the film, The Harvey Girls (1946).
The railroad officially ceased operations on December 31, 1996, when it merged with the Burlington Northern Railroad to form the Burlington Northern & Santa Fe Railway.
Read more on
Wikipedia
.
Paint Scheme
: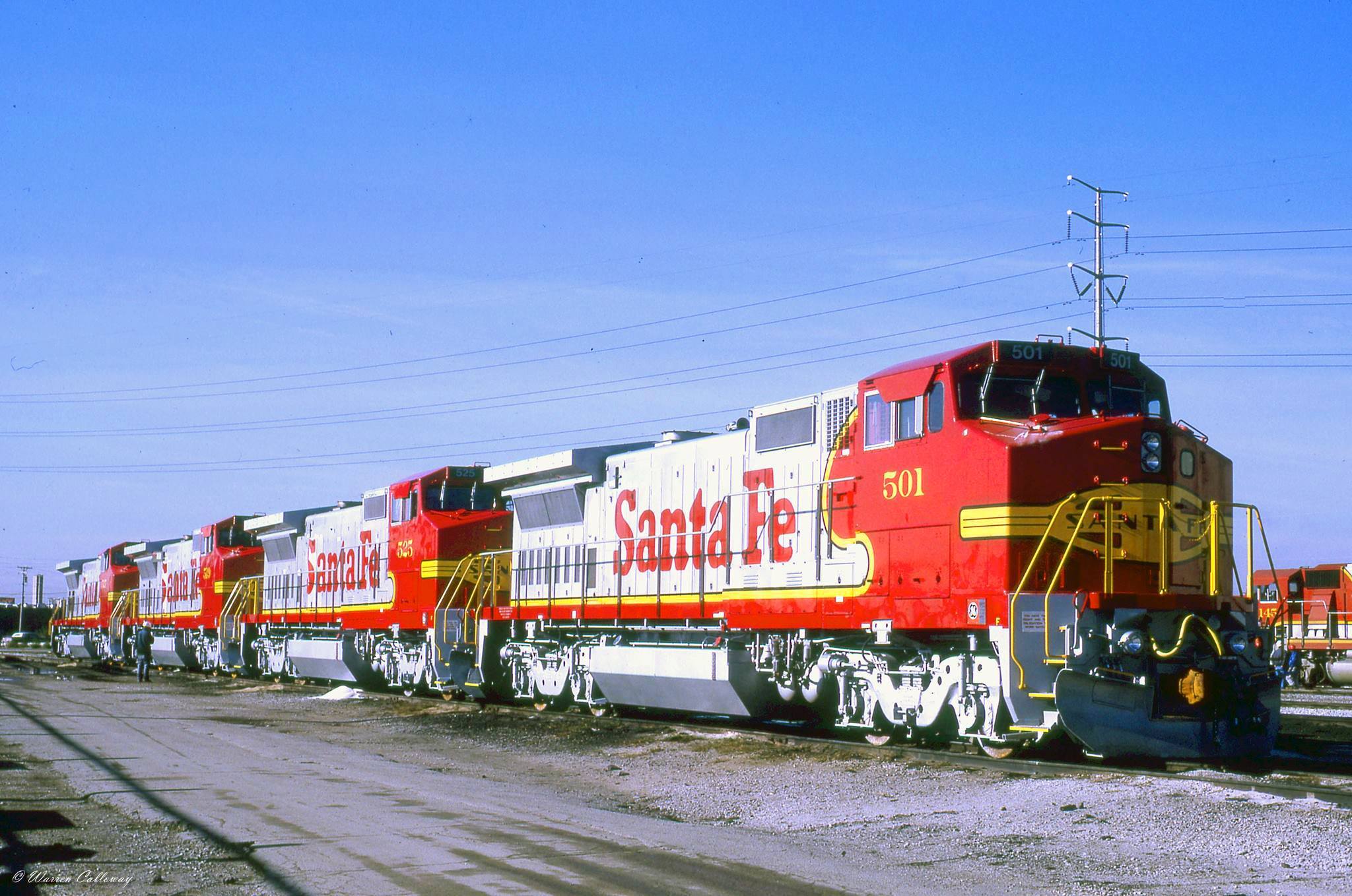 While there were many, now-classic paint schemes to grace locomotives during the start of the diesel and streamliner age of the 1930s none became as legendary as Santa Fe's "Warbonnet" (and most did not even receive a formal name). The design was the creation of artist Leland A. Knickerbocker, who worked for General Motors. During the mid-1930s the company needed a classy, matching livery to the Native-American themed train that the Santa Fe was planning to debut. Of course, you probably know the name of this train, the Super Chief, which went on to become just as famous as the paint it wore.
The Warbonnet was shelved by the railroad following the end of passenger service in 1971 but was readopted in the late 1980s. Following the creation of Burlington Northern Santa Fe in 1995 a version of the livery was briefly used but was finally dropped altogether.
From AmericaRails.com
Brand/Importer Information
: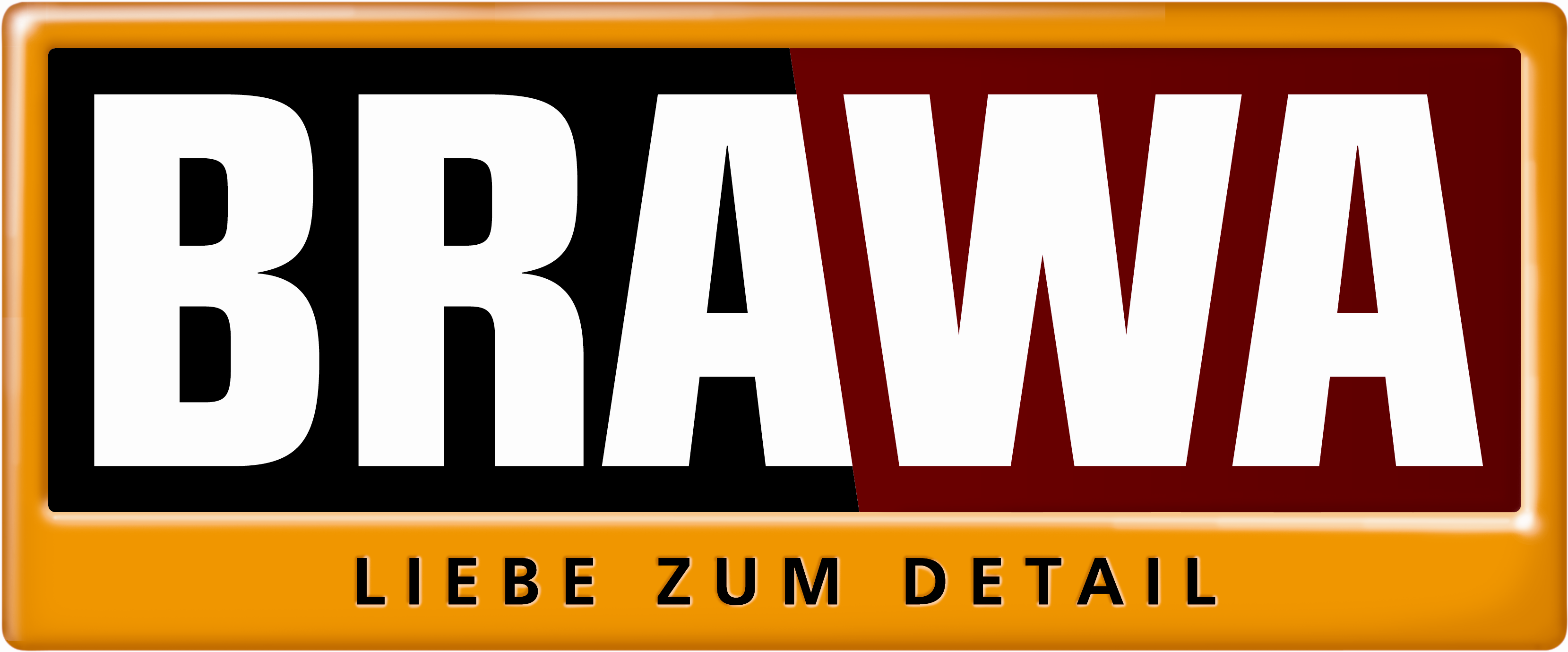 Brawa Artur Braun Modellspielwarenfabrik GmbH & Co. was founded in 1948 by Artur Braun in Waiblingen, Germany, to distribute model trains from other toy makers; eventually they began to manufacture their own lighting accessories such as streetlights and signals. In 1963 they acquired the complete line of motorized trolleybus and ski lift models from Eheim. They also began to expand their own line to include scenery items, and by 1993 they'd added locomotives and rolling stock to their product range. This medium-sized business is today jointly managed by the second and third generations of the Braun family: Günter Braun, son of the founder, and his daughter Katrin Braun are the company's managing partners.
Brawa range covers HO, O and N scales. The N scale range is focused on European rolling-stock, German locomotives and accessories like signals, streetlights, clocks and telephone booths.
Here is how the company describes itself:
At BRAWA, continuity and sustainable thinking and action - as the particular strengths of a family business - have a double impact. Changes are carefully considered and strategic decisions taken on the basis of a long-term vision, thus enabling the company to respond quickly and deliberately to the demands of the market. In addition, cross-generation collaboration ensures a vibrant coexistence of tradition and innovation.
In short, our future course is set and all signals are pointing towards continuity and growth. Our presence at our site in Remshalden shows our commitment to this area and highlights the sustainable nature of our company's location in the region. Sustainability is, as it were, an intrinsic value of our family business.
Item created by:
klausnahr
on 2021-01-04 18:43:21. Last edited by
klausnahr
on 2021-01-04 18:48:17
If you see errors or missing data in this entry, please feel free to
log in
and edit it. Anyone with a Gmail account can log in instantly.