Model Information: Life-Like first released this model in 1995. Dummy B units were later released in 1997.
The model was revised in 2004, and re-run in 2006 (after Walthers acquired Life-Like); it was sold either as single A-unit or as A+B set, both powered.
Dummy body-mount knuckle coupler in front of A units. Rapido hook in rear of A units and on both sides for B units., truck-mount for the early releases, and body-mount for the 2004/2006 releases.
DCC Information: None of the versions have support for DCC
Prototype History
: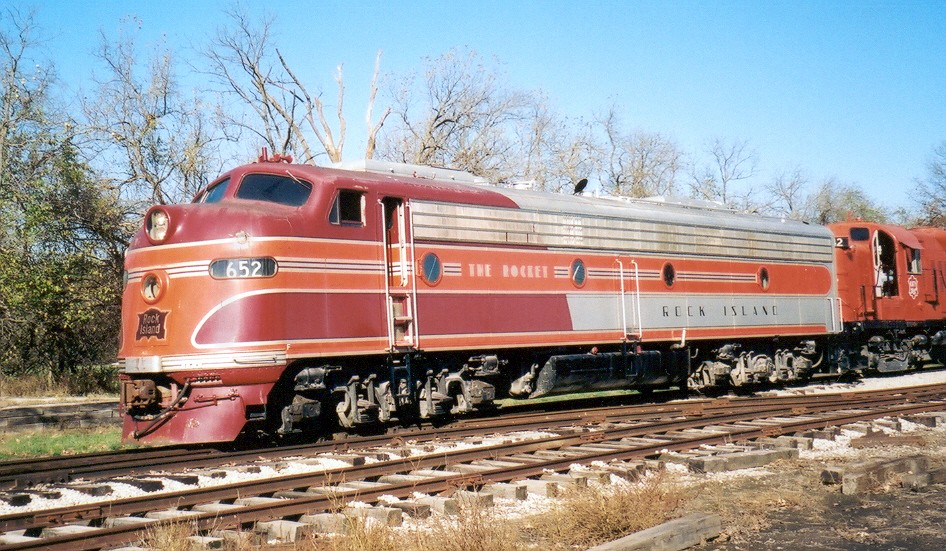 Most of the premier passenger trains including the AT&SF "Super Chief," various CB&Q "Zephyrs," Great Northern's "Empire Builder," New York Central's "Twentieth Century" and Pennsylvania Railroad's "Broadway Limited" were pulled by EMD "E" unit diesel locomotives from the 1940's to the 1970's.
The E8 was a 2,250-horsepower (1,678 kW), A1A-A1A passenger-train locomotive built by General Motors' Electro-Motive Division (EMD) of La Grange, Illinois. 450 cab versions, or E8As, were built from August 1949 to January 1954, 447 for the U.S. and 3 for Canada. 46 E8Bs were built from December 1949 to January 1954, all for the U.S. The 2,250 hp came from two 12 cylinder model 567B engines, each driving a generator to power the two traction motors on one truck. The E8 was the ninth model in the line of passenger diesels of similar design known as EMD E-units. Starting in September 1953 at total of 21 E8As were built which used either the 567BC or 567C engines.
In profile the front of the nose of E7, E8, and E9 units is less slanted than earlier EMD units, and E7/8/9s (and their four axle cousins, the F-unit series) have been nicknamed ?bulldog nose? units. Earlier E-unit locomotives were nicknamed ?slant nose? units. After passenger trains were canceled on the Erie Lackawanna in 1970, the E8s were re-geared for freight and were very reliable for the EL. These units were on freight trains until the early years of Consolidated Railroad Corporation ("Conrail").
Units noted with the designation E8m were rebuilt using components from earlier EMC/EMD locomotives. Externally the units look just like E8s. The difference in horsepower produced in these E8m units is because the older generators are reused.
From Wikipedia
Read more on
American-Rails.com
Road Name History
: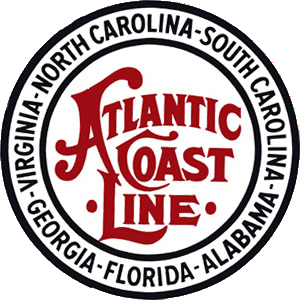 ACL's roots go back to the Petersburg Railroad in 1830. By the 1870s, their successors and some affiliated lines began using Atlantic Coast Line as a nickname and through a number of consolidations Atlantic Coast Line became the official name by 1900. Atlantic Coast Line funneled traffic from northern Virginia (and its connections to the northeastern trunk lines via the RF&P) down through the Carolinas, Georgia and into Florida as far as Naples on the Gulf Coast. Acquisitions after the war added routes from Columbia and Spartanburg, South Carolina to the coast and lines linking Atlanta, Birmingham and Montgomery to southern Georgia and Florida.
At that point, the Atlantic Coast Line boasted 5,743 miles of railroad, 629 locomotives, 361 passenger cars, and 31,284 freight cars. To put that into perspective for you western guys, that's four times the size of Western Pacific.
ACL was the premier route for New York to Florida passenger traffic. The ACL's "Champion" left New York on the Pennsy, was handed off to the RF&P from Washington to Richmond, ran on the ACL to Jacksonville, FL and was then handed off to Florida East Coast for the ride to Miami. The "West Coast Champion" skipped the FEC as ACL went all the way to Tampa on Florida's Gulf Coast on its own rails. ACL also forwarded some Chicago to Florida trains via connections. Much of the system was relatively flat, allowing ACL to use 4-6-2's in fast freight service (one of the few railroads to do this.)
ACL is best known for its purple and silver diesels. This scheme was used on freight, passenger, and switcher power until 1957. By that time, it became clear that these colors were difficult to maintain, so the ACL switched to racing stallion black with yellow "tack." The Atlantic Coast Line merged with the Seaboard Air Line Railroad in 1967 to form the Seaboard Coast Line.
Brand/Importer Information
:

Life-Like Products LLC (now Life-Like Toy and Hobby division of Wm. K. Walthers) was a manufacturer of model railroad products and was based in Baltimore, Maryland.
It was founded in the 1950s by a company that pioneered extruded foam ice chests under the Lifoam trademark. Because ice chests are a summer seasonal item, the company needed a way to keep the factory operating year round. As model railroading was becoming popular in the post-war years, they saw this as an opportunity and so manufactured extruded foam tunnels for model trains. Over the years, Life-Like expanded into other scenery items, finally manufacturing rolling stock beginning in the late 1960s. At some point in the early 1970s, Life-Like purchased Varney Inc. and began to produce the former Varney line as its own.
The Canadian distributor for Life-Like products, Canadian Hobbycraft, saw a missing segment in market for Canadian model prototypes, and started producing a few Canadian models that were later, with a few modifications, offered in the US market with US roadnames.
In 2005, the company, now known as Lifoam Industries, LLC, decided to concentrate on their core products of extruded foam and sold their model railroad operations to Wm. K. Walthers.
In June 2018, Atlas and Walthers announced to have reached an
agreement
under which all Walthers N scale rolling stock tooling, including the former Life-Like tooling, will be purchased by Atlas.
Read more on
Wikipedia
and
The Train Collectors Association
.
Item created by:
PondBuft
on 2021-02-01 15:14:14. Last edited by
Alain LM
on 2021-02-05 13:29:34
If you see errors or missing data in this entry, please feel free to
log in
and edit it. Anyone with a Gmail account can log in instantly.