Model Information
: This Broadway Limited Imports model was first released in July of 2018.
Product Information
Precision Drive Mechanism engineered for continuous heavy load towing and smooth slow speed operation
Premium Caliber Painting with Authentic Paint Schemes
Prototypical Light Operation with Golden White LED Headlight, Rear Light
Die Cast Body with Die Cast chassis for Maximum Tractive Effort
(2) Operating MicroTrains #1015 or Compatible Couplers
Separately Applied Handrails, Ladders, Whistle, and Brass Bell
Will Operate on Code 55, 70, and 80 Rail
Recommended Minimum Radius: 9.75 inches
DCC Information
: All models in this series were released with factory installed DCC and Sound.
Paragon3 Sound & Operation System
FEATURING ROLLING THUNDER™ with Authentic Sounds and Prototypical Operation in both DC and DCC environments
Integral DCC Decoder with Back EMF for Industry Best Slow Speed Operation in DC and DCC
Operates in DC & DCC (use DCMaster for DC Sound)
Record & Play Operation - Records and plays back sounds and movements once or repeatedly for automatic operation
16-bit Sample Rate for exceptional high frequency sound clarity
Playback Whistle for multiple whistle lengths and patterns
Choice of 3 selectable Whistles
Alternate Whistle / Horn where applicable for locomotive with air horn and steam whistle - both the main whistle and alternate can be easily played
Adjustable bell ringing interval for faster or slower bell
Numerous user-mappable functions with available keys
Johnson Bar or Power Reverse Sound at Direction Change
Passenger Station Ambient Sounds - Controlled with Function Key
Freight Yard related radio chatter - Controlled with Function Key
Lumber Yard Ambient Sounds - Controlled with Function Key
Farm related radio chatter - Controlled with Function Key
Crew Radio Communications - Controlled with Function Key
Maintenance Yard related radio chatter - Controlled with Function Key
Demo Mode for display and demonstrations
Grade Crossing Signal - Controlled with Function Key
Simple Programming with Integral DCC Decoder
Automatic Forward / Reverse Signal - When activated, stopping triggers and stop whistle toot. When moving forward from a stopped position, toots twice. When moving in reverse, toots three times.
Chuff sound intensity varies with load
Individually adjustable sound volumes for most effects
Prototype History
: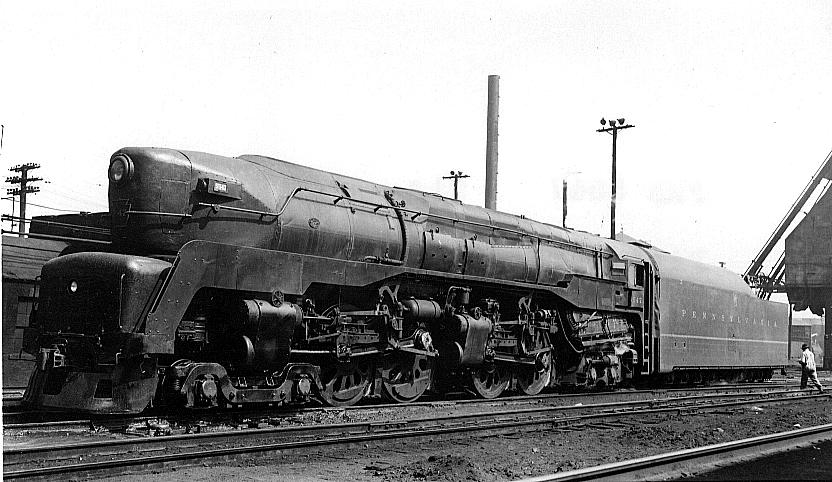 The Pennsylvania Railroad's 52 T1 class duplex-drive 4-4-4-4 steam locomotives, introduced in 1942 (2 prototypes) and 1945-1946 (50 production), were their last steam locomotives built and their most controversial. They were ambitious, technologically sophisticated, powerful, fast, and distinctively streamlined by Raymond Loewy. However, they were also prone to wheelslip both when starting and at speed, complicated to maintain, and expensive to run. The PRR vowed in 1948 to place diesel locomotives on all express passenger trains, leaving unanswered questions of whether the T1's flaws were solvable. An article in the Pennsylvania Railroad Technical and Historical Society Magazine published in 2008 revealed that the wheel-slip problems may have been caused by the failure to properly educate engineers transitioning to the T1, resulting in excessive throttle applications, which in turn caused the driving wheels to slip. Another root cause of wheel slip was faulty spring equalization. The drivers were equalized together and not equalized with the engine truck. In the production fleet, the PRR equalized the engine truck with the front engine and the trailing truck with the rear engine which helped to solve the wheel-slip problem.
From Wikipedia
Road Name History
: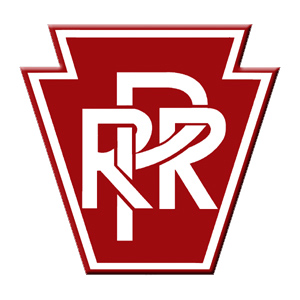 The Pennsylvania Railroad (reporting mark PRR) was an American Class I railroad, founded in 1846. Commonly referred to as the "Pennsy," the PRR was headquartered in Philadelphia, Pennsylvania.
The PRR was the largest railroad by traffic and revenue in the U.S. for the first half of the twentieth century. Over the years, it acquired, merged with or owned part of at least 800 other rail lines and companies. At the end of 1925, it operated 10,515 miles of rail line; in the 1920s, it carried nearly three times the traffic as other railroads of comparable length, such as the Union Pacific or Atchison, Topeka & Santa Fe railroads. Its only formidable rival was the New York Central (NYC), which carried around three-quarters of PRR's ton-miles.
At one time, the PRR was the largest publicly traded corporation in the world, with a budget larger than that of the U.S. government and a workforce of about 250,000 people. The corporation still holds the record for the longest continuous dividend history: it paid out annual dividends to shareholders for more than 100 years in a row.
In 1968, PRR merged with rival NYC to form the Penn Central Transportation Company, which filed for bankruptcy within two years. The viable parts were transferred in 1976 to Conrail, which was itself broken up in 1999, with 58 percent of the system going to the Norfolk Southern Railway (NS), including nearly all of the former PRR. Amtrak received the electrified segment east of Harrisburg.
Brand/Importer Information
: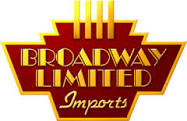 Broadway Limited Imports, LLC
defines itself as "
the world's foremost producer of top-quality HO and N scale model trains
".
The company was founded in 2002 and introduced its first N scale model in 2009.
Broadway Limited Imports is composed of a team of 15 fun loving individuals who are dedicated to creating the most realistic model railroading experience possible, with the best customer service possible.
The Broadway Limited Imports headquarters is located in Ormond Beach, Florida at 9 East Tower Circle. It's just under an hour's drive from Disney World.
About Broadway Limited Imports.
Item created by:
Alain LM
on 2021-02-16 08:44:36. Last edited by
Alain LM
on 2021-03-07 06:13:30
If you see errors or missing data in this entry, please feel free to
log in
and edit it. Anyone with a Gmail account can log in instantly.