Model Information: Model Power introduced this model in 2002 in standard version. Additional versions have been introduced subsequently: semi-streamlined version in 2004, Vandy tender version in 2005, a revised semi-streamlined version in 2010, and lastly a revised MRC version in 2015. There has been several runs with different road numbers, but using the same stock number.

They are manufactured in Korea and feature die-cast bodies. This makes them fairly solid. Unlike many steam engines they also are very DCC-Friendly. The fall short of being fully DCC-Ready because they do not support drop-in decoders and instead require some manipulation of wiring. They run very well and can pull a lot of cars. The shell details are excellent. They were delivered in a jewelry-like plastic chest.

Unfortunately, the design is not great for running and parts of the lower shell can get mangled when they hit rough patches of track (especially turnouts). This can effectively put one of these out of commission. For this reason we advise buying these from a certified dealer because if you have to return them for repairs you will need the documentation.
DCC Information: It is pretty easy to add DCC to this engine. However, it is not DCC-Ready as you need to splice in a decoder inside the tender. Not a lot of work, but not as nice as a drop-in decoder swap.
Prototype History
:

Under the Whyte notation for the classification of steam locomotives, 4-6-2 represents the wheel arrangement of four leading wheels on two axles, six powered and coupled driving wheels on three axles and two trailing wheels on one axle. The 4-6-2 locomotive became almost globally known as a Pacific type. The type is well-suited to high speed running. The world speed record for steam traction of 126 miles per hour (203 kilometres per hour) has been held by a British Pacific locomotive, the Mallard, since 3 July 1938.
The introduction of the 4-6-2 design in 1901 has been described as "a veritable milestone in locomotive progress". On many railways worldwide, Pacific steam locomotives provided the motive power for express passenger trains throughout much of the early to mid-20th century, before either being superseded by larger types in the late 1940s and 1950s, or replaced by electric or diesel-electric locomotives during the 1950s and 1960s. Nevertheless, new Pacific designs continued to be built until the mid-1950s.
The type is generally considered to be an enlargement of the 4-4-2 Atlantic type, although its prototype had a direct relationship to the 4-6-0 Ten-wheeler and 2-6-2 Prairie, effectively being a combination of the two types. The success of the type can be attributed to a combination of its four-wheel leading truck which provided better stability at speed than a 2-6-2 Prairie, the six driving wheels which allowed for a larger boiler and the application of more tractive effort than the earlier 4-4-2 Atlantic, and the two-wheel trailing truck, first used on the New Zealand 2-6-2 Prairie of 1885. This permitted the firebox to be located behind the high driving wheels and thereby allowed it to be both wide and deep, unlike the 4-6-0 Ten-wheeler which had either a narrow and deep firebox between the driving wheels or a wide and shallow one above.
From Wikipedia
Road Name History
: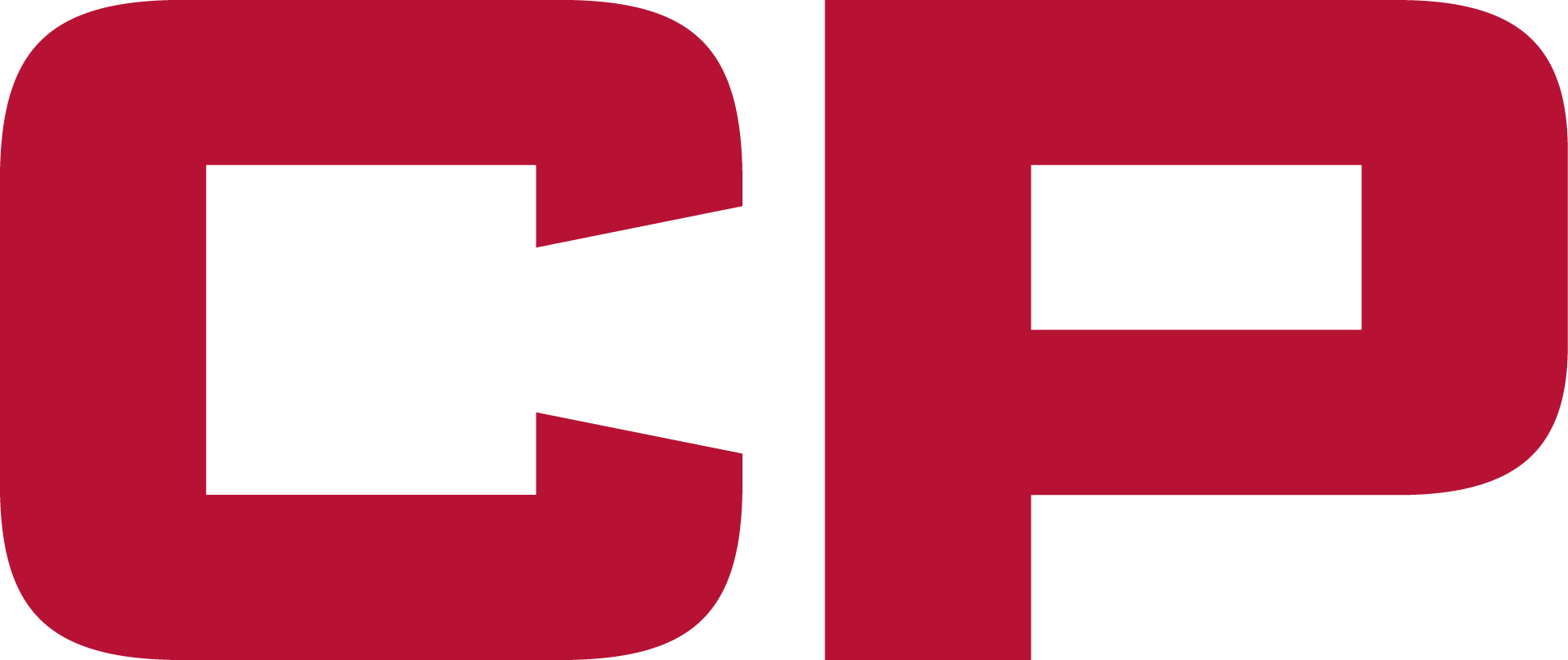 The Canadian Pacific Railway (CPR), formerly also known as CP Rail (reporting mark CP) between 1968 and 1996, is a historic Canadian Class I railroad incorporated in 1881. The railroad is owned by Canadian Pacific Railway Limited (TSX: CP, NYSE: CP), which began operations as legal owner in a corporate restructuring in 2001.
Headquartered in Calgary, Alberta, it owns approximately 23,000 kilometres (14,000 mi) of track all across Canada and into the United States, stretching from Montreal to Vancouver, and as far north as Edmonton. Its rail network also serves major cities in the United States, such as Minneapolis, Milwaukee, Detroit, Chicago, and New York City.
The railway was originally built between Eastern Canada and British Columbia between 1881 and 1885 (connecting with Ottawa Valley and Georgian Bay area lines built earlier), fulfilling a promise extended to British Columbia when it entered Confederation in 1871. It was Canada's first transcontinental railway, but currently does not reach the Atlantic coast. Primarily a freight railway, the CPR was for decades the only practical means of long-distance passenger transport in most regions of Canada, and was instrumental in the settlement and development of Western Canada. The CP became one of the largest and most powerful companies in Canada, a position it held as late as 1975. Its primary passenger services were eliminated in 1986, after being assumed by Via Rail Canada in 1978. A beaver was chosen as the railway's logo because it is the national symbol of Canada and was seen as representing the hardworking character of the company.
The company acquired two American lines in 2009: the Dakota, Minnesota and Eastern Railroad and the Iowa, Chicago and Eastern Railroad. The trackage of the ICE was at one time part of CP subsidiary Soo Line and predecessor line The Milwaukee Road. The combined DME/ICE system spanned North Dakota, South Dakota, Minnesota, Wisconsin, Nebraska and Iowa, as well as two short stretches into two other states, which included a line to Kansas City, Missouri, and a line to Chicago, Illinois, and regulatory approval to build a line into the Powder River Basin of Wyoming. It is publicly traded on both the Toronto Stock Exchange and the New York Stock Exchange under the ticker CP. Its U.S. headquarters are in Minneapolis.
After close of markets on November 17, 2015, CP announced an offer to purchase all outstanding shares of Norfolk Southern Railway, at a price in excess of the US$26 billion capitalization of the United States-based railway. If completed, this merger of the second and fourth oldest Class I railroads in North America would have formed the largest single railway company on that continent, reaching from the Pacific coast to the Atlantic coast to the Gulf Coast. The merger effort was abandoned by Canadian Pacific on April 11, 2016, after three offers were rejected by the Norfolk Southern board.
Read more on
Wikipedia
and on
Canadian Pacific official website
.
Brand/Importer Information
:

Founded in the late 1960's by Michael Tager, the 3rd generation business specializes in quality hobby products serving the toy and hobby markets worldwide. During its 50 years of operation, Model Power has developed a full line of model railroading products, die-cast metal aircraft, and die-cast metal cars and trucks.
In early 2014, Model Power ceased its business operations. Its extensive portfolio of intellectual property and physical assets are now exclusively produced, marketed, sold, and distributed by
MRC
(Model Power, MetalTrain and Mantua) and by
Daron
(Postage Stamp Airplanes and Airliner Collection).
Item created by:
Alain LM
on 2021-06-13 03:54:20. Last edited by
Alain LM
on 2021-06-13 04:01:07
If you see errors or missing data in this entry, please feel free to
log in
and edit it. Anyone with a Gmail account can log in instantly.