Specific Item Information: without containers.
The Koki 107 type is a marine container compatible vehicle manufactured from 2006. In the conventional Koki 100 series, the handbrake handle installed on the side of the car body has been changed to the deck handrail at the end of the car body in this form.
Prototype History
: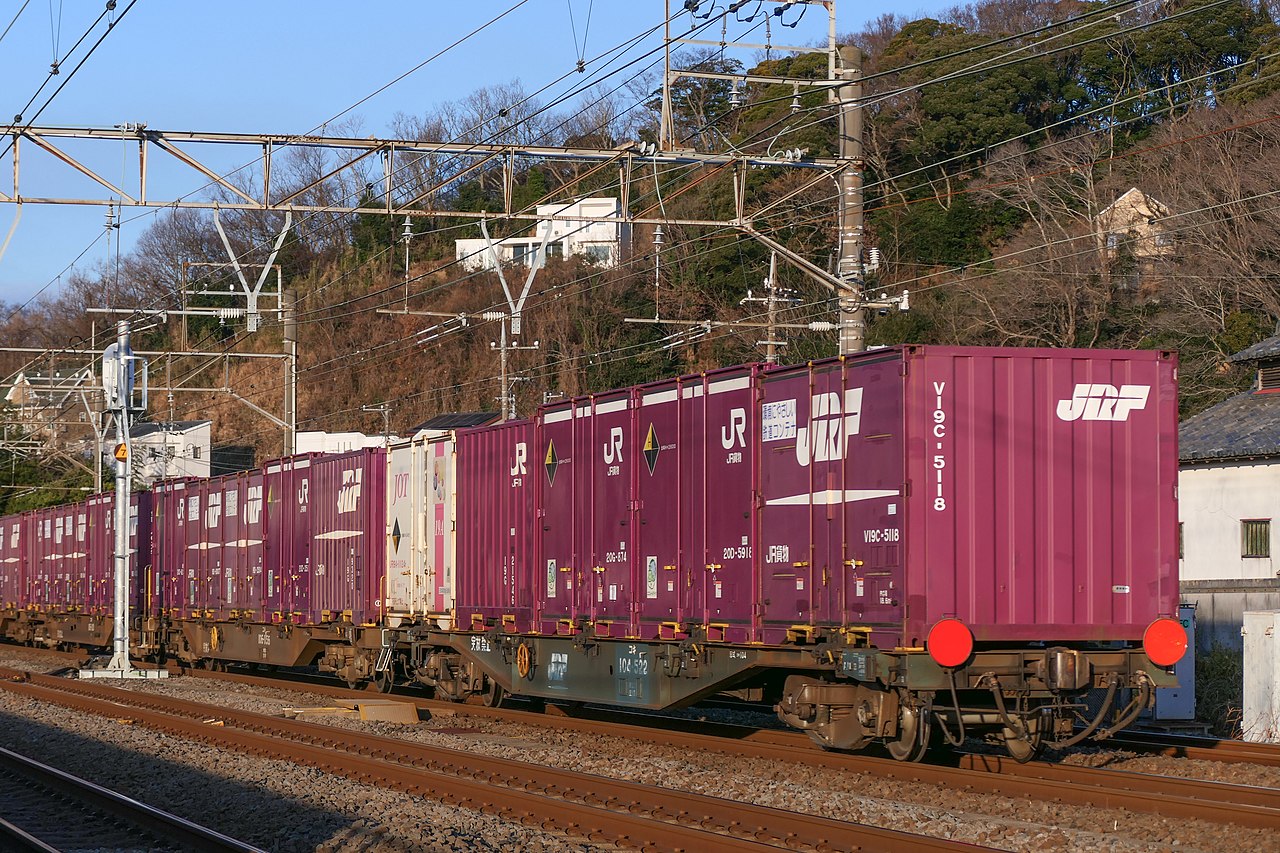 After the creation of JR Freight a new generation of container flat cars was developed, the 100 series (KOKI 100 to 107 and 110). Several prototypes (model 100) were produced and tested in 1987, and mass production began in 1988 with the 101 series. Among other things the new design had a 10cm lower deck than earlier models, to permit loading of ISO containers in addition to domestic containers. These supported loadings up to 40.5 tons per car (40.7 tons on the 106/107/110). Support for ISO 40-foot containers was apparently introduced on the 102 series c. 1993 or 1994, when new bearings were introduced. The
Japanese wikipedia page on the 100 series
has a table giving dimensions and other specifics of the differing models.
The KOKI 100 series has a top speed of 110 kph (operation may be limited to 100 kph depending on loading and the line on which it is used). Starting with the model 102 they could load up to five domestic 12-foot containers, three domestic or ISO 20-foot containers, two domestic 30-foot containers or one ISO 40-foot container. The 105 series is similar to the 104 but omits the ability to load ISO 40-foot containers, and may have been produced for use in a specific service. The 106 series was originally produced in blue, but a later production was painted gray to differentiate them, and blue ones are being repainted gray as they are brought up to the new design. The 107 is an update of the 106 design, also painted in gray, with changes to the layout of equipment (like brake cylinders). The 110 series was a specialty design for carrying 15-foot containers, and painted yellow (or "mustard") to make this difference clear. As it can also carry standard domestic containers, these are found in general service as well.
Read more of Japanese freight cars on
Sumida Crossing
website.
Road Name History
:

Japan Freight Railway Company (日本貨物鉄道株式会社 Nihon Kamotsu Tetsudō Kabushiki-gaisha), or JR Freight (JR貨物 Jeiāru Kamotsu), is one of the constituent companies of Japan Railways Group (JR Group). It provides transportation of cargo nationwide. Its headquarters are in Shibuya, Tokyo near Shinjuku Station.
The Japan Railways Group was founded on April 1, 1987, when Japanese National Railways (JNR) was privatized, and then divided into six regional companies and Japan Freight Railway Company. Although the passenger operation of JNR was split into six companies, fares and regulations are standard for all companies and every region of Japan except Okinawa is covered by the railway network spanning approximately 19,800 kilometres (12,300 mi).
Formerly part of JNR, the freight operation was not divided and became a single separate company when JNR was privatized and split. Although it has only about fifty kilometers of track of its own, it also operates on track owned by the JR passenger railways and other companies. The company uses the initials JRF as an abbreviated name for identification.
From Wikipedia
Brand/Importer Information
:

Tomix is a brand of Takara Tomy, a large Japanese conglomerate of companies that makes toys and games for the international marketplace. The Tomix brand (along with the Tomytec brand) are both managed by the Tomytec subsidiary/division of Takara Tomy. Prior to 1976 Tomy produced model trains using the "Tomy" brand name of the products. In 1976, they launched the new brand "Tomix" to segregate their model trains from their childrens toy lines.
Generally it can be difficult to understand why Tomytec releases some items using the Tomix brand and others using the Tomytec brand. There are some generalizations we have observed. Thomas the Tank Engine falls under Tomix, as do the JNR steam engines as well as bullet trains (Shinkansen) and track cleaning cars. Maybe another curator can step in and elaborate on this section.
Manufacturer Information
: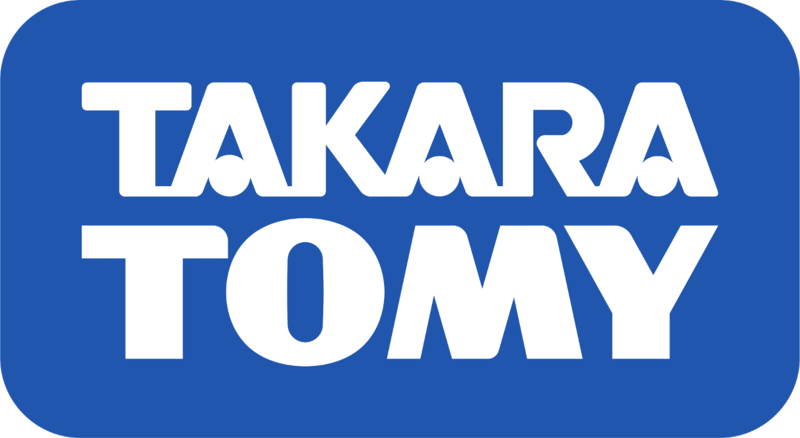 Largely a Japanese manufacturer of children's toys and baby products, Takara Tomy has established a number of different subsidiary companies, with sales offices and factories located in various locations around the world. The firm is the product of a 2006 merger-of-equals between Tomy and Takara.
Takara Tomy produces N Scale model trains under their Tomytec division (we use the term loosely because it is actually a more complex relationship) using two different brand names "Tomytec" and "Tomix". Technically speaking these are not brands in the Western sense but rather they more closely resemble subsidiaries -of-subsidiaries, and where they fit in the corporate org chart may be the matter for a Master's thesis, but for our purposes we can think of them as simply two different brands with one manufacturer. In the past (prior to 1976) some model train products were branded simply "Tomy". To further confuse things, since 2000, outside of Japan, the company goes by the simple name, "Tomy" for their international subsidiaries.
If you consider both brand names as a single company, then the Tomytec/Tomix product line is the largest of its kind in Japan; with Kato following in second place (as of 2017). While Takara Tomy products are popular around the world, the firm's focus on children's toys has limited the international acceptance and distribution of its Tomytec model railroad products. Furthermore, unlike Kato, their focus tends to be heavily skewed towards Japanes prototypes.
Item created by:
Alain LM
on 2021-08-20 16:10:23. Last edited by
Alain LM
on 2021-08-21 02:33:15
If you see errors or missing data in this entry, please feel free to
log in
and edit it. Anyone with a Gmail account can log in instantly.