Model Information: Cars are sold in pairs. Each package contains two unique road numbers. 3-Packs contain 6 Ready-To-run cars with 6 different road numbers. All flat cars are weighted and come with Red Caboose Bettendorf Friction Bearing trucks. They have Magnematic® couplers.
Prototype History
: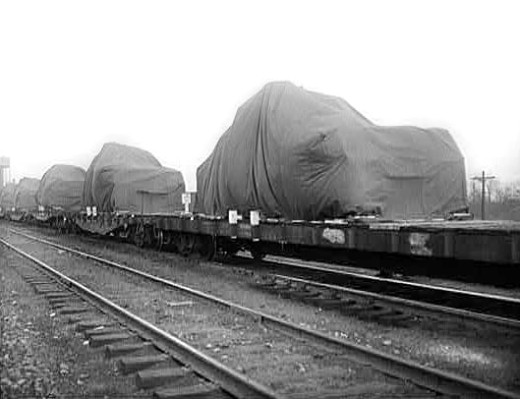 A flatcar (US) (also flat car (US) or flat wagon (UIC)) is a piece of railroad (US) or railway (non-US) rolling stock that consists of an open, flat deck mounted on a pair of trucks (US) or bogies (UK), one at each end containing four or six wheels. Occasionally, flat cars designed to carry extra heavy or extra large loads are mounted on a pair (or rarely, more) of bogeys under each end . The deck of the car can be wood or steel, and the sides of the deck can include pockets for stakes or tie-down points to secure loads. Flatcars designed for carrying machinery have sliding chain assemblies recessed in the deck.
Flatcars are used for loads that are too large or cumbersome to load in enclosed cars such as boxcars. They are also often used to transport intermodal containers (shipping containers) or trailers as part of intermodal freight transport shipping.
40 foot flatcars became the standard length at the end of the 19th century when most railcars adopted similar proportions. The 40 foot railcar was the predominant freight car up until the second world war, when flatcars, boxcars and gondolas all stepped up to a more modern 50 foot length.
Road Name History
: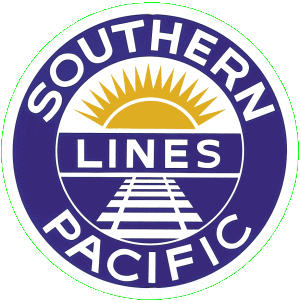 The Southern Pacific Transportation Company (reporting mark SP), earlier Southern Pacific Railroad and Southern Pacific Company, and usually called the Southern Pacific or (from the railroad's initials) Espee, was an American Class I railroad. It was absorbed in 1988 by the company that controlled the Denver and Rio Grande Western Railroad and eight years later became part of the Union Pacific Railroad.
The railroad was founded as a land holding company in 1865, later acquiring the Central Pacific Railroad by lease. By 1900 the Southern Pacific Company was a major railroad system incorporating many smaller companies, such as the Texas and New Orleans Railroad and Morgan's Louisiana and Texas Railroad. It extended from New Orleans through Texas to El Paso, across New Mexico and through Tucson, to Los Angeles, through most of California, including San Francisco and Sacramento. Central Pacific lines extended east across Nevada to Ogden, Utah, and reached north through Oregon to Portland. Other subsidiaries eventually included the St. Louis Southwestern Railway (Cotton Belt), the Northwestern Pacific Railroad at 328 miles (528 km), the 1,331 miles (2,142 km) Southern Pacific Railroad of Mexico, and a variety of 3 ft (914 mm) narrow gauge routes.
In 1929 SP/T&NO operated 13848 route-miles not including Cotton Belt, whose purchase of the Golden State Route circa 1980 nearly doubled its size to 3,085 miles (4,965 km), bringing total SP/SSW mileage to around 13,508 miles (21,739 km).
By the 1980s route mileage had dropped to 10,423 miles (16,774 km), mainly due to the pruning of branch lines. In 1988 the Southern Pacific was taken over by D&RGW parent Rio Grande Industries. The combined railroad kept the Southern Pacific name due to its brand recognition in the railroad industry and with customers of both constituent railroads. Along with the addition of the SPCSL Corporation route from Chicago to St. Louis, the total length of the D&RGW/SP/SSW system was 15,959 miles (25,684 km).
By 1996 years of financial problems had dropped SP's mileage to 13,715 miles (22,072 km), and it was taken over by the Union Pacific Railroad.
Read more on
Wikipedia
.
Brand/Importer Information
:

Originally Red Caboose was a manufacturer of HO and N Scale model railroading items. It was located in Mead, Colorado, and was founded in 1990 by Leon Fairbanks. Red Caboose manufactured highly accurate, well detailed N, HO, and O Scale freight cars and locomotives.
Red Caboose closed its doors in January of 2015. Red Caboose N Scale has been sold to Fox Valley Models and HO was sold to InterMountain Railway. Many of the Red Caboose toolings have seen re-releases from Fox Valley since the acquisition. We just wish they would clean up the underframes. Red Caboose always went light on the details where they thought people wouldn't look.
Manufacturer Information: While they were in business, Red Caboose split its production runs between the US and China. Which models were produced where was a function of which body style and which run. Furthermore, which Chinese company was used for production is something we would love to find out.
Item created by:
CNW400
on 2022-04-19 12:14:00
If you see errors or missing data in this entry, please feel free to
log in
and edit it. Anyone with a Gmail account can log in instantly.