Specific Item Information: Stock number also used by a Southern Pacific 50' Boxcar
Model Information: Precision Masters first released this body style in kit form. Later on, they released the same body as a RTR (Ready-to-Run) model. In 2005, Red Caboose acquired this tooling from PM. Red Caboose released this model in RTR form. The 4740 model can be distinguished from the 4750 model by counting the ribs. The 4740 has 16 ribs and the 4750 has 18 ribs. The ribs on the 4750 are a little chubbier as well.

Fox Valley later acquired all N Scale toolings from Red Caboose and proceeded to re-release an updated version of the 4750 PS-2 Covered Hopper in 2017. The new versions carry MTL body-mounted couplers and low-profile blackened-metal wheels.
Prototype History
: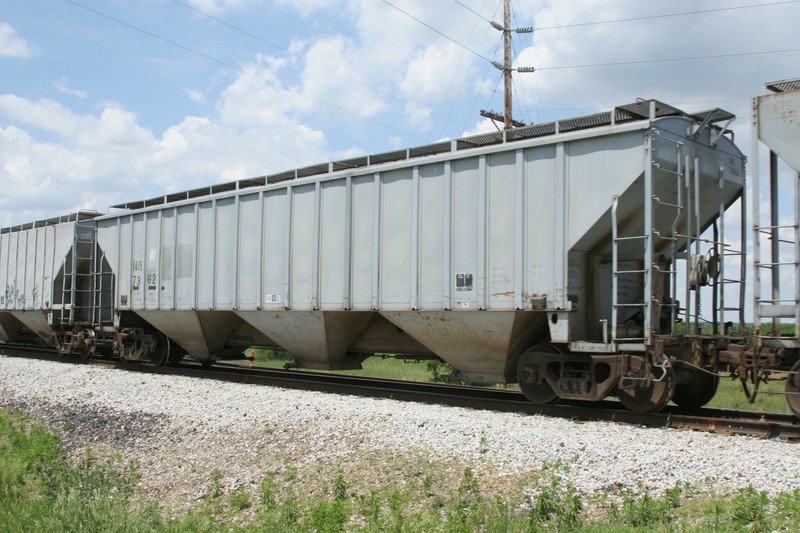 Manufactured by Pullman Standard from 1972 through the 1990's at least, these 4750 Cu. Ft. Hoppers were considered the 'Standard of the Industry' at the time. It is one of the most common freight cars in the rail scene since the late '70's. Features unique to this car include the 18 vertical posts on the car side (19 panel side) and compound curve roof (called by some a clerestory roof).
The 4,740 and 4,750 designs are often mistaken for each other, although the 4,750 has two more panels.
Road Name History
: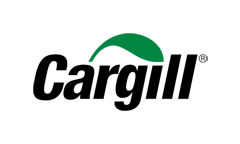 Cargill, Inc. is an American privately held global corporation based in Minnetonka, Minnesota, a Minneapolis suburb. Founded in 1865, it is now the largest privately held corporation in the United States in terms of revenue. If it were a public company, it would rank, as of 2015, number 12 on the Fortune 500, behind McKesson and ahead of AT&T.
Some of Cargill's major businesses are trading, purchasing and distributing grain and other agricultural commodities, such as palm oil; trading in energy, steel and transport; the raising of livestock and production of feed; producing food ingredients such as starch and glucose syrup, vegetable oils and fats for application in processed foods and industrial use. Cargill also operates a large financial services arm, which manages financial risks in the commodity markets for the company. In 2003, it split off a portion of its financial operations into a hedge fund called Black River Asset Management, with about $10 billion of assets and liabilities. It owned 2/3 of the shares of The Mosaic Company (sold off in 2011), one of the world's leading producers and marketers of concentrated phosphate and potash crop nutrients.
Cargill declared revenues of $136.7 billion and earnings of $2.31 billion in the 2013 fiscal year. Employing over 140,000 employees in 66 countries, it is responsible for 25% of all United States grain exports. The company also supplies about 22% of the US domestic meat market, importing more product from Argentina than any other company and is the largest poultry producer in Thailand. All of the eggs used in McDonald's restaurants in the US pass through Cargill's plants. It is the only producer of Alberger process salt in the US, which is used in the fast-food and prepared food industries.
Cargill remains a family-owned business, as the descendants of the founder (from the Cargill and MacMillan families) own over 90% of the company.[8] As a result, most of its growth has been due to reinvestment of the company's own earnings rather than public financing. Gregory R. Page, who is not part of either the Cargill or MacMillan families, is the executive chairman of Cargill. He succeeded former CEO Warren Staley in mid-2007, as Staley reached Cargill's mandatory retirement age of 65, before he in turn was succeeded by Dave MacLennan.
From Wikipedia
Brand/Importer Information
: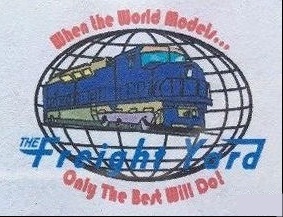 The Freight Yard was a hobby shop that did custom decoration and special runs of other manufacturers' N Scale products. It sold its custom products under several brands or collections:
Premiere Editions, by The Freight Yard
and
Dreams Design
.
It was located in Anaheim, California and then moved to 2006 in Phoenix, Arizona.
Established in the late 1980s, it stopped business under this name by the end of the 2000s.
The Freight Yard was owned and operated by Darren J. Cohen. Darren is now operating
North Valley Trains
.
The Freight Yard / Premiere Editions runs are usually available in series of two to twelve different numbers (suffixed A to M, with I not used).
The first two digits of the stock number correspond to the release year (9x being 199x, and 2x being 200x).
Manufacturer Information: While they were in business, Red Caboose split its production runs between the US and China. Which models were produced where was a function of which body style and which run. Furthermore, which Chinese company was used for production is something we would love to find out.
Item created by:
Alain LM
on 2022-06-04 04:20:32
If you see errors or missing data in this entry, please feel free to
log in
and edit it. Anyone with a Gmail account can log in instantly.