Specific Item Information: Built in March of 1958, this PS-2 hopper with Bettendorf trucks was purchased by Western Pacific in an order of 30 cars. The Pullman-Standard all-welded steel, 2,003 cubic-foot two bay covered hopper would become one of the most popular cars of its type with railroads and private industry. It was designed to haul everything from powdered chemicals, to grains, to construction materials such as sand or cement. Versatile and durable, this car continued in revenue service into the early 2000's, and was sometimes found later in MOW service.
Prototype History
: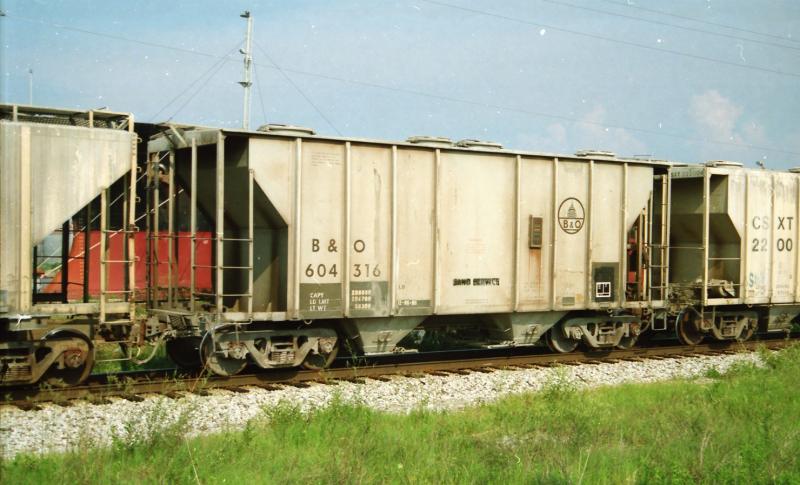 Like their PS-1 boxcars, PS-5 gondolas and other car designs, Pullman Standard applied the PS-2 classification to all of its covered hoppers. Pullman Standard built covered hoppers in many sizes and configurations. But say "PS-2" to railfans and it is this particular car that usually first comes to mind. The 2003 cubic foot car was one of the first, smallest and prolific of the PS-2 cars.
Pullman began building its standardized freight car designs with the PS-1 boxcar in 1947. Next up would be a standard covered hopper – hence PS-2 – shortly thereafter. Although covered hoppers are among the most common cars on the rails today, in 1947 they were a rarity. The PS-2's primary competition wasn't other covered hopper designs but boxcars. Grain, cement, sand and dried chemicals were carried mostly in boxcars prior to the 1950s either in sacks and bags or poured in bulk through hatches in the roof. The theory here was that it made more sense to utilize a single car for a variety of products. The car could carry bags of cement one way and then cut lumber the other. Of course a car that could do many things often couldn't do many of them well.
The PS-2 2600 cu ft covered hopper first entered service in the 1960s. The car was popular for cement and sand service and could still be found in use well into the 2000s. The most common service was cement and sand. Occassionally used as buffer cars in instances were a bulk load was not protected by a bulkhead, for example an uprotected lumber load on flat car would require a buffer car between the load and the locomotive.
Road Name History
: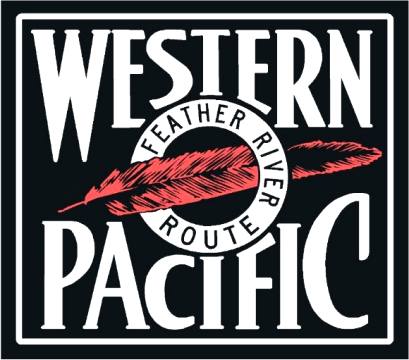 The Western Pacific Railroad (reporting mark WP) was a Class I railroad in the United States. It was formed in 1903 as an attempt to break the near-monopoly the Southern Pacific Railroad had on rail service into northern California. WP's Feather River Route directly competed with SP's portion of the Overland Route for rail traffic between Salt Lake City/Ogden, Utah and Oakland, California for nearly 80 years. In 1983 the Western Pacific was acquired by the Union Pacific Railroad. The Western Pacific was one of the original operators of the California Zephyr.
The original Western Pacific Railroad was established in 1865 to build the westernmost portion of the Transcontinental Railroad between San Jose, California (later Oakland, California), and Sacramento, California. This company was absorbed into the Central Pacific Railroad in 1870.
The second company to use the name Western Pacific Railroad was founded in 1903. Under the direction of George Jay Gould I, the Western Pacific was founded to provide a standard gauge track connection to the Pacific Coast for his aspiring Gould transcontinental system. The construction was financed by the Denver and Rio Grande Western Railroad, a company in the Gould system, which lost access to California due to the attempted acquisition of the Southern Pacific Railroad by the Rio Grande's main rival, the Union Pacific Railroad. The Western Pacific Railroad acquired the Alameda and San Joaquin Railroad and began construction on what would become the Feather River Route. In 1909 it became the last major railroad completed into California. It used 85-lb rail on untreated ties, with no tie plates except on curves over one degree; in 1935 more than half of the main line still had its original rail, most of it having carried 150 million gross tons.
The Western Pacific was acquired in 1983 by Union Pacific Corporation, which in 1996 would purchase its long-time rival, the Southern Pacific Railroad. In July 2005 Union Pacific unveiled a brand new EMD SD70ACe locomotive, Union Pacific 1983, painted as an homage to the Western Pacific.
Brand/Importer Information
: Micro-Trains is the brand name used by both Kadee Quality Products and Micro-Trains Line. For a history of the relationship between the brand and the two companies, please consult our
Micro-Trains Collector's Guide
.
Manufacturer Information
:

Micro-Trains Line split off from Kadee Quality Products in 1990. Kadee Quality Products originally got involved in N-Scale by producing a scaled-down version of their successful HO Magne-Matic knuckle coupler system. This coupler was superior to the ubiquitous 'Rapido' style coupler due to two primary factors: superior realistic appearance and the ability to automatically uncouple when stopped over a magnet embedded in a section of track. The success of these couplers in N-Scale quickly translated to the production of trucks, wheels and in 1972 a release of ready-to-run box cars.
Micro-Trains Line
Co. split off from Kadee in 1990 to form a completely independent company. For this reason, products from this company can appear with labels from both enterprises. Due to the nature of production idiosyncrasies and various random factors, the rolling stock from Micro-Trains can have all sorts of interesting variations in both their packaging as well as the products themselves. When acquiring an MTL product it is very important to understand these important production variations that can greatly enhance (or decrease) the value of your purchase.
Please consult our
Micro-Trains Collector's Guide
Item created by:
nscalestation
on 2022-07-04 17:13:46. Last edited by
gdm
on 2023-01-30 15:13:02
If you see errors or missing data in this entry, please feel free to
log in
and edit it. Anyone with a Gmail account can log in instantly.