Road Name History
: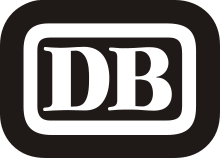 Deutsche Bundesbahn was the Western Germany DB before reunification. After World War II, Germany (and the DRG) was divided into 4 zones: US, British, French and Soviet. The first three eventually combined to form the Federal Republic of Germany (the West) and the Russian zone became the German Democratic Republic (the East). German territories beyond the Oder were ceded to Poland except for the northern part of East Prussia, which was ceded to the Soviet Union in 1945.
From 1949, the new governments assumed authority for railway operations. The DRG's (or DR's) successors were named Deutsche Bundesbahn (DB, German Federal Railways) in West Germany, and Deutsche Reichsbahn (DR, German State Railways) in East Germany kept the old name to hold tracking rights in western Berlin.
Unlike the DRG, which was a corporation, both the DB and the DR were federal state institutions, directly controlled by their respective transportation ministries. Railway service between East and West was restricted; there were around five well-controlled and secure checkpoints between West and East Germany, and about the same number between East Germany and West Berlin. Four transit routes existed between West Germany and West Berlin; citizens of West Berlin and West Germany were able to use these without too much harassment by the East German authorities.
The DB started in 1968 with changing the locomotive and passenger car serial numbers to the UIC norm. In 1970 the DR followed. The DB started experimenting with the Intercity trains in a new livery (bright orange).
In 1989, the Wall fell. Train frequency rapidly increased on the existing East/West corridors; closed links which had formerly crossed the border were re-opened. On 3 October 1990, Germany was reunified; however, this was not immediately the case with the railways. Administrative and organisational problems led to the decision to completely re-organize and reconnect Germany's railways. The so-called Bahnreform (Railway Reform) came into effect on 1 January 1994, when the State railways Deutsche Bundesbahn and Deutsche Reichsbahn were formally reunited to form the current German Railway Corporation (Deutsche Bahn).
From Wikipedia
Brand/Importer Information
:

PIKO Spielwaren GmbH is a company based in Sonneberg, Germany. With over 550 employees at production sites in Sonneberg (Germany) and Chashan (China) PIKO is one of the leading German and European manufacturers of model trains and accessories in the gauges G, H0, TT, N.
The traditional company was founded in 1949 in Chemnitz (Germany) and is managed by its owner Dr. René F. Wilfer since 1992. PIKO model railway products are sold primarily through the well-stocked model railroad stores. But also in the mail and online commerce and in toy sections of department stores you can purchase PIKO articles. In the field H0 and garden railway is PIKO full-line manufacturer and provides the interested model railroaders all he needed in the corresponding track size for his hobby, it covers locomotives and cars, to building models, tracks and complete starter-kits and its own digital system.
For friends of the gauges TT and N PIKO produces a lot of interesting locomotive and wagon models. PIKO model railroad products cover a wide variety of needs for model railroaders and are regularly tested and awarded by the domestic and international model railway press. For industrial and commercial customers PIKO has become a reliable supplier of customized printed model trains, which are often used as a high-quality promotional products or premium gifts. PIKO presents itself at various national and international exhibitions, such as the Nuremberg Toy Fair, as well as consumer fairs in Germany to the model railway enthusiastic audience. Every 2 years we celebrate in Sonneberg the "Open Day", which is visited by about 10,000 PIKO fans and has established itself into an unforgettable event and a fixed date for PIKO model railroad fans.
Item created by:
CNW400
on 2022-10-06 14:34:22
If you see errors or missing data in this entry, please feel free to
log in
and edit it. Anyone with a Gmail account can log in instantly.