Model Information: This model was introduced in 1996. A revised version was released in 2001. In 2007 the 20th Anniversary version was released. Finally, in 2008, Kato produced a KOBO-Custom DCC version. This model is an icon of the N Scale hobby. The Kato 2-8-2 was the first N-Scale steam model to achieve celebrity status. It runs fast and smooth, and it reset the consumer's expectations for what could be delivered for a reasonable price in N Scale for a steam engine.

Unfortunately, the engine doesn't pull well uphill. It is possible to equip it with an OEM traction tire, but this requires some work and partial disassembly. Once equipped, it pulls much better, but loses most of the pickup capability in two wheels. Not a major loss, but still noticeable on dirty track. By the standards of diesel engines, the performance is fine. Remember though that the other steam engines being produced in the 1990's were a huge step behind the performance of a typical 'modern' split-frame dual-flywheel diesel, so simply producing a steam engine as good as a diesel was a small miracle.

Kato changed the industry with this model and it is an excellent addition to the collection of anyone who models the steam era. But if you are a DCC person, save your pennies for a modern DCC-Read Kato production such as the FEF3.
DCC Information: It isn't in the least bit DCC-friendly. Don't even think about doing it yourself unless you are comfortable milling out space in the chassis.
Prototype History
: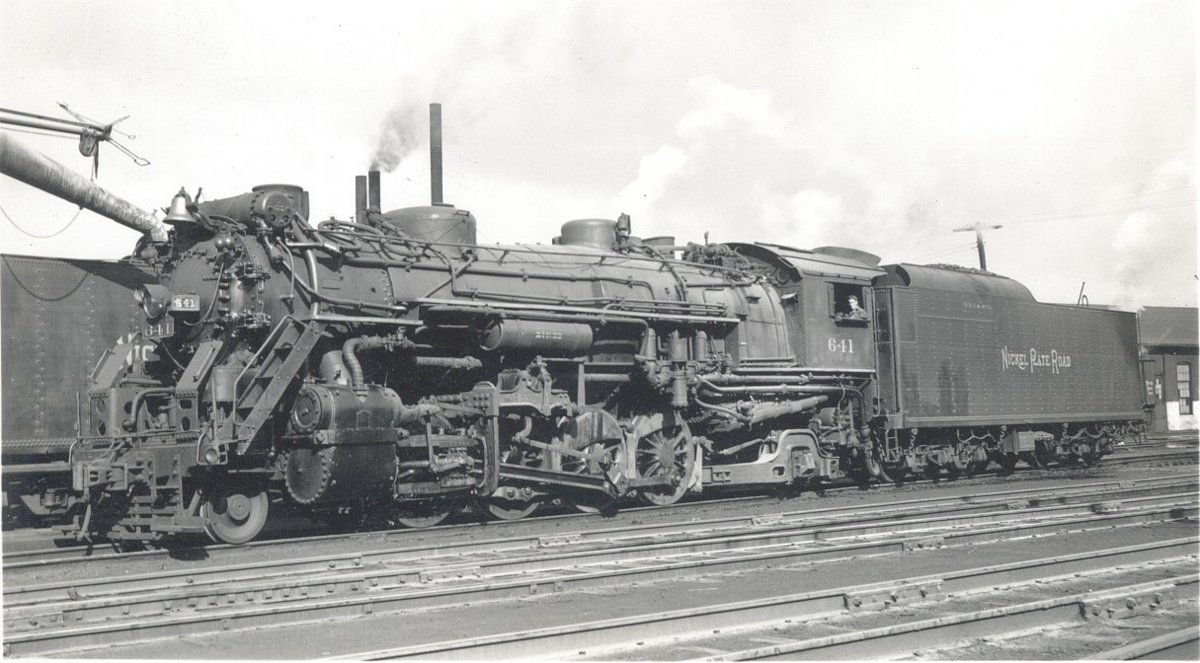 The Heavy Mikado was "conceived" under the auspices of the United States Railway Administration (USRA), an agency established during WWI to regulate the railroad industry during the war. One of the first undertakings of the USRA was to develop locomotive (and rolling stock) designs that the railroads could share. This "common design" program was highly successful in streamlining production, and many USRA engines were used long after the war was over, essentially "outliving" the agency that conceived them.
The 2-8-2 is a railroad steam locomotive that has one leading axle followed by four powered driving axles and one trailing axle. This configuration of steam locomotive is most often referred to as a Mikado, or shortened to just "Mike". The USRA ultimately created 12 different steam locomotive designs, including both the Heavy Mikado and Light Mikado. Both the Light and Heavy Mikado used the same 63" drivers and running gear, but the Heavy Mike had a fatter boiler and put out more pounds on the drivers. This resulted in a more powerful locomotive.
Under the USRA's watch, 233 Heavy Mikados were built. Including copies built later, the total number of Heavy Mikes was 957 units, purchased originally by 23 different railroads, primarily in freight service. Some Mikado steam engine are still in service today, employed mostly for tourist or railfan trips.
Road Name History
: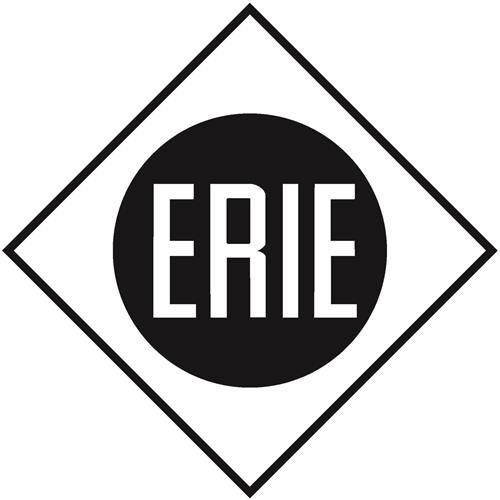 The Erie (the second railroad by that name) was formed in 1895 from the reorganization of the New York Lake Erie & Western which had cobbled together a Jersey City (across the Hudson from New York City) to Chicago route from the original Erie, the Chicago & Atlantic, Atlantic & Great Western and a few smaller lines. The route had been built to 6' gauge and had been standard gauged in 1880.
The New York – Chicago main was all double track with big rail. However, the mainline managed to miss every major city along the way. Binghamton, New York and Akron, Ohio were the biggest cities on the mainline between New York and Chicago. Buffalo, Rochester, Youngstown, Cleveland, Dayton, and Cincinnati were all at the end of branches from the mainline. Some said that "you could forget how much unpopulated land there was in the Northeast until you rode the Erie."
Erie and its predecessors were early victims of "robber barons" that saddled the company with debt that it would carry for over 100 years. The companies went bankrupt 3 times in the 19th Century and once during the Depression (in 1938, after most other lines ironically.) Erie promoted exclusively from within and management was rife with nepotism. It was called "Weary Erie", and "The Scarlet Woman of Wall Street."
Erie's steam fleet was varied although not terribly modern. The Erie passed through Pennsylvania's anthracite region so camelback locomotives were part of the mix. In fact Erie had the largest camelbacks ever built – 0-8-8-0's delivered in 1908. Erie was also one of only two roads to employ Triplexes, in this case with the 2-8-8-8-2 wheel arrangement. Their most modern steam consisted of heavy Berkshires delivered in 1929 when the company was under the influence of the Van Sweringen brothers who also controlled Nickel Plate, C&O, Pere Marquette and Hocking Valley. As a result, they dieselized fairly early primarily with EMD, and Alco road and passenger units and switchers from nearly every builder. Like future dance partner DL&W, Erie road switchers were setup for long-hood-forward operation.
Other than heavy commuter operations in New Jersey, passenger operations paled in comparison to other eastern trunk lines. Erie concentrated on freight. From about 1947 until 1955, the Erie was fairly healthy, although still paying way too much for debt service. They even paid dividends for much of this period. Quartets of F units dragged freights over 185 cars long across New York's scenic Southern Tier. Erie's big clearances (due to the original 6' track gauge) made Erie the go-to road for highly lucrative over-size loads. The Erie was much loved by communities along the line.
The mid-to-late 50s presented one disaster after another. Twin hurricanes damaged track (although not as bad as neighbor DL&W who really took it in the teeth), then strikes in the cement and steel industries cut traffic dramatically. Labor trouble in the tire center of Akron (where Erie was a major carrier) led to much of the tire industry leaving the area. Erie's net income fell in half the next year and then they began to lose money. Combining parallel routes and Jersey Shore terminals with the Lackawanna helped but not enough. In 1960, The Erie merged with the Delaware Lackawanna & Western. Here are Erie's stats in their final year: 2,215 route miles (about the same length as competitors Nickel Plate and Wabash); 484 diesels; 535 passenger cars; 20,028 freight cars.
Brand/Importer Information
:

KATO U.S.A. was established in 1986, with the first U.S. locomotive model (the GP38-2, in N-Scale) released in 1987. Since that time, KATO has come to be known as one of the leading manufacturers of precision railroad products for the modeling community. KATO's parent company, Sekisui Kinzoku Co., Ltd., is headquartered in Tokyo, Japan.
In addition to producing ready-to-run HO and N scale models that are universally hailed for their high level of detail, craftsmanship and operation, KATO also manufactures UNITRACK. UNITRACK is the finest rail & roadbed modular track system available to modelers today. With the track and roadbed integrated into a single piece, UNITRACK features a nickel-silver rail and a realistic-looking roadbed. Patented UNIJOINERS allow sections to be snapped together quickly and securely, time after time if necessary.
The Kato U.S.A. office and warehouse facility is located in Schaumburg, Illinois, approximately 30 miles northwest of Chicago. All research & development of new North American products is performed here, in addition to the sales and distribution of merchandise to a vast network of wholesale representatives and retail dealers. Models requiring service sent in by hobbyists are usually attended to at this location as well. The manufacturing of all KATO products is performed in Japan.
Supporters of KATO should note that there is currently no showroom or operating exhibit of models at the Schaumburg facility. Furthermore, model parts are the only merchandise sold directly to consumers. (Please view the Parts Catalog of this website for more specific information.)
Item created by:
gdm
on 2016-02-24 06:31:34. Last edited by
CNW400
on 2020-09-14 13:25:43
If you see errors or missing data in this entry, please feel free to
log in
and edit it. Anyone with a Gmail account can log in instantly.