Model Information: This model from Trainworx was first introduced in September of 2008. It has some great features such as separately applied ladders, grab irons and brake platform detail. The underframe is exceptionally detailed as is the interior. So much effort was spent on the interior it seems a shame to add a load! These models use Micro-Trains Bettendorf trucks with integrated couplers. It would be nice to see body-mount couplers, but this model seemed to have come out just before body-mount couplers became the norm. Also, the couplers come with standard MTL supplied injection molded wheels, whereas newer high-end models come with metal wheels. These last two comments are not meant as criticisms, but rather serve to illustrate trends in N Scale rolling stock manufacturing.
Prototype History
: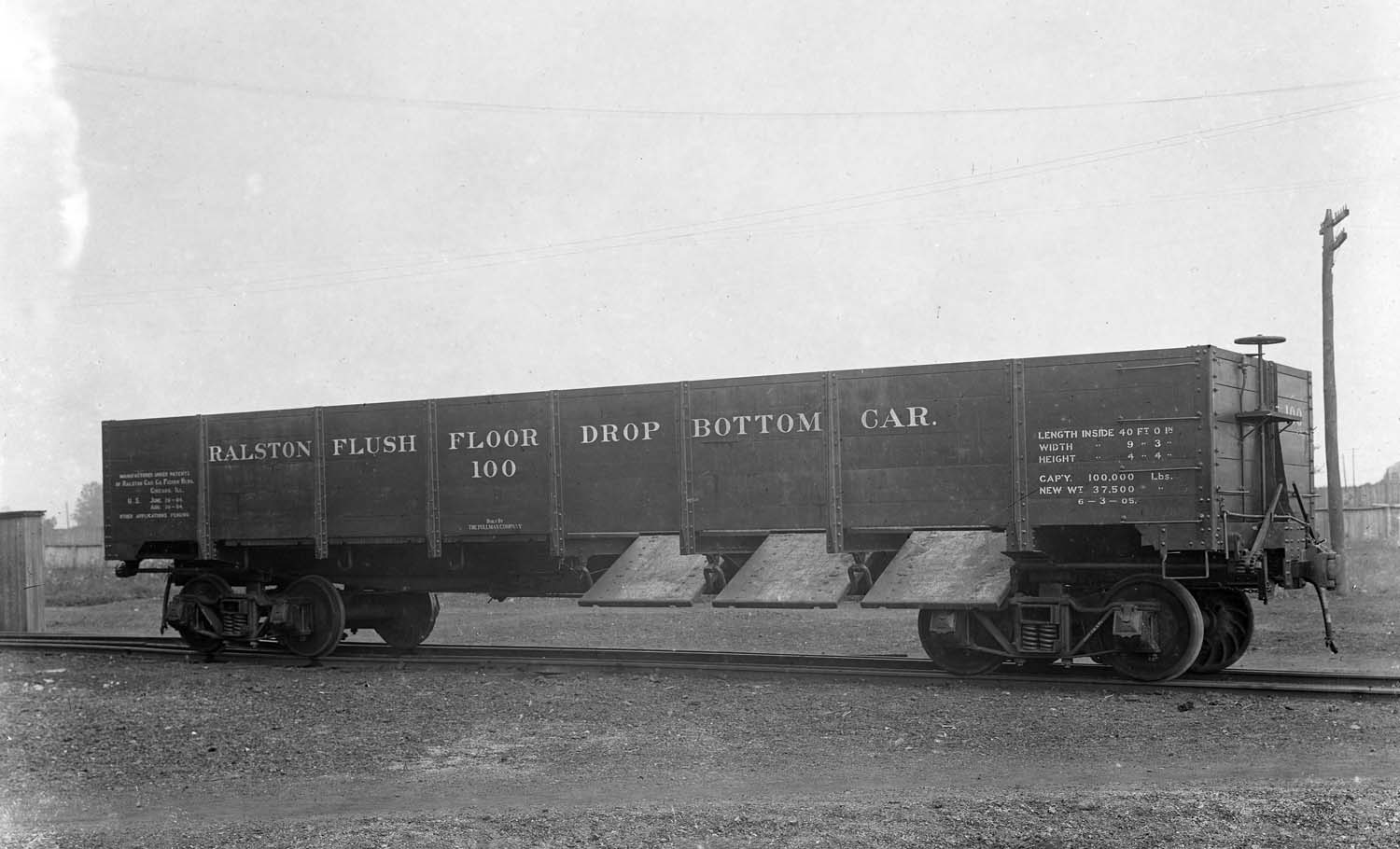 In US railroad terminology, a gondola is an open-topped rail vehicle used for transporting loose bulk materials. All-steel gondolas date back to the early part of the 20th century. Because of their low side walls gondolas are also suitable for the carriage of such high-density cargoes as steel plates or coils, or of bulky items such as prefabricated sections of rail track.
Drop-bottom gondolas were equipped with dump doors that operated via a mechanism located in the center of the car body. The drop bottom door provided a time-saving unloading method compared to the usual, labor-intensive procedure. Instead of equipping workmen with shovels to muck out the car's content, the lever system was used to open the doors thus immediately dumping the load on the ground. Various commodities could be carried in the drop bottom gons, but coal loadings were most common. Many coaling towers had elevated trestle style delivery ramps where the drop bottom gondolas would be spotted and workmen could simply open the dump doors to spill the contents into the coal bins. At facilities with the elevator bucket style of coal dock, a ramp was used that led up to an open grate where the coal would spill through and into the lower coal bins. The gons were "tailor made" for company service such as dumping ballast directly onto track roadbed during maintenance, as well as hauling cinders out of various engine service facilities. Handy they were!
Road Name History
: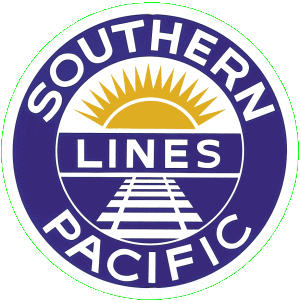 The Southern Pacific Transportation Company (reporting mark SP), earlier Southern Pacific Railroad and Southern Pacific Company, and usually called the Southern Pacific or (from the railroad's initials) Espee, was an American Class I railroad. It was absorbed in 1988 by the company that controlled the Denver and Rio Grande Western Railroad and eight years later became part of the Union Pacific Railroad.
The railroad was founded as a land holding company in 1865, later acquiring the Central Pacific Railroad by lease. By 1900 the Southern Pacific Company was a major railroad system incorporating many smaller companies, such as the Texas and New Orleans Railroad and Morgan's Louisiana and Texas Railroad. It extended from New Orleans through Texas to El Paso, across New Mexico and through Tucson, to Los Angeles, through most of California, including San Francisco and Sacramento. Central Pacific lines extended east across Nevada to Ogden, Utah, and reached north through Oregon to Portland. Other subsidiaries eventually included the St. Louis Southwestern Railway (Cotton Belt), the Northwestern Pacific Railroad at 328 miles (528 km), the 1,331 miles (2,142 km) Southern Pacific Railroad of Mexico, and a variety of 3 ft (914 mm) narrow gauge routes.
In 1929 SP/T&NO operated 13848 route-miles not including Cotton Belt, whose purchase of the Golden State Route circa 1980 nearly doubled its size to 3,085 miles (4,965 km), bringing total SP/SSW mileage to around 13,508 miles (21,739 km).
By the 1980s route mileage had dropped to 10,423 miles (16,774 km), mainly due to the pruning of branch lines. In 1988 the Southern Pacific was taken over by D&RGW parent Rio Grande Industries. The combined railroad kept the Southern Pacific name due to its brand recognition in the railroad industry and with customers of both constituent railroads. Along with the addition of the SPCSL Corporation route from Chicago to St. Louis, the total length of the D&RGW/SP/SSW system was 15,959 miles (25,684 km).
By 1996 years of financial problems had dropped SP's mileage to 13,715 miles (22,072 km), and it was taken over by the Union Pacific Railroad.
Read more on
Wikipedia
.
Brand/Importer Information
:

Trainworx was founded in 1999 by Pat Sanders and is located in Delta Colorado. Their first freight car was the Quad hopper and it was released in 2000. They have been making N scale products ever since. Their website can be found at
www.train-worx.com
. As of 2016, they have produced 8 different rolling stock body styles as well as a range of different highway vehicles in N Scale. Their limited edition runs have proven a huge success with collectors and modelers enjoy the accuracy of all their products.
Trainworx sells their products both through tradional retail channels as well as directly by phone order. When asked "What prompted you to found Trainworx?", Pat Sanders responded "There was a freight car that hadn't been done in N scale that I just had to have and it didn't look like anyone was ever going to make it."
Item created by:
nscalestation
on 2016-03-31 18:33:48. Last edited by
scottakoltz
on 2020-05-18 11:19:51
If you see errors or missing data in this entry, please feel free to
log in
and edit it. Anyone with a Gmail account can log in instantly.