Model Information: Atlas first released this model in 1976. It was originally produced in their New Jersey factor. It replaced a similar model made by Roco for Atlas from 1967 - 1975. The American-made Atlas tooling was launched with an amazing 24 different road names. In the 1997 Atlas catalog, this model is referred to as a 40' Plugdoor Boxcar. However, the earlier Roco model had been referred to alternatively as a "Reefer" (1967, 1969 and 1971) as well as a "40' Insulated Plugdoor" (1975). Sometime in the 1990s, the tooling was moved to China. From September 2006 onward, this model was considered part of the 'Trainman' product line.
Prototype History
: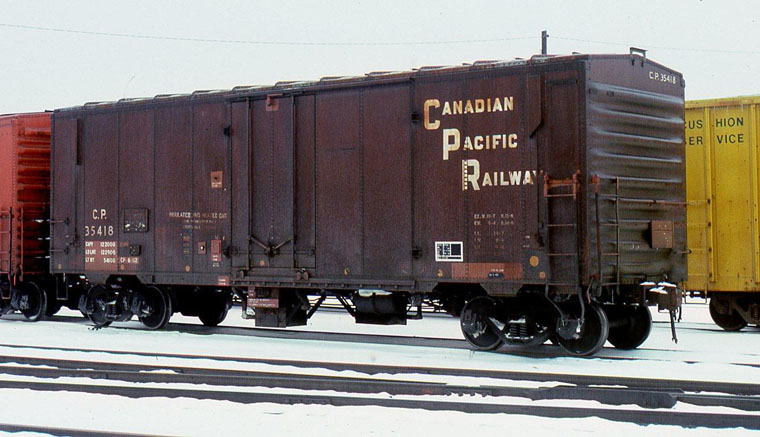 Plug-Door boxcars are usually insulated and typically carry products such as canned goods that require protection from extremes of temperature but do not require refrigeration. Plug-style doors were normally used to ensure a tight seal in the insulation. Designed for transport of both perishables and large loads, plug doors allowed box cars to be sealed from outside dust and dirt. Cars like these were manufactured during the 50s and 60s.
Whether you consider this a reefer or a boxcar is a matter for angel-pinhead-counters. There seems to be a bit of a blurry line during the transition era between the idea of a steel ice reefer and an insulated boxcar. I guess an ice reefer was meant to hold ice for cooling but I doubt this is a cut-and-dry distinction. Modern "mechanical" reefers are a different breed as they contain a refrigeration unit which quite distinctly sets them apart from "boxcars".
Road Name History
: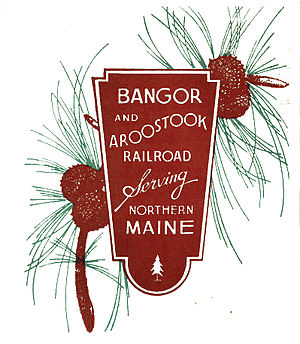 The Bangor and Aroostook Railroad (reporting mark BAR) was a United States railroad company that brought rail service to Aroostook County in northern Maine. Brightly painted BAR box cars attracted national attention in the 1950s. First-generation diesel locomotives operated on BAR until they were museum pieces. The economic downturn of the 1980s coupled with the departure of heavy industry from northern Maine forced the railroad to seek a buyer and end operations in 2003.
The company was incorporated in 1891 to combine the lines of the former Bangor and Piscataquis Railroad and the Bangor and Katahdin Iron Works Railway. It was based in Bangor and lines extended from there to Oakfield and Houlton in 1894. The line was extended from Houlton to Fort Fairfield and Caribou in 1895. A parallel branch line was extended from Oakfield to Ashland in 1896. A branch was built from Caribou to Limestone in 1897, and the main line extended from Caribou to Van Buren in 1899. The Ashland Branch was extended to Fort Kent in 1902. A southern extension was completed in 1905 through Northern Maine Junction to Searsport on Penobscot Bay. The Medford Cutoff from Packard to South Lagrange was completed in 1907; and a branch was built from Millinocket to a new paper mill in East Millinocket. Rails were extended up the Saint John River from Van Buren through Madawaska and Fort Kent to St. Francis in 1910; and Mapleton was connected to Stockholm and Presque Isle on the main line, and to Squa Pan on the Ashland branch. An international bridge was constructed over the Saint John River between Van Buren and St. Leonard, NB in 1915 to connect with the Canadian Pacific Railway and National Transcontinental Railway (later merged into the Canadian National Railway).
BAR began hauling potatoes in heated box cars in 1895. Potatoes provided a stable income source through the great depression, and provided 50% of the railroad's revenue following World War II. BAR had the 2nd largest United States railroad-owned reefer fleet (after Santa Fe) during the 1950s. BAR made an arrangement with Pacific Fruit Express whereby PFE reefers shipped Maine potatoes during winter months and BAR reefers carried California produce during the summer and autumn. While potatoes started moving by truck following completion of the Interstate Highway System into northern Maine in the 1960s, what actually resulted in the railroad losing its potato business forever was the Penn Central Transportation Company (PC), whose interchange service became so bad during the winter of 1969?70 that a large portion of the 1969 potato crop was spoiled by freezing when car heaters ran out of fuel. The claims process against PC was not resolved prior to PC's bankruptcy declaration the following June. As a result, several potato farms went out of business; and those that survived distrusted rail service and never returned to using the railroad.
Inbound chemicals and outbound paper from mills on the Penobscot River at Millinocket and East Millinocket were major revenue sources for the BAR from 1900. Another paper mill was built in Madawaska in 1925. Pulpwood and wood chips to the paper mills became increasingly important as potato loadings declined. The remote port facilities at Searsport were a preferred loading point for ammunition during World War II; and BAR transported heating coal and aircraft fuel to Loring AFB for Strategic Air Command bombers through the Cold War. BAR painted 2,500 box cars in the red, white and blue colors of the US flag during the 1950s. A less expensive oxide red paint scheme with large white reporting marks was adopted during the Vietnam War.
The line from Brownville Junction to Katahdin Iron Works was abandoned in 1922, but the rails remained in place until 1933. BAR passenger train service ended in 1961. Bus service, which began in 1936, continued with buses lettered for Bangor and Aroostook running on Greyhound Lines schedules between Aroostook County and New York City's Port Authority Bus Terminal until 1984. The Greenville branch was dismantled from 1962 to 1964. Several Aroostook County segments were abandoned when potato traffic disappeared in the 1970s. In 1995, the BAR was acquired by Iron Road Railways. In 2002, the company was declared bankrupt, and in 2003 its lines were sold to Rail World, Inc., which initially incorporated them into the newly formed Montreal, Maine and Atlantic Railway. In 2010, the 233 miles (375 km) of track from Millinocket north to the Canada-US border were sold to the state of Maine for $20 million to be operated by Irving's Maine Northern Railway. MM&A kept the line from the Millinocket paper mills south to Searsport; after its 2013 Lac-Megantic derailment and bankruptcy, the line was sold to Fortress Investments as the Central Maine and Quebec Railway.
Paint Scheme
:
In real life, the first State of Maine cars had "Bangor and Aroostook Railroad" spelled out in full, including the word "Railroad". These cars also had the word "Potatoes" in the red stripe. Shortly after debuting on the BAR, the word "Potatoes" was replaced with "Products" and the lettering in the white stripe was shortened to eliminate the word "Railroad".
The sides of those cars were divided into thirds, horizontally: the top third painted red, the middle third white, and the bottom third sported a deep blue.
New Haven's "State of Maine" cars were insulated, heated box cars used for the transportation of potatoes. There probably was enough of that business between Maine and New York City to justify assigning cars to NH.
Brand/Importer Information
: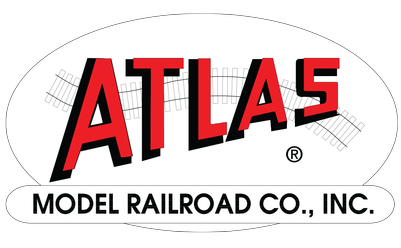 In 1924 Stephan Schaffan, Sr. founded the Atlas Tool Company in Newark, New Jersey. In 1933 his son, Stephan Schaffan, Jr., came to work for his father at the age of sixteen. Steve Jr. built model airplanes as a hobby and frequented a local hobby shop. Being an enterprising young man, he would often ask the owner if there was anything he could do to earn some extra spending money. Tired of listening to his requests, the hobby-store owner threw some model railroad track parts his way and said, "Here, see if you can improve on this".
In those days, railroad modelers had to assemble and build everything from scratch. Steve Jr. created a "switch kit" which sold so well, that the entire family worked on them in the basement at night, while doing business as usual in the machine shop during the day.
Subsequently, Steve Jr. engineered the stapling of rail to fiber track, along with inventing the first practical rail joiner and pre-assembled turnouts and flexible track. All of these products, and more, helped to popularize model railroading and assisted in the creation of a mass-market hobby. The budding entrepreneur quickly outgrew the limitations of a basement and small garage operation. Realizing they could actually make a living selling track and related products, Steve and his father had the first factory built in Hillside, New Jersey at 413 Florence Avenue in 1947. On September 30, 1949, the Atlas Tool Company was officially incorporated as a New Jersey company.
In 1985, Steve was honored posthumously for his inventions by the Model Railroad Industry Association and was inducted into the Model Railroad Industry Hall of Fame in Baltimore, Maryland. In addition, Steve was nominated and entered into the National Model Railroad Association Pioneers of Model Railroading in 1995.
In the early 1990s, the Atlas Tool Company changed its name to
Atlas Model Railroad Company, Inc.
Item created by:
gdm
on 2016-04-01 10:55:39. Last edited by
CNW400
on 2020-06-02 20:52:04
If you see errors or missing data in this entry, please feel free to
log in
and edit it. Anyone with a Gmail account can log in instantly.