Model Information: The Kato F2, F3 and F7 all share the same mechanism. They differ only in shell details. Kato introduced the F3 model in 1988 and then followed up with the F7 in 1992. In 2003 a major overhaul introduced a DCC-Ready mechanism to the F3 and then in 2006 a similar update was performed for the F7. In 2014, a DCC-Ready version of the F2 was added to the roster.

Like the Atlas Geeps, these models have been a staple of Kato engine production for decades. They have undergone numerous revisions, each offering significant upgrades in features in performance. They have always been good runners (I have an older B&O AB pair I love to operate) but they get better with each update. Even the earliest models featured a modern split-frame design and are very heavy for their size. This probably aids in their excellent smooth operation.
DCC Information: Later releases permit easy DCC-installation (though they remain 'Friendly' rather than 'Ready'), Kato knuckle couplers and low-profile wheels. All versions run quietly.
Prototype History
: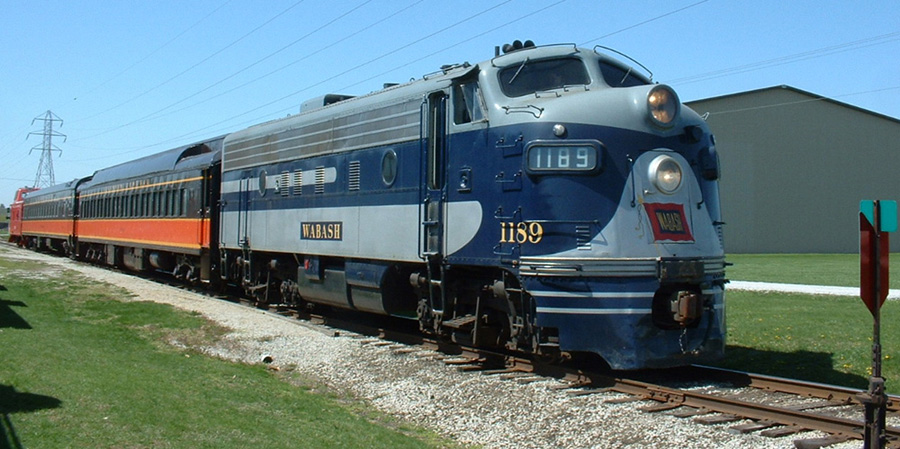 The F7 was the fourth model in GM-EMD's successful line of F unit locomotives, and by far the best-selling cab unit of all time. In fact, more F7's were built than all other F units combined. It succeeded the F3 model in GM-EMD's F unit sequence, and was replaced in turn by the F9. Final assembly was at GM-EMD's La Grange, Illinois, plant or GMD's London, Ontario, facility.
The F7 differed from the F3 primarily in internal equipment (mostly electrical) and some external features. Its continuous tractive effort rating was 20% higher (e.g. 40,000 lb (18,000 kg) for an F7 with 65 mph (105 km/h) gearing, compared to 32,500 lb (14,700 kg) for an F3 with the same gearing.
A total of 2,366 cab-equipped lead A units and 1,483 cabless-booster or B units were built. (Note: the B unit is often referred to as an "F7B", whereas the A unit is simply an "F7".)
Many F7s remained in service for decades, as railroads found them economical to operate and maintain. However, the locomotive was not very popular with yard crews who operated them in switching service because they were difficult to mount and dismount, and it was also nearly impossible for the engineer to see hand signals from a ground crew without leaning way outside the window. As most of these engines were bought and operated before two-way radio became standard on most American railroads, this was a major point of contention. In later years, with the advent of the "road switchers" such as the EMD GP7, F units were primarily used in "through freight" and "unit train" service where there was very little or no switching to be done on line of road.
From Wikipedia
Read more on
American-Rails.com
Road Name History
: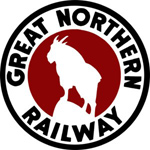 The Great Northern was born in 1881 with the consolidation of several railroads of the northern plains under the leadership of James J. Hill. By 1893, the mainline from the Great Lakes and the Mississippi River to Seattle was complete.
The GN had two distinctly different characters. The eastern half was a largely flat, grain producing region serving cities like Fargo, the Twin Cities, Grand Forks, Duluth, Sioux Falls, Sioux City and even Winnipeg in Canada. The east end also included the iron ore rich regions of Minnesota. Half of North Dakota was blanketed by GN branchlines (21 in all) serving every imaginable grain elevator.
The western half is the mountainous portion that most people identify with Great Northern. This included crossing the northern Rockies and the even more difficult Cascade ranges. Cities on the western half included Billings, Butte, Helena, Havre, Spokane, Portland, Seattle, and Vancouver. In 1931, a connection to the Western Pacific was completed from Bieber north to Bend, Oregon. This line was disconnected from the rest of the Great Northern. They used trackage rights on the Oregon Trunk and SP&S to bridge the gap. The Cascade Tunnel, the longest on the continent at 7.8 miles, wasn't completed until 1931. Construction included a massive sluiceway and hydro-electric power station to feed the electrified line through the tunnel and several miles of railroad on either side. This replaced the original Cascade Tunnel which was a third as long but 500 feet higher up the mountain. That replaced the original route that was another 700 feet higher, had 4% grades and 50 miles of snowsheds. All told, Great Northern had about 8,300 route miles.
The steam era was especially unkind to the Great Northern. They seemed to go out of their way to make their locomotives ugly. Belpaire fire boxes were the norm (made famous by the Pennsylvania, made hideous on the GN.) Headlights were often mounted just above center giving them a spinster look. Cab fronts were often at odd angles. The tender coal bunkers were often taller than the engines. But it wasn't just aesthetics. GN had a knack for buying the wrong engines for the job. 150 Prarie type 2-6-2's were so unstable at speed that they were busted down to branchline duty almost straight away and none survived after about 1930. Their first 4-8-2 Mountains built for passenger and fast freight were such a disaster, they were rebuilt into 2-10-2's. Many railroads had built Mountains out of Mikes but no one had ever started with a Mountain and had to build something else from it. The first 2-6-6-2's were so under-powered, the boilers were used to make Mikados instead. They did manage to build the largest, fastest, and most powerful Mikados in the country however. Their articulated fleet included 2-6-6-2, 2-6-8-0 (later rebuilt into Mikes), 2-8-8-0, 2-8-8-2 types as well as a pair of Challengers originally delivered to SP&S. Many engines were dressed up with green boilers and boxcar red cab roofs.
For the first generation of diesels, GN bought like many large railroads did: a sampling from everyone. Cab and hood units from EMD and Alco and switchers from EMD, Alco, and Baldwin populated the roster. GN's first generation geeps and SD's were delivered with the long hood as the front. This included their GP20's which had high short hoods and the long hood as the front. Aside from an early black scheme for switchers, the GN fleet was delivered in Omaha Orange and green with yellow piping.
Beginning with the arrival of GP30s in 1962, the paint scheme was simplified by dropping the bottom orange band and the yellow piping. For the second generation, General Electric replaced Alco as a supplier of new road engines.
In 1962, some GN freight cars began to appear in Glacier Green which ran along side the vermilion paint adopted in 1956. In 1967, they went for a major shift. Sky Blue, white, and dark gray were joined by a new version of the Rocky the goat logo. There was talk that this would become the paint scheme for Burlington Northern. The GN name and logo was painted on a steel panel bolted the the hand railings of hood units, making it easier to remove after the merger. For whatever reason, they went with green, black and white, a version of which was simultaneously being tested on the Burlington Route. In 1970, Great Northern, Northern Pacific, Spokane Portland & Seattle, and Burlington Route merged to form Burlington Northern.
Brand/Importer Information
:

KATO U.S.A. was established in 1986, with the first U.S. locomotive model (the GP38-2, in N-Scale) released in 1987. Since that time, KATO has come to be known as one of the leading manufacturers of precision railroad products for the modeling community. KATO's parent company, Sekisui Kinzoku Co., Ltd., is headquartered in Tokyo, Japan.
In addition to producing ready-to-run HO and N scale models that are universally hailed for their high level of detail, craftsmanship and operation, KATO also manufactures UNITRACK. UNITRACK is the finest rail & roadbed modular track system available to modelers today. With the track and roadbed integrated into a single piece, UNITRACK features a nickel-silver rail and a realistic-looking roadbed. Patented UNIJOINERS allow sections to be snapped together quickly and securely, time after time if necessary.
The Kato U.S.A. office and warehouse facility is located in Schaumburg, Illinois, approximately 30 miles northwest of Chicago. All research & development of new North American products is performed here, in addition to the sales and distribution of merchandise to a vast network of wholesale representatives and retail dealers. Models requiring service sent in by hobbyists are usually attended to at this location as well. The manufacturing of all KATO products is performed in Japan.
Supporters of KATO should note that there is currently no showroom or operating exhibit of models at the Schaumburg facility. Furthermore, model parts are the only merchandise sold directly to consumers. (Please view the Parts Catalog of this website for more specific information.)
Item created by:
gdm
on 2016-04-16 13:39:27. Last edited by
CNW400
on 2020-06-16 11:48:42
If you see errors or missing data in this entry, please feel free to
log in
and edit it. Anyone with a Gmail account can log in instantly.