Atlas to Produce New Run of 5077 Boxcars
Published: 2017-05-27 - By: gdm
Last updated on: 2020-05-10
visibility: Public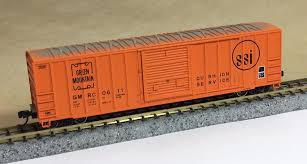 Atlas announced they will be producing a run of FMC (Food Machinery Co) 5077 boxcars. The announcement was on May 8th and Atlas declared the delivery date would be the 4th quarter of 2017. Pre-order deadline is June 7th 2017.
Paint schemes & Road Numbers
These cars will be available in 12 different paint schemes and in 11 road names (2 paint schemes for the CSX). They will be priced at $24.95 each. There will also be two undecorated models re-released, one in the early design and one in the late design. Atlas did not specify which paint schemes will be early and which will be the late design of the 5077.
This model was first released in 2016 and is part of Atlas' Master Line, which puts them at the same quality level as the recently acquired BLMA models. They feature body-mounted couplers (and we believe, though it is not confirmed) chemically blackened wheels. The paint work is typical of the Atlas Master line's excellent quality with a focus on the details in the smaller print.
Our Two Cents
We cannot guess whether these will be popular or not. They are a bit pricey for a basic boxcar but this is reflective of the quality of manufacture. Nevertheless buyers often hesitate to pull the trigger on a boxcar priced over $20 each. At TroveStar we are thrilled because we model the Northeast and this run will feature some of our favorite road names!
Here's a link to the Atlas product description.
TroveStar features
the Atlas 2016 release of this boxcar.