GP38-2: More Factory-Installed DCC-Sound Locos from Atlas
Published: 2017-05-28 - By: Jenna
Last updated on: 2020-05-10
visibility: Public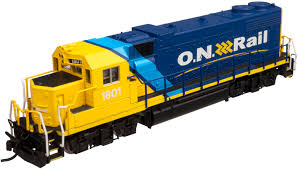 Atlas Model Railroad Co. seems to be moving full steam ahead with factory-installed DCC-Sound engines.
Earlier this month, Atlas announced that it will re-release GP38-2 locomotives in new paint schemes / road numbers with and without built-in DCC-Sound functionality. This announcement marks the third Atlas release to include factory-installed sound capabilities. In March, it announced the re-release of C-628 and C-630 locos and previously it produced S2 switchers -- all sound-enabled. Please see our blog,
Atlas Continues to Embrace DCC-Sound: C-628/630 Locomotive.
New Paint Schemes & Road Numbers
Produced under Atlas' Master® Line Locomotives brand, this release will include both Atlas Master Silver (MSRP $124.95) and Atlas Master Gold (MSRP $234.95) versions with an estimated delivery of 4th Quarter 2017.
This engine will be available in 2 undecorated versions, six new paint schemes and two new road names: Boston & Maine and Rock Island.
Engine features include: Golden-white LEDs, Painted safety rails, Directional lighting, Blackened metal wheels, Scale Speed motor, Factory-installed AccuMate® magnetic knuckle couplers, Separately-applied coupler cut levers, Atlas Master® Gold version features ESU LokSound Decoder.
Pre-order deadline is June 7th 2017.
Here's a link to the Atlas product description.
TroveStar features
previous Atlas GP38-2 releases.