2017 NSE Annual Membership Car
Published: 2017-05-30 - By: gdm
Last updated on: 2020-05-10
visibility: Public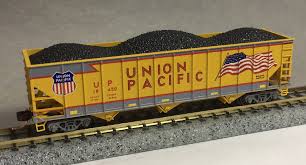 My 2017 Annual NSE membership car arrived. It is a 108-series 3-bay rib-side open hopper produced by Micro-Trains but available only to NSE members. It is in the ubiquitous UP Yellow/Gray/Red paint scheme that probably has a name but I don't know it. The coal load it comes with is of acceptable quality but not up to the same level as a Hay Brothers resin load. The coal load is, however, easy enough to remove and swap with a aftermarket load of your choice.
Personally, I really like this paint scheme, but since last year's
annual car
(NSE MTL 16-01 - Hopper, Covered, 3-Bay Ribbed Side, Evans - Union Pacific - 21416) was the same scheme, I would have liked to have seen something equally colorful but from a different road name (preferably Eastern). I am guessing the NSE got a lot of happy emails from members about last year's car and therefore decided to run something similar this year.
A quick glance at the TroveStar database shows that this body style was introduced in 2000 and has been produced in about 100 different regular releases (including multipacks). To see all cars of this body style
click here
.