ScaleTrains.com to offer NEW N Scale Tier 4 GEVo
Published: 2017-06-23 - By: Jenna
Last updated on: 2018-01-18
visibility: Public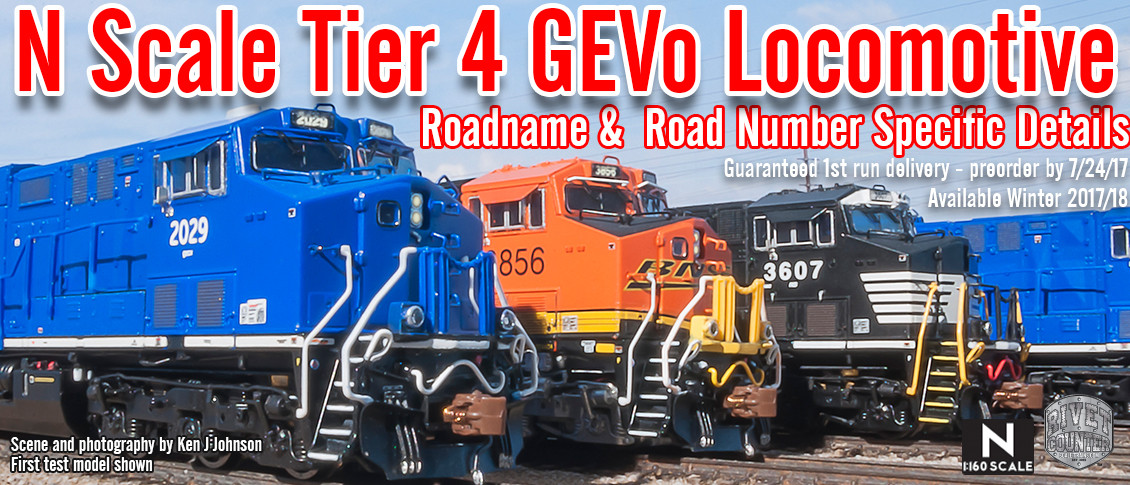 Big events usually mean big announcements. And that's exactly the case for the June 2017 25th National N Scale Convention in Pittsburgh, PA. At this epic event for N Scale Enthusiast members, ScaleTrains.com. made a huge announcement. It is not only continuing to expand its presence in the n-scale world but it is doing so in a pretty flashy way.
On June 23, 2017, ScaleTrains.com announced its new release: a Rivet Counter N Scale Tier 4 GEVo locomotive -- a first in n scale.
Pre-orders are due by July 24, 2017 and the engines (DCC & sound equipped and DCC & sound ready) will be available in the winter of 2017/2018.
This new release is based on a modern diesel electric prototype introduced in 2012 by General Electric, which was built to meet increasingly stringent Environmental Protection Agency emissions regulations.
This locomotive will be available in seven road names: Norfolk Southern, BNSF/Heritage 3, CSX, Union Pacific, Canadian National, ScaleTrains.com. and GE Demo/GECX.
DCC & Sound equipped engines are $204.99 and DCC & Sound ready engines are $124.99.
Here is a link to the
ScaleTrains.com website
to learn more about these engines.
Other, recent new n scale releases

Just a few weeks ago, ScaleTrains.com announced that it will expand its n-scale offerings and release two new body styles for its first two freight cars: the Rivet Counter Thrall 5750cf Carbon Black Covered Hopper and the Rivet Counter Thrall 4727cf Carbon Black Covered Hopper.
You can read our
blog
about these freight car offerings.
Up until that announcement, Tennessee-based company offered n-scale train enthusiasts and modelers one engine (Union Pacific GTEL 8500 Horsepower "Big Blow" Turbine) and an assortment of 53 foot containers.