Recap of 25th National N Scale Convention
Published: 2017-06-26 - By: Jenna
Last updated on: 2018-01-18
visibility: Public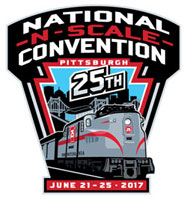 Day 1
On Wednesday morning (June 21) I hopped into my pick up truck (which had a back seat full of T-Trak modules) and headed toward the 25th Annual National N Scale Convention in Pittsburgh, PA.
With visions of N-Scale in my head and plenty of coffee, I strong-armed a 12+ hour drive from Woods Hole, MA across Pennsylvania (through four tunnels, five construction-related traffic jams and two flash floods) and arrived in Station Square in Pittsburgh. I was exhausted but excited to be back in my college town where I would experience all things n-scale for a short few days! I checked into the Sheraton hotel. There I met up with two friends (Peter and Roland) from my local
Northeast NTRAK club
and we headed over to the Opening Remarks event.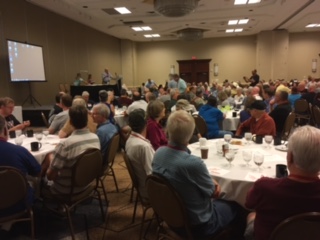 Opening Remarks
At the Opening Remarks, Dick Ollendorf of the NSE did a nice job getting us all warmed up for the event and I was able to do my quick presentation of the
Peer-to-Peer marketplace
for the several hundred NSE members. I chatted with a number of other old friends prior to falling over in my bed unconscious.
Day 2 (Thursday)
involved my sleeping late, locating Dave Ferrari, setting up my T-Trak modules and eating (not necessarily in that order). It also allowed for a lot of social catch-up time before the real business kicked in on Friday.
It was a bit of a fire-drill in the T-Trak department as it seems people take a LOT more liberties in their wiring for the modules than we would ever tolerate in N-Trak. Eventually, by late at night, we got it all working.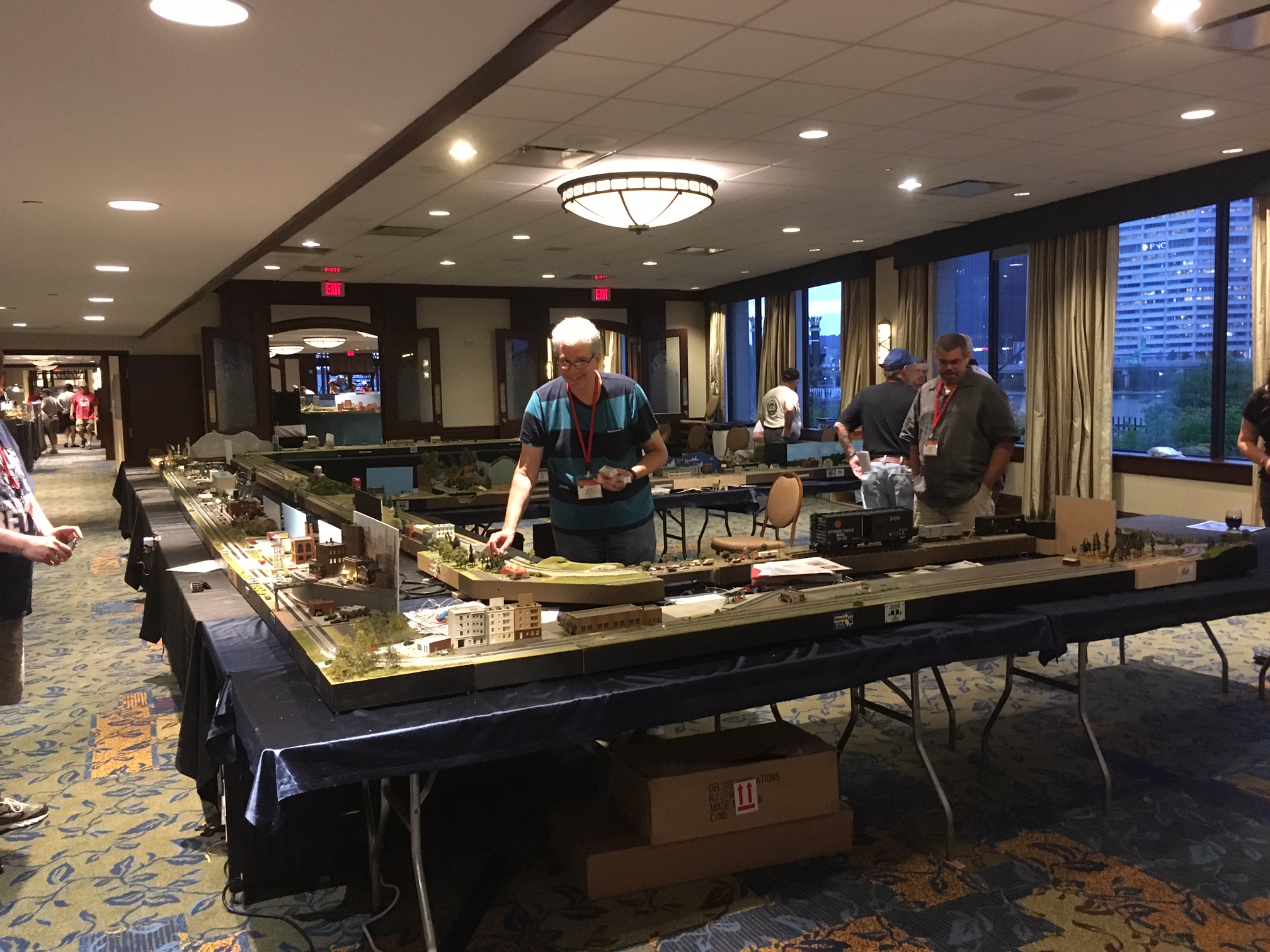 Dave Ferrari puts finishing touches on T-Trak layout.
Then we popped over to the auction room to participate in an entertaining couple of hours of watching various N Scale items (large and small) go up for auction using the old style hold-up-your bidding card format.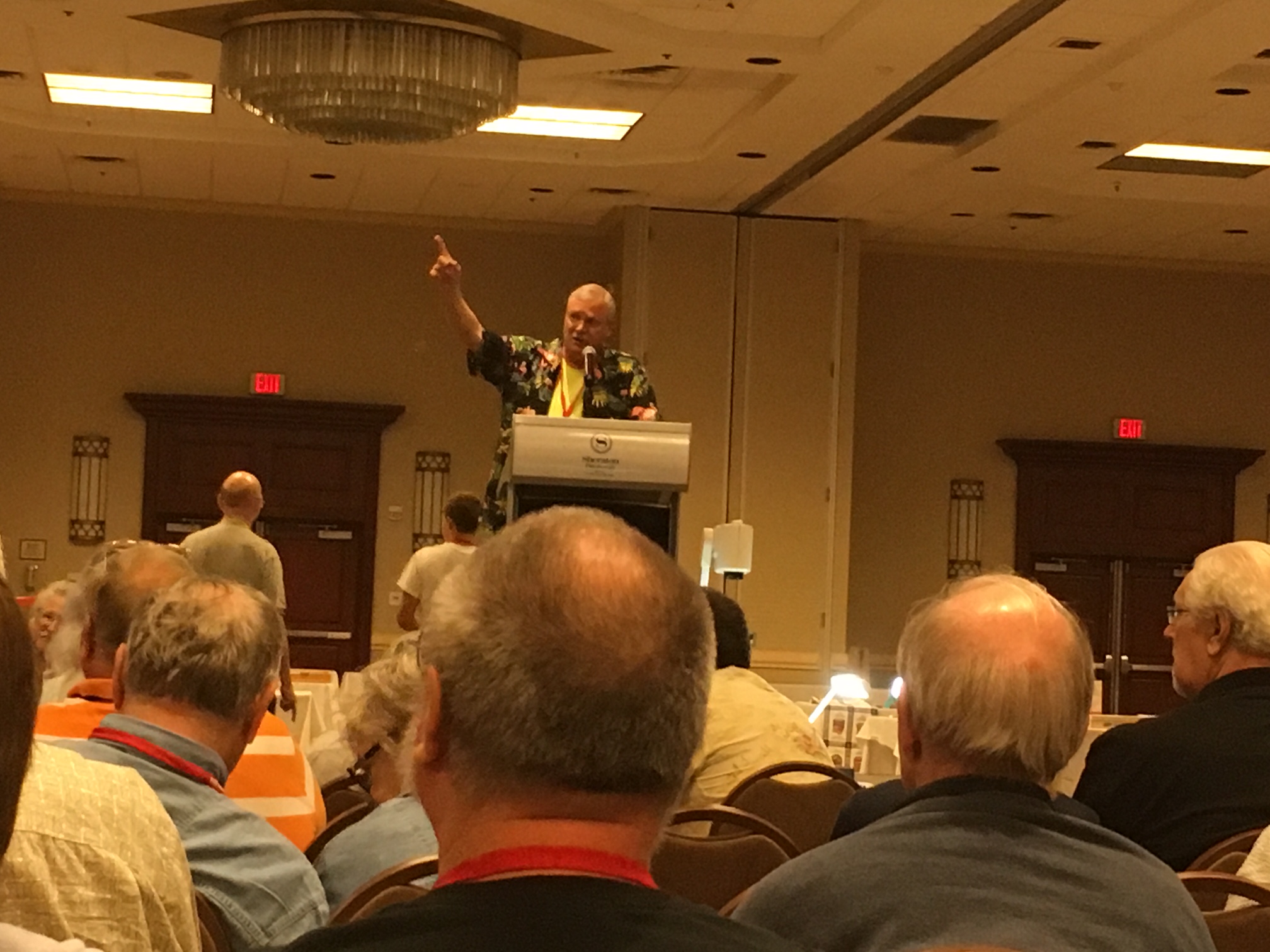 Auction
I purchased a couple of collector sets of special run MTL tank cars.
Day 3 (Friday)
was shopping day. The Swap-a-Rama is a major event where buyers can find sellers of all kinds of items new and used. The prices are superior to eBay or just about any other venue (including the previous night's auction).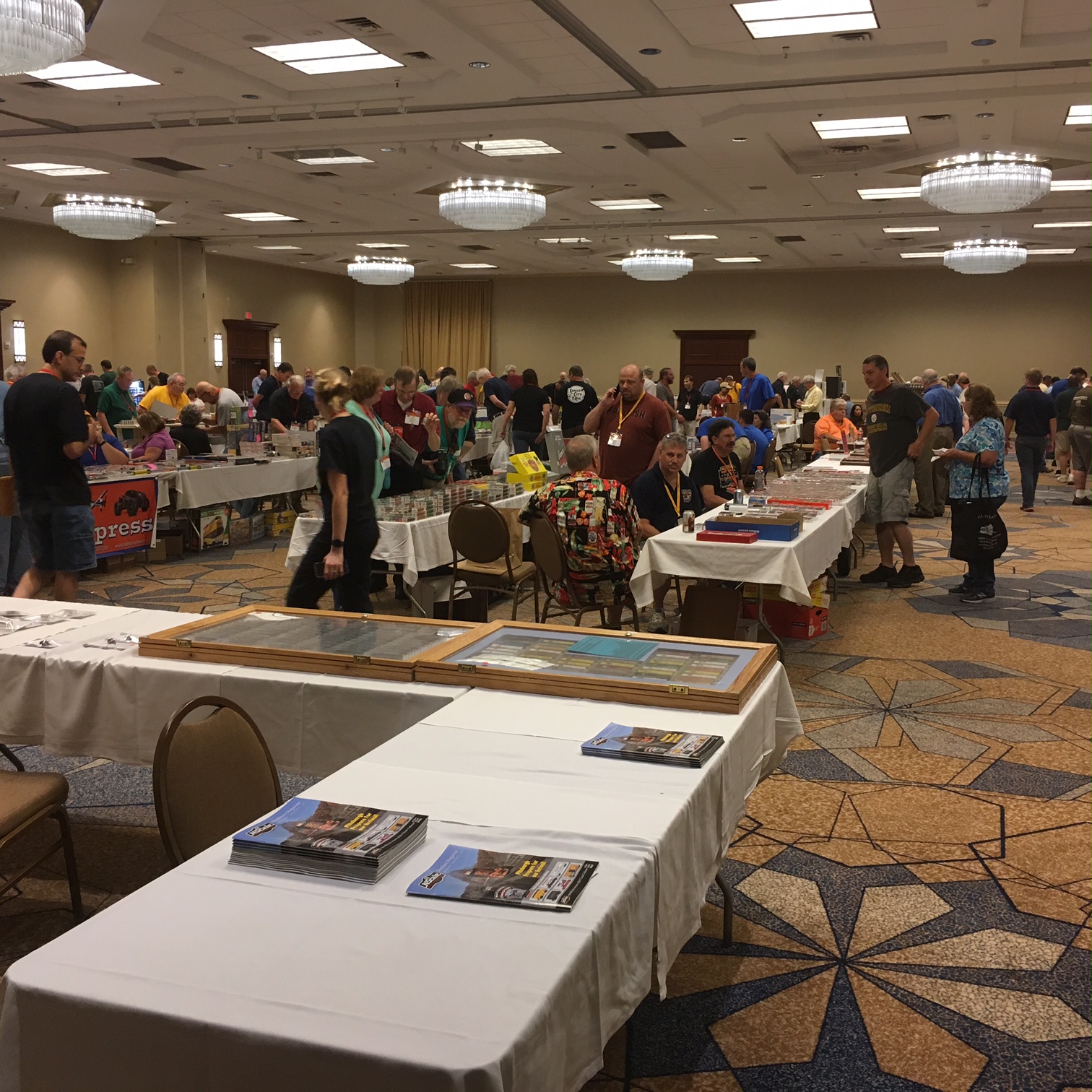 Swap-a-Rama
For runners (people who buy trains to run them) it is nirvana-like experience where you can find many, many low-priced items at prices to help you assemble a consist in whatever era or road name your heart desires. It is better than the Amherst Railway Show because although there are fewer vendors, they are exclusively dedicated to N Scale and hence the selection is superior. Also, the prices of older items have now dropped to match newer items! I was able to acquire road numbers that previously had been unattainable due to silly, high-collector prices.
I also got a chance to run my Kato TGV set on the T-Trak layout and enjoyed chatting with T-Trak guys from all over the Northeast and Midwest.
The evening was capped off by a dinner-boat ride up and down the three rivers of Pittsburgh (Allegheny, Monongahela and Ohio).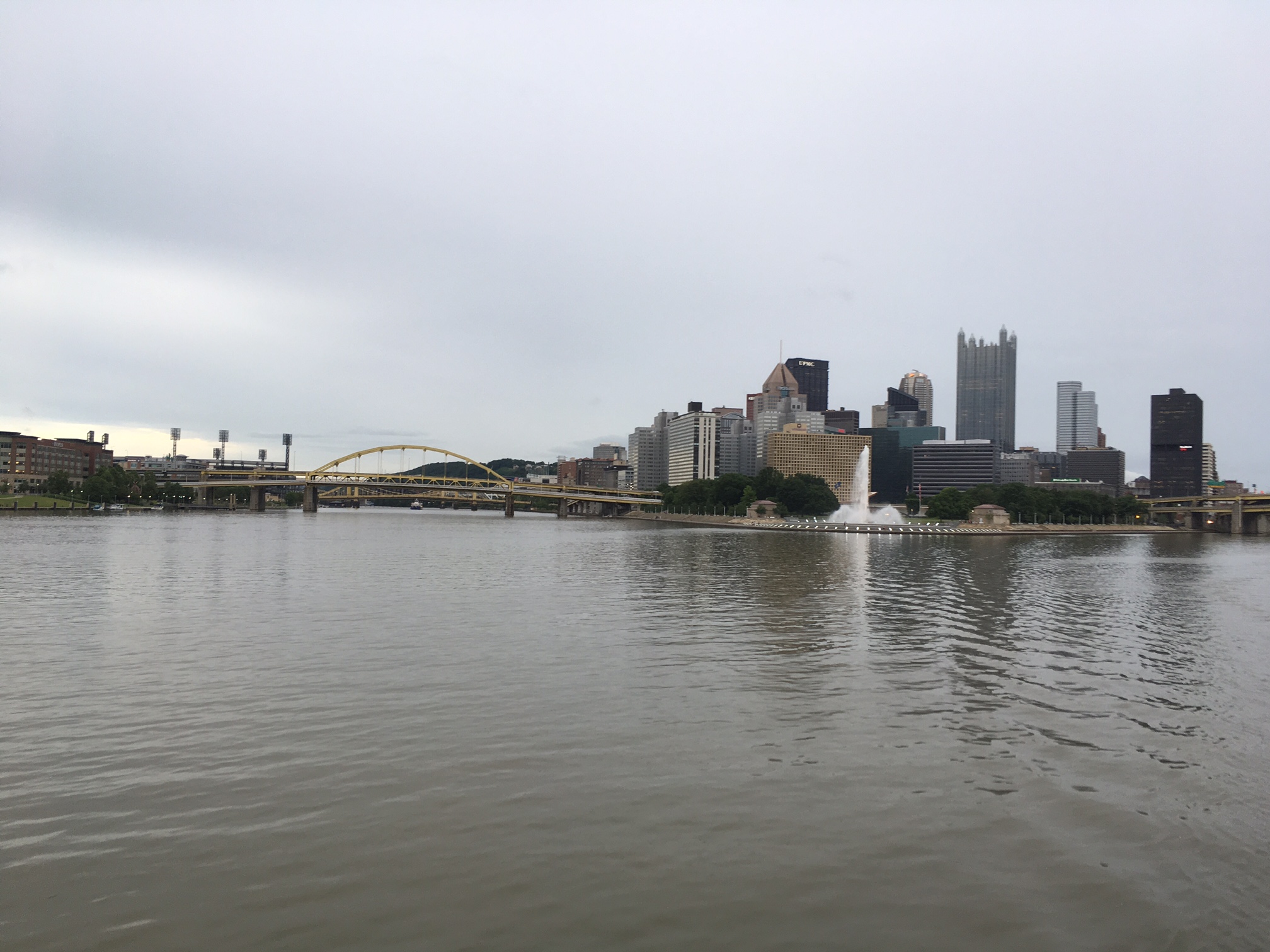 Gateway Clipper River Cruise
I noticed that all the old steel mills along the rivers, which were present during my college days (though no longer operating by the mid 1980s) were now replaced by luxury condos. The dinner was pretty good, the company was excellent and the view fantastic!
Day 4 (Saturday)
I spent a lot of time talking to manufacturers about what was new. I added
blogs
about about what I learned from manufacturers (and posted to TrainBoard and Nscale.net): re-releases from Athearn and Fox Valley as well as new products from ScaleTrains.com and Atlas.
I am always surprised at how *nice* the vendors are at these events. I also managed to find a few more affordable and interesting items at the vendor tables. I then headed back to the layouts to run some more trains.
The big event of the show is the banquet.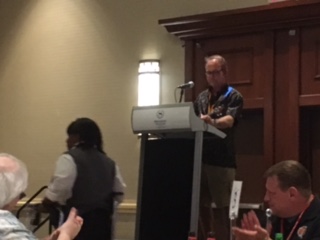 Erick Smith of MTL plays the Ukele at the convention banquet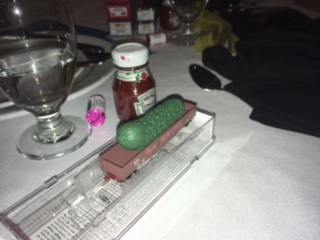 Micro-Trains special run car - a pickle in a gondola
Every attendee received a Micro-Trains special run car - a pickle in a gondola. Very surreal. It seemed like it belonged on the cover of a Velvet Underground LP.
Velvet Underground LP (album art by Andy Warhol)
I guess if Andy Warhol was into N Scale, that is the car he would have wanted. Appropriate since he got his start in Pittsburgh.
The raffle was a ton of fun as always.
They also announced the winners of the model contests and Peter and Roland racked up the wins! Of special note: they jointly (and deservedly) won the best-in-show award for the carnival module, which we all know and love. Congrats to Roland and Peter!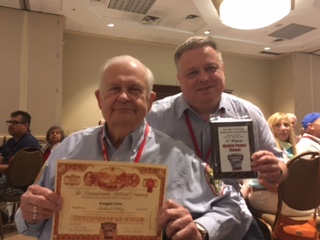 Roland and Peter Proudly Display Awards!
Day 5 (Sunday)
OK OK I slept late. I missed a lot of the Manufacturer breakfast. I did catch Craig Ross of Bluford announce the long list of product runs that Bluford Shops will be producing this next year. Apparently business is taking off in N Scale and all the manufacturers are making money and making lots of new products. This is just a wonderful time to be in this hobby as a larger variety of cool stuff is hitting the shelves at a faster pace than anytime in the last 50 years.
Kudos to the NSE for putting on yet another grand Convention and for picking a great venue for this epic annual show. The hotel's location on the former Pennsy line afforded railfans a chance to see prototype freight consists roll by the hotel windows every hour or so. That and the excellent view of the downtown Pittsburgh skyline just across the river from us was a real treat.
I will be back for Salt Lake City next year.