Atlas to Offer NEW 40ft Single-Well Container Car
Published: 2017-06-27 - By: Jenna
Last updated on: 2021-08-13
visibility: Public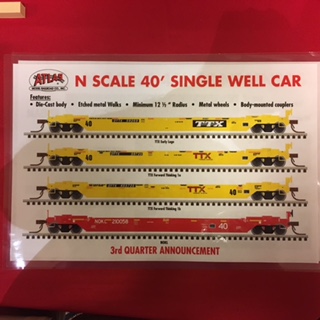 The 40 foot single well car Atlas recently announced during the 25th Annual N Scale National Convention in Pittsburgh, PA (June 21 to June 25) represents a new tooling for the company and a new product to n-scale.
No release or pre-order dates were given for this product.
As of the writing of this blog, we could not find any of the usual details about this release on the
Atlas website.
Here is some information George learned while chatting with Paul at the Atlas booth and some data we gleaned from the product fact sheets (which George photographed) and some general information about well cars.
New to N scale

This size well car, which is not articulated, is completely new to n-scale. Apparently, Micro-Trains and Atlas chatted with each other before committing to making future well cars and this resulted in a 40' model from Atlas and a
Husky Stack 48 foot Well Car from MTL,
which has been in production since earlier this year.
Some of the features of the 40' Single Well Car will include: die-cast body, etched metal walks, metal wheels and body-mounted couplers.
About the prototype
Before the advent of well cars (also known as double-stack cars or stack cars) flat cars were used to haul containers, which became widespread on railroads in the 1980s. Flatcars proved inefficient for this task. They limited one container per car and had to be manually fastened to cars, a painstaking and time-consuming task.
Well cars are specifically designed to haul shipping containers and were introduced by the Southern Pacific in the late 1970s. Double-stack cars, or well cars, have a depressed section that sits close to the rails between the wheel trucks of the car. This makes it possible to haul more containers per train (as long as there is sufficient clearance in a railroad tunnel or on a bridge).
A 40 foot single well car can either support two 20 foot containers or one 40 foot container in each well. On top of the container(s) in the well, you could place an upper row of two 20-foot containers or one 40-foot (or possibly longer) container.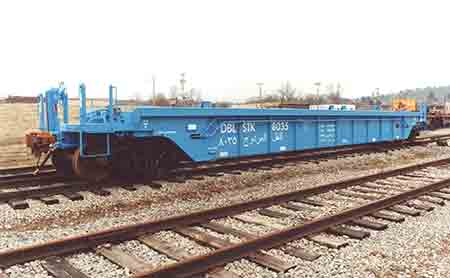 40 foot well car
The $60B U.S. freight rail industry is made up of 140,000 rail miles operated by seven Class 1 railroads, 21 regional railroads and 510 local railroads. It's no wonder well cars are commonplace on railroads across the US. UP and BNSF railways, in particular, haul a huge number of containers each year. For instance, in 2016, 5.2 million intermodal shipments (truck trailers or containers) were transported on BNSF's rail lines.
If you live along the BNSF Railway's "Southern Transcon" (the former Santa Fe line between Los Angeles and Chicago) you can see hundreds of well cars pass by everyday.