Rapido Announces New TurboTrain Model
Published: 2017-06-27 - By: gdm
Last updated on: 2018-01-18
visibility: Public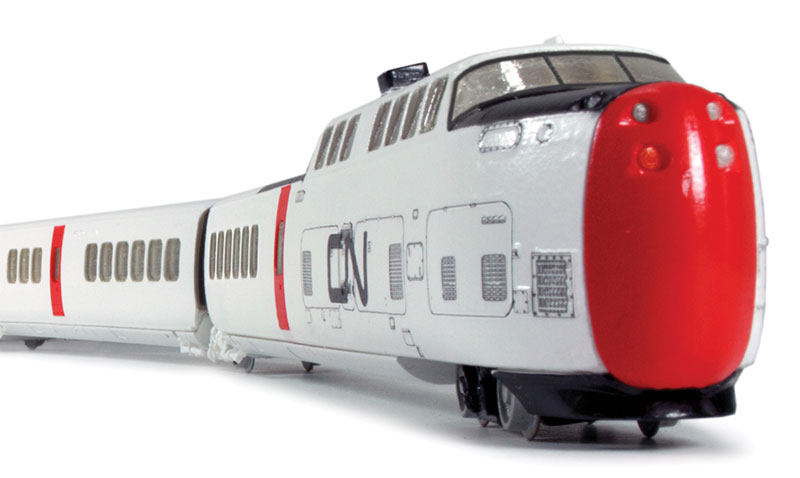 Rapido Trains today announced they would be creating a new TurboTrain model in N Scale. Given they published a book on the prototype, it is not surprising they chose this train to reproduce as a model. The road names will be: United Aircraft, Amtrak, Penn Central, Canadian National and VIA. The Amtrak model will be produced in both an early and a late paint scheme.
Set prices start at $499.95 for a 3-car set and the reservation deadline is September 15th, 2017 for a 5% discount. The final deadline is Feb, 2018..
The features for this new model are:
Accurate dimensions scaled from original blueprints
Two powered Power Dome Cars with smooth, reliable drive systems
Articulated single-axle trucks with needlepoint axles
Full interior detail with interior lighting
Different Canadian and American versions with accurate details
All wheels pick up power for electrical reliability
Working headlights, tail lights, and Gyralites
Prototypically-tinted windows
CN and VIA customers can add a four-pack of Intermediate Cars to complete their trains
Sound-equipped models feature a sound decoder and sugar cube speaker in each Power Dome Car
Sounds are accurate Turbo sounds sourced from original Betamax video recordings
Sound decoders are custom ESU LokSound with amazing sound quality.