Atlas Announces New Release of 70 Ton Ore Cars
Published: 2017-07-01 - By: gdm
Last updated on: 2018-01-18
visibility: Public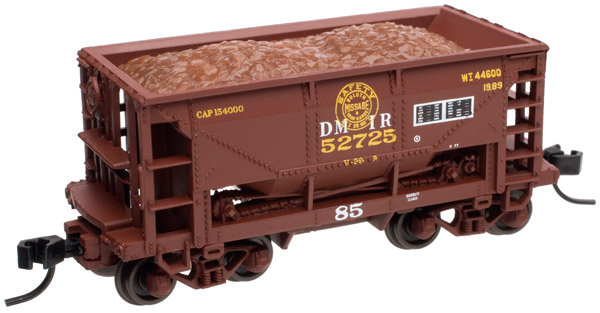 70 Ton Ore Hopper
As part of its July 2017 Product Announcements, Atlas announced a 9th release of its Trainman 70 ton ore hopper. This tooling dates back to the 1970s and though it has likely been remade several times over the last 40 years, the model is still essentially the same item from the early years of Atlas. As is typical for these older models, Atlas is now releasing them under their "Trainman" branding. The announcement was dated June 29 with an estimated delivery of Q1 2018. August 9th, 2017 was provided as the order deadline.
The re-release of this hopper will come undecorated ($16.95) and in 6 paint schemes, 3 new and 3 re-releases. Each paint scheme comes in 3 different road numbers, except for the Missable "Mini Quad" which comes in 4 road numbers. Individual cars are priced at $17.95) or $13.95 for the undecorated.
Paint Schemes:
Birmingham Southern (new)
Canadian National (DMIR) (new)
Duluth Missabe & Northern (new)
Missabe "Mini Quad"
Canadian Pacific (Multi-Mark)
Long Island
Here is a link to the
Atlas website.