The Evolution of N-Scale Rolling Stock Models
Published: 2018-04-05 - By: gdm
Last updated on: 2021-08-13
visibility: Public

Bluford open hoppers from 2017
UPDATE:
Thanks to feedback from readers and more information acquired from the field, we have made several updates / revisions to this blog article since its original publication in the summer 2017.

April 2018-- We have updated this article based on feedback (2009 not 2015 saw the beginning of the 3rd generation of rolling stock) we received from a fellow member of the TrainBoard.com forum. Thanks Metro Red Line for your comments on our blog.

January 2018 -- This blog has been updated based on chats with n-scale manufacturers at the January 2018 Amherst Train Show.
This summer I was excited to get my hands on a new n-scale model from Bluford Shops: a 2-Bay offset side open hopper. I model the northeast and was pleased to see a model made for a more obscure road name (in this case, South Buffalo…I spent my formative years growing up in the City of Buffalo, once known as Buffalo Creek). I was also happy to get this car because I appreciate Bluford's typical attention to historical accuracy for this model, whose prototype first appeared in 1934 and hauled coal, ore and track ballast for a number of railroads including the Lehigh and New England, Baltimore & Ohio and New York Central
While looking over these hoppers, something occurred to me. N-scale models are in yet another period of evolution.
At TroveStar we spend lots of time looking at older models. Given that n-scale was born in the 1960s and that TroveStar was built to handle every mass-produced model ever made, we get our hands on lots of different models representative of over five decades of n-scale manufacturing. Normally, over time, things don't seem to change that much. Starting around 2009, that was no longer the case. We are continuing to see what might be called a 'third generation' of n-scale rolling stock.
First Generation (approximately 1960 to 1990)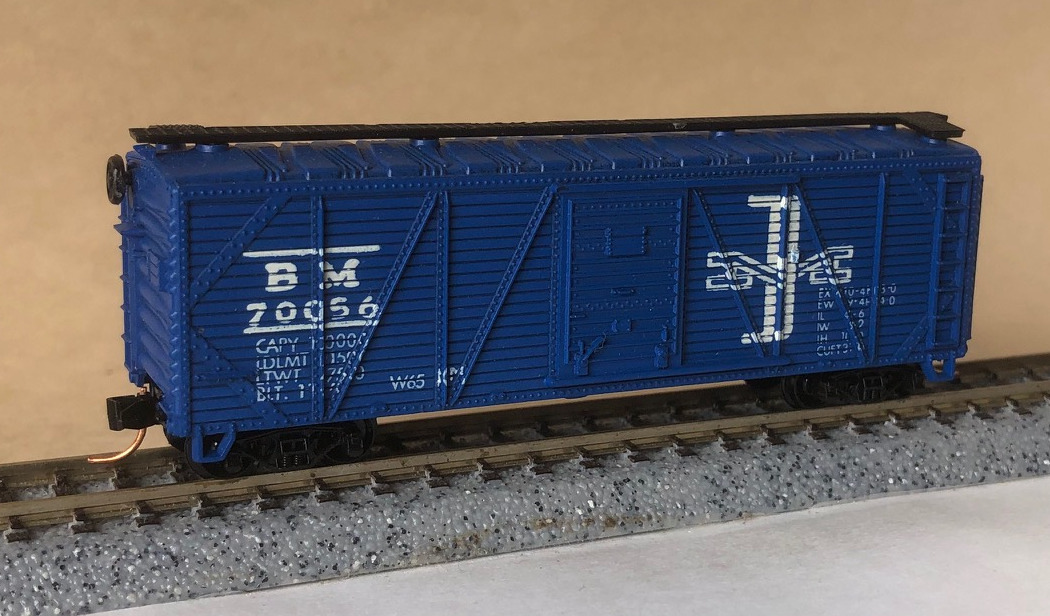 Roco Outside Braced wooden boxcar from 1970
In the 1960s, all rolling stock was made from what we would now consider fairly crude (die-cast metal) toolings. There were two phases to First Generation. In the early phase, manufacturing took place in Europe (except Bachmann, which produced products in China). In the later phase of First Generation, manufacturers brought toolings back to the U.S. and in some cases to Japan. The quality of these products did not change dramatically despite these changes. It was difficult to produce thin stirrups and ladders; separately-applied detail basically meant a brake wheel. Couplers were mostly attached to the trucks and the wheels were mostly nickel-silver plated pizza cutters. The advent of the knuckle coupler produced by Kadee in the 1970s set the stage for a number of different changes that occurred over the next few decades.
Second Generation (approximately 1990 to 2009)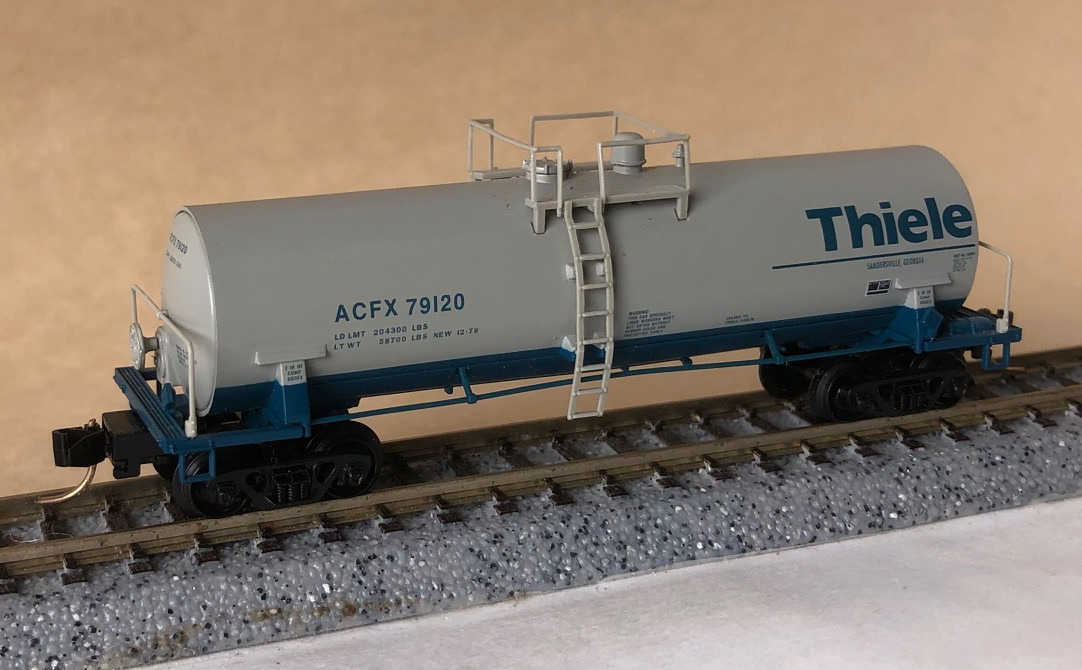 Atlas kaolin tank car from 1999
In 1990, most American manufacturers moved their production operations to China and toolings got sharper as did the graphics. The move to China resulted in better detail; it was now cheaper to make toolings in China so more money was spent on detail. This, in conjunction with better technology, fueled the Second Generation of n-scale products. We saw magnetically operating knuckle couplers replace those from Rapido (Germany) and most wheels became low-profile plastic pieces that would run quietly and reliably over Code 55 track. Separately-applied detail parts made opening doors, applied ladders, roof-walks, end platforms, brake detail and much more possible.
Improved Graphics.
This Second Generation of rolling stock also sported sharper, crisper graphics and numbers and letters (only legible with a magnifying glass)—all thanks to advances in the computer software used to create and edit graphics. Artwork and graphic design evolved from hand-drawn (using Rapidograph pens, wax and Bristol Board) to digitized in large part due to powerful desktop Adobe software (Photoshop and Illustrator). This allowed for the creation of more refined, higher resolution graphics to be used in the pad printing process where logos, road name graphics and reporting marks are added to model trains. Notice the fine printing on the 2000-vintage Atlas tank car above. (Thanks MicroTrains for sharing some of the history behind graphic design and model trains.)
We all became accustomed to these new models and even older molds were being re-released with higher-quality trucks and wheels.
Third Generation (approximately 2009 to present)

Micro-Trains Husky-Stack well car from 2020
But these new hoppers from Bluford made me realize we are just now seeing another leap forward. These cars have body-mount couplers. That reminded me that Horizon is now retro-fitting body-mount couplers and metal wheels on their Roundhouse toolings, which were re-released under the Athearn brand. New Micro-Trains bodies are also equipped with body-mount couplers -- such as the new husky-stack well car. The Bluford models also have metal wheels. Just a year ago, metal wheels were considered a 'premium' feature. Now, modelers expect to see them on all new releases. The profile on these new chemically blackened wheels is as tight as can be managed to look good and still run well on track. The wheels on the Bluford model reminded me of Eric Smith, MicroTrains President/CEO telling me all about the company's new offering: user-installed metal wheels. Lastly, though the Bluford models do not have this feature, we now expect to see etched metal detail parts (beyond just the brake wheel) used where extreme precision is warranted -- such as see-through roof walks and end-platforms.
This shift to more detailed and prototypically-accurate models began with BLMA Models, which began producing more-detailed and higher quality HO, N and Z scale models in 2000. This model train manufacturing company (whose toolings and inventory were purchased by Atlas in 2016) can be considered the pioneer of the latest generation of rolling stock manufacturing. Thanks to BLMA, other manufacturers stepped up their game and features once considered premium are now offered by many n-scale model train companies.
At the January 2018 Amherst Train Show, Eric Smith discussed how MicroTrains is revamping older toolings to bring them up to date with metal-etched detail parts and body-mount couplers. The company will begin re-tooling its existing (out-of-date toolings that harken back to the 1970s when the company first started in n-scale) boxcars beginning with 50 foot cars and then moving on to 40 foot cars. "Customer expectations are higher and MicroTrains is responding to that," said Smith.
In summary, we have just recently moved from a world where these three features (body-mounted couplers, blackened metal low-profile wheels and etched metal details) stopped being premium and are now considered 'standard.' This is not new or revolutionary, but rather a testament to how changes in manufacturing technology, consumer demand and more competition between manufacturers have forever changed the world of n-scale.