Micro-Trains August 2017 Releases
Published: 2017-08-01 - By: gdm
Last updated on: 2018-01-18
visibility: Public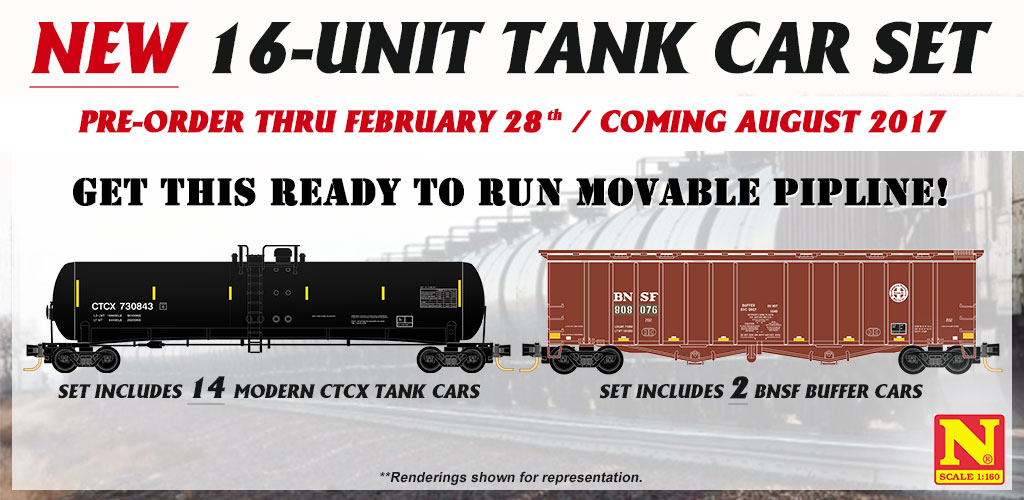 The August 2017 set of Micro-Trains releases is comprised of 9 individual cars, 3 sets, 2 scrap loads and 5 containers. The complete list can be found
at this link
For the individual cars, they come in eight body styles. One is from the brand new 181-Series: a Western Pacific 50' Boxcar. Two of the cars are heavyweight passenger cars and the rest are freight cars. The heavyweights are a N&W sleeper and a Circus Ad horse car. Of interest is a triplet of 53' containers cars (two J.B. Hunt and one undecorated). The other containers are weathered NASA containers that go well with the NASA series of cars. One of the NASA container releases is a single 40' and the other is a pair of 20' units. Three of the August cars are part of collectors' series: two Cudahy Reefers and the C&NW Friendship Train flatcar.
In the three multipacks, we have a 2-pack of CSX Safety Cabooses, a Great Northern Gondola 4-pack and the tank train. The Tank train consist of 16 cars: two 2-bay covered hopper 'buffer' cars decorated for the BNSF and 14 56-foot General Service Tank Cars painted with CTCX (GE Railcar) markings. This 16-car set lists for $479.95.
Lastly, the month is rounded out by a pair of resin-cast gondola loads (likely to fit in the various 50 foot gondolas made b MTL). One is a model of scrap metal wheels, and the other is a model of miscellaneous metal scrap.
Here is a link to the
Micro-Trains website.