Kato Passenger Train Releases
Published: 2017-08-08 - By: gdm
Last updated on: 2020-05-10
visibility: Public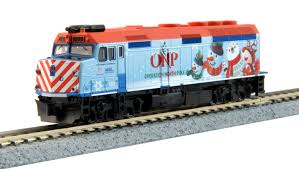 On August 7th, 2017, Kato announced a series of new releases as well as re-releases for several of their very popular passenger locomotives and passenger car sets.

First off, they are producing a new paint scheme for the extremely well received Operation North Pole series. This new paint scheme is a Blue and Orange color set which is true to the prototype as well as being very appealing to the eye. The new paint scheme is being produced as a 4-unit locomotive+3 set similar to the original orange release, but there will also be a 2-unit add-on set in the same blue/orange livery so you can expand your new set to a 6-unit consist.

Apparently these Operation North Pole sets were in high demand for "Under-the-Tree" operations. At TroveStar, we love to see these kind of sets made available as they help pull new enthusiasts into the hobby when they see how cool an N Scale layout looks under a Christmas tree. Kato seems to have the same vision as they are making two new complete starter sets available - one in each of the two paint schemes for ONP. The sets will consist of the basic 4-unit set, a 3' x 6' track oval and a power-pack - everything in one box (except the Chirstmas tree).

Kato also just announced re-releases of several popular models that haven't been made in years. These include E5, F3 and PA locomotives. In addition to the normal re-releases, Kato USA is also re-releasing these same locomotives in DCC and DCC with Sound versions. The Sound Decoders are Loksound brand. This is nice to see as the Japanese marketplace has so far been very resistant to DCC. It appears to us that the Kato USA folks are forging ahead with DCC as a mainstay in their release schedule even while Kato Japan seems to drag their feet.

Lastly, they reminded us that they have a new release of the California Zephyr 11-Car passenger consist. This is old news, so the fact that they are reminding us suggests that pre-orders of this beautiful train set have been weak.