Roco Helium Cars
Published: 2017-08-13 - By: gdm
Last updated on: 2021-01-03
visibility: Public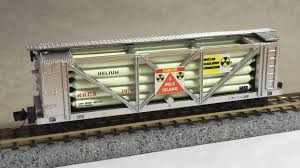 The Prototype
The 13 NASA helium cars were some of the heaviest cars ever made, weighing in at 240,300 pounds empty and had a 28,000 pound load limit. Built in 1961, these cars were initially used by the BLM (Bureau of Land Management) to transport helium from mines in Texas. Later, they found their niche servicing NASA Titan rockets and the Space Shuttle up until the last Shuttle flight in 2011. A few cars have been re-purposed for use in the Space X engine test complex outside McGregor, Texas. Eight other cars were transferred to California and are on lease tro support the Space X Falcon 9 Launch Complex at Vandenberg Air Force Base.
The Model
This body style was created for Atlas by Roco in the late 1960s. Atlas released a series of four cars using this tooling in 1969. Atlas never did a second production run - presumably because it did not sell that well. 26 years later, E-R models contracted with Roco to produce a second run of these cars with the same road names as the Atlas run but with three new road numbers. For some reason, E-R did not re-run the Department of Mines paint scheme.
Again, these cars disappeared from the marketplace (other than eBay) for another 20 years. In 2016, Micro-Trains mysteriously produced a new run of this tooling with a Weathered NASA paint scheme as part of their
NASA car series
. This was followed up by another Micro-Trains Special run in 2017 of two glow-in-the-dark cars commissioned by Fred Hoxsie of the NSE.
These cars are rather unique in both the prototype and the N Scale world. So my curiosity was piqued at how a long-deceased manufacturer (Roco) suddenly started producing cars from a presumed lost tooling. So I asked Fred Hoxsie, "Where did you get these? I thought Roco was long gone and that their older toolings from the 1960s were long-lost." Fred responded "I haven't a clue - ask Eric." So I trotted over to the Micro-Trains booth at the NSE event in Pittsburgh and asked Eric Smith himself, "Hey Eric, where did these cars come from?".
Eric explained that whomever had acquired the assets of Roco when they went belly-up was not not sure what to do with the various inventory acquired during the bankruptcy. Currently, Modelleisenbahn GmbH owns the Roco brand name, but bankruptcies can be complex, and the older Roco inventory might have ended up just about anywhere (perhaps Roco owed their lunch caterer some Euros?). Micro-Trains got in contact with whomever took ownership of this model and bought the inventory of unpainted bodies. It was one of Eric's minions who negotiated the deal and he was a little fuzzy on the details, but if I got it right, MTL acquired a pallet of these cars (but not the tooling) and will release them periodically as special and/or regular releases. I neglected to ask how many MTL acquired, so I cannot predict how many more we will see.
For a complete list of all cars in this series,
Click Here to see all Roco N Scale Helium Cars
.