InterMountain to Re-release N Scale AC-12 Cab Forward Steam Loco
Published: 2017-09-18 - By: Jenna
Last updated on: 2021-08-13
visibility: Public

Southern Pacific AC-12 cab forward steam locomotive
On September 15, 2017, InterMountain announced that it will re-release its popular n-scale Southern Pacific AC-12 cab forward steam locomotive in 16 different road numbers.
Reservations for these engines are due by October 31, 2017 with an estimated release date of April/May 2018. Per usual, if InterMountain does not receive enough pre-orders for this engine, it may be cancelled.
These black cab forwards will be available in 3 different versions: DC ($339.95), DCC ($389.95) and DCC with sound ($459.95). Some features will include sharp painting / lettering, directional lighting and intricate details, sound units equipped with ESU LokSound Select Sound Decoder and DCC non-sound units come with ESU LokPilot Decoder.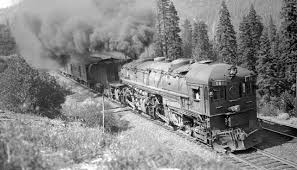 Cab Forward Design Protects Train Crew from Steam Fumes / Poor Visibility
As the name suggests, the cabs were positioned at the front of the loco. The Southern Pacific was the only railroad to use this particular engine design, which became necessary because of the specific terrain, 40 miles of snowsheds (structures over a railroad track on a mountainside for protection against snow) and 39 long mountain tunnels, of its route. Prior to this design, the train crew riding in the back of the loco were inundated with the noxious steam fumes and their views of the track / signals and terrain were obscured due to the steam exhaust.
Here are links to InterMountain's product fact sheets.
Product fact sheet 1
Product fact sheet 1
Here is a link to
previous Cab Forward releases by InterMountain
listed on TroveStar.