Athearn Tank Train
Published: 2017-09-22 - By: gdm
Last updated on: 2021-01-01
visibility: Public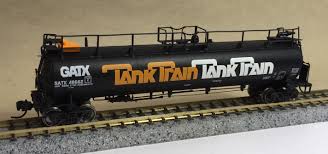 Athearn's long-awaited N Scale Tank Train cars came out this month - September 2017. I love tank cars, so I ordered two of their three-car box sets. I am happy with what I received.
These are proper 3rd generation cars featuring body-mounted couplers, metal low-profile wheels and tons of detail. Not being much of a rail-fan I can't tell you how accurate the detail is, but it sure looks cool. Here is what you get:
The roofwalks are properly made. I cannot tell if they are metal or plastic, but the walks properly simulate the real thing in that they are a grid and not a textured plank of plastic. The underbody detail is incredibly intricate and appears to be fairly delicate. Handle these cars with care. The hand-railing above the roofwalk is also quite fine and realistic-looking. Again it appears to be pretty delicate so be careful.
The difference between the intermediate and end units is that the detail hose (comes in the packaging unattached) may be attached to either end of an intermediate car, but only to one end of an end car. These hoses are excessively cool. They are made of a rubbery material with plenty of flex. I attached one between an intermediate car and an end car and found it wasn't too hard to do. Not sure I would use the hoses on an NTRAK layout due to the extra time and care it will require to attach them all, but I like them.
There is more detail on the ends pertaining to the brakes and the platform where the pipes come out of the roof of the tank. The hazard placards come attached to the cars (unlike with MTL 39' tank cars) which is nice to see. The end platforms, unfortunately, are textured plastic, unlike the roofwalks, which likely makes them more sturdy, but with so many delicate details already present, I am not sure I see why they didn't use a proper grid platform like they demonstrated they could do with the roofwalks. There is more detail on the roof that I lack the technical expertise to describe.
I've never been a fan of McHenry couplers, but these body mount jobs shouldn't be to hard to swap for MTL units for those who really need them. Since I will only run these cars together as a unit train I am unlikely to swap them myself. The wheel friction seems a little tight though. They don't glide along the track quite as easily as some of the other 3rd gen rolling stock we have looked at.
The print quality is excellent and of particular note are the 'instructions' that are printed on each end of each car just above the platforms.
Overall a winner from my perspective. Well worth the $23/car I paid (plus shipping). I will just be extra super careful with the cars as they seem to be some of the more delicate models I have handled (though not as bad as the Atlas 4-4-0 Steam engine!).
Here is a link to the complete list of Tank Train Sets available.