Atlas to re-release 50 Foot Boxcar
Published: 2017-10-06 - By: gdm
Last updated on: 2020-05-10
visibility: Public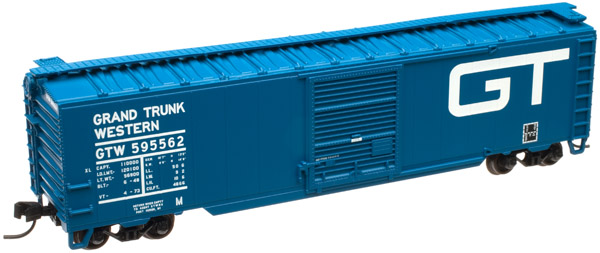 Atlas just announced another run of the Trainman 50 Foot single door boxcar. The new release will be priced at $24.95 ($16.95 undecorated) with an estimated delivery date of 1st Quarter, 2018. This represents a $3.00 price increase from the December 2015 release which was priced at $21.95 - a 14% price bump. This price increase is very likely due to rapidly increasing labor costs in China where these cars are made.
This model features a Diagonal panel roof, improved Dreadnaught ends, a 9' Youngstown Door and runs on Accumate trucks and couplers. The release will consist of seven different road names and an undecorated model. These details seem to indicate the tooling was 'cleaned up' by Atlas and the cars will be a notch or two nicer than the last release in 2015.
This is a typical 2nd generation model and therefore lacks any interesting detail parts. It has plastic wheels and truck-mounted couplers. I am sure the printing quality will be up to Atlas' typical high standard and will not disappoint. It is a shame that these older toolings cannot be run at a more economical price tag, but Atlas is subject to the overseas labor market as much as any company.
Previous releases of this model can be found here.