Micro-Trains October 2017 Releases
Published: 2017-10-06 - By: gdm
Last updated on: 2018-01-18
visibility: Public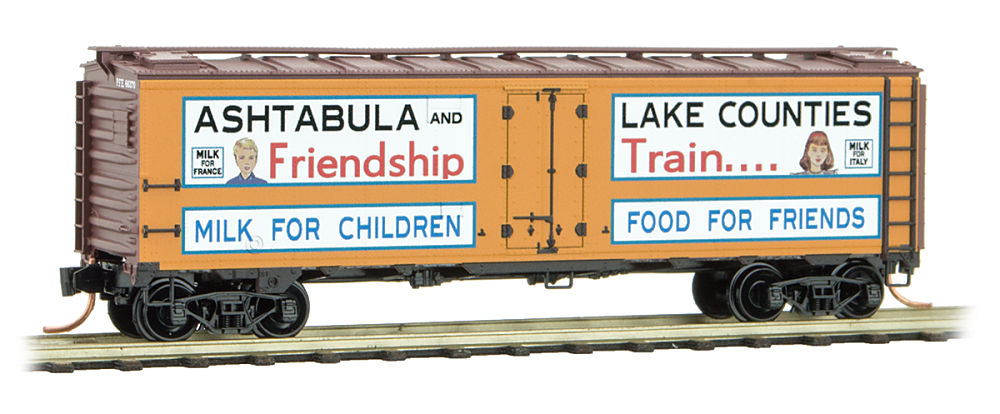 The October 2017 set of Micro-Trains releases is comprised of twelve individual cars, one 4-car hopper runner pack, one 3-car boxcar runner pack, four Diesel Switchers, and twp containers. The complete list can be found
at this link
For the individual cars, they come in ten different body styles. Three of the cars are heavyweight passenger rolling stock (including the Ringling Brothers Ad Car). The the rest of this month's offerings are freight cars including two of the new 180 series 50 foot boxcars. Three of the cars are from collectible series: Friendship Train, Micro-Mouse Merry Christmas and HJ Heinz reefers. Also relating to the collectible series is the release of the NASA switcher locomotive and a 3-pack of Friendship Train boxcars. Runner pack #138 is a set of Southern Pacific Ortner hoppers.
Four of the new SW1500 switchers are coming out this month: three in Southern Pacific Livery and one in NASA livery. The two containers are 53' models, one decorated for STAX and the second one undecorated.
Arriving this month (but announced in preious months) is the Husky Stack well car 3-pack, the Civil War Era logging train (including an Atlas 4-4-0 locomotive) and an 8-car runner pack of Union Pacific 3-bay open hoppers.
Here is a link to the
Micro-Trains website.