Kato Announces New Amtrak Runs: EMD F40PH in DC/DCC and Amfleet II phase III
Published: 2017-10-13 - By: Jenna
Last updated on: 2021-08-13
visibility: Public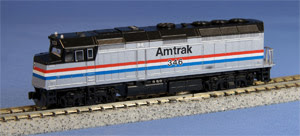 You can expect more Amtrak products from Kato this February and March. The company recently announced plans to re-release its EMD F40PH Phase III "pre-ditch light" version. These engines are meant to match the newly announced re-release of Kato's Amtrak Amfleet II Phase III cars.
EMD F40PH
Kato last released the EMD F40PH in 2010. This new release will be available in three new road numbers and come in both DC ($115) and DCC ($155) versions.
Some product features include: body-mounted KATO magnetic knuckle couplers, powerful five pole motor with all wheel electrical pickup and blackened wheels, and retooled bodies with over-cab A/C units and illuminated ditch lights.
Amtrak Amfleet Passenger cars, Phase III paint scheme
Kato is re-releasing two different Amtrak passenger car 2-packs. Each of the 2-car sets will be available for $55.00. One set is a pair of Amfleet 2 Coaches. The second is a cafe car and a baggage car. These sets are a simple re-issue of products originally produced in 2012
with the same road numbers
. We really wish that when Kato USA took the trouble to do a re-issue they would change the road numbers to make the product more interesting.
Trivia note: An easy way to tell the difference between an Amfleet I coach and an Amfleet II coach is that the Amfleet I has TWO doors on each side (one at each end) while the Amfleet II coaches only have one door per side (the left side if you are facing the car from outside). For a guide to many different Kato N Scale passenger cars, please consult
this article
.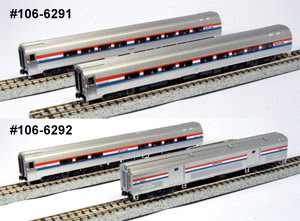 Amtrak Amfleet II Phase III cars
Here is a link to the
Kato website
.