InterMountain 1937 AAR Boxcar Updated
Published: 2017-11-02 - By: gdm
Last updated on: 2021-07-28
visibility: Public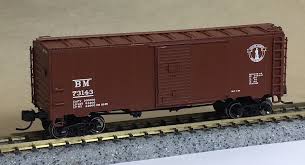 Just this last month (October 2017) a new release of boxcars from InterMountain hit the shelves of hobby stores.
The model is of a 1937 AAR (Associate of American Railroads) 40 foot Boxcar. This boxcar was one of the earliest designs to come out of the AAR. The AAR is mostly known as the organization responsible for reporting marks, they were also responsible for the design of rolling stock in the mid-20th century. Unlike the USRA (United States Railroad Administration), which was a government agency whose designs were mandatory for usage in the rail system during the 1st World War, the AAR was a trade organization founded and funded by the railroads themselves.
Designs like the 1937 boxcar were therefore voluntarily adopted by the railroads and the rolling stock manufacturers. The design of the 1937 AAR boxcar was directly descended from the 1932 ARA boxcar (poetic since the AAR was descended from the ARA) but with a much higher degree of standardization. The 1932 ARA design was plagued by an excessive number of variations resulting in so many boxcars with different doors, roofs, sides and underframes that there was practically no standardization of parts, making maintenance of a fleet of these to be somewhat problematic. The industry was begging for a standard that was more...well....standard.

A photo of the prototype
The design was successful and widely adopted. It features a riveted steel body with a single sliding door, making it easy to confuse with latter AAR designs as well as popular single-manufacturer designs such as the PS-1. Here are the key features of a 1937 AAR boxcar:
10' 0" height
The sliding doors are Youngstown Corrugated
Roofs are Murphy Rectangular Panel
They ride on 50-ton AAR case sideframe trucks
The underframe is an AAR standard
This design was so successful that it has been a very successful product for InterMountain in the N Scale product line. It has been released numerous times since its introduction in the 1990s and typically each paint scheme is released with 6 or more road numbers in each release allowing customers to construct large unit-consists of these terrific cars. Likely they have been this successful due to the fact that they are at home on a pre-transtion era layour as much as a transition era layout. In fact they can even be used on a post-transition layout up until 1978 (when roofwalk were banned by the AAR).
Since this is one of InterMountain's earliest entries into the N Scale space, it has consequently been updated. The earliest models were released as kits. The advantage of the kit format was that InterMountain was capable of giving the customer details that were not possible with RTR kits due to the labor/cost required to add these parts to the model. In particular, the grab irons and ladders were separate detail parts, which was unheard of in the 1990s and are still rare enough now (2017). This disadvantage of these detail parts is they require a steady hand and precise use of CA glue for the user to attach them properly. One slip and you get a nasty string of glue exactly where you don't want it. Even with a steady hand, you will still often see small amounts of excess glue at the contact points where the ladders and grab irons are attached.
Another nice feature of these cars was that like MTL models, they featured opening/operating doors. This allows the person assembling the model to glue the doors open, closed or not glued at all. I believe this flexibility put InterMountain on the N Scale map when they were a relative newcomer. Essentially you had a well-made model that was true to the prototype and had a wealth of detail not available from any other manufacturer, at a really nice price point (due to the fact that they were not RTR). They came with dummy knuckle couplers, which play pretty nicely with MTL couplers, but you could always pry off the trucks and add your own if you wanted MTL couplers on your InterMountain boxcar.
So how have these evolved? I collect the Boston & Maine. So when this latest release hit the shelves I bought one of each of the six different road numbers produced in the Minuteman paint scheme. Here is what I found. First, these are RTR models with all the details glued on at the factory in China. No eyestrain, no glue marks, no ruined models. Hurray! Next, they use InterMountain's own blackened metal low-profile wheel sets. I am a fan of these wheels. They are high quality and look great. Next, the couplers are body-mounted! They are MTL knock-offs from the factory in China. I am guessing the MTL patent is expired so anybody can make these now. The knock-offs made by InterMountain work perfectly with MTLs and therefore hold together just fine with long consists.
The one thing I don't like is that the doors are glued in the shut position. Why? I liked them better when they can operate. Oh well, you cannot have everything.
Thank you InterMountain for producing another run of these great cars in my favorite railroad. May they all sell out quickly so you can make more!