Athearn Announces New Colors for N Scale Ford C Semi Tractor
Published: 2017-11-16 - By: Jenna
Last updated on: 2018-01-18
visibility: Public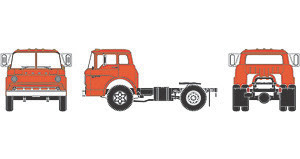 Athearn Ford C Semi Tractor
In late October, Athearn announced new color schemes for its popular Ford C Semi Tractor. Orders are due by November 24, 2018 with an estimated release date of October 2018.
This product will come in 8 new paint schemes and run $21.98. br>
Some product features include molded cab interior with separately applied steering wheel and rubber tires.
Here is a link to the
Athearn website.
Here is a link to
other Athearn Ford Truck C Series on TroveStar.