Micro-Trains December 2017 Releases
Published: 2017-12-01 - By: gdm
Last updated on: 2021-08-13
visibility: Public

Available Now:
The December 2017 set of Micro-Trains releases is comprised of twelve individual cars, one 4-car flatcar runner pack, three aircraft fuselage flatcar 2-packs, one boxcar load and two containers. The complete list can be found
at this link
.
For the individual cars, they come in ten different body styles. Two of the cars are heavyweight passenger cars (like usual). The the rest of this month's offerings are freight cars including two of the new 182 series 50 foot boxcars. Two of the cars are from collectible series:
Friendship Train
and
HJ Heinz reefers
.
Runner pack #135 is now available. It is a set of Pennsy flatcars. This runner pack is somewhat unique in that it comes with weathered loads that happen to be truck-less rolling stock (unlettered).
Of particular interest are the fuselage load flatcar 2-packs. Each is a set of two flatcars, one 89' and one 50'. The load is comprised of a jet aircraft fuselage and a big brown wedge shaped thing. The fuselage sits on the 89' car and the brown wedge on the 50' load. The fuselage comes painted but the owner is expected to apply decals to make it look more realistic. There will be a video on micro-trains.com explaining how to apply the decals.
The boxcar load is a set of 3 lumber pallets. The containers are 53' corrugated with Swift Intermodal livery. To be honest, I would rather see more 48' containers to go with all the 48' Micro-Trains Husky Stack well cars I bought earlier in the year.
Pre-Orders:
Runner pack #140 was announced for delivery in May 2018: four black Rio Grande 40' gondolas with wood loads. They announced an 8-car runner pack of Southern Pacific wood chip cars with loads for deliver in April of 2018. Next, they announced a 16-pack(!) of Pacific Fruit express reefers. These will come in weathered and clean sets (the weathered cost more) and will be available in May of 2018. They
also
announced a 4-pack of bulkhead flatcars in UP livery with wind turbine generator loads. Take that Global Warming!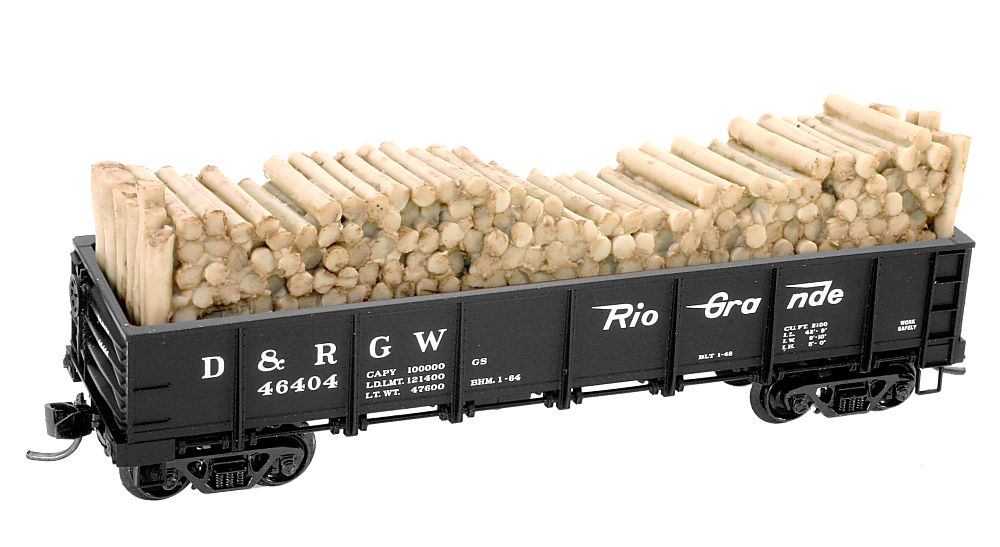 Runner Pack 140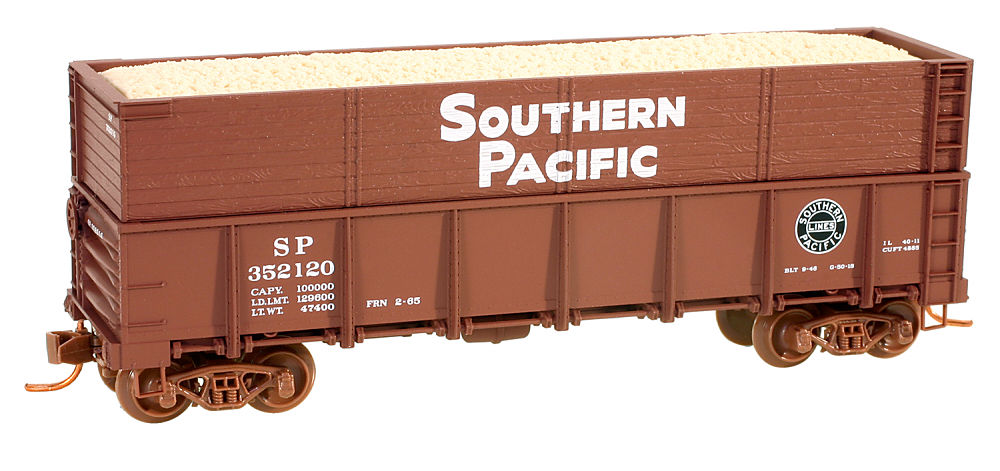 Woodchip 8-Pack

PFE Reefer 16-Pack
Here is a link to the
Micro-Trains website.