Athearn Announces New Road Numbers for N Scale 30K Ethanol Tank Car
Published: 2017-12-06 - By: Jenna
Last updated on: 2018-01-18
visibility: Public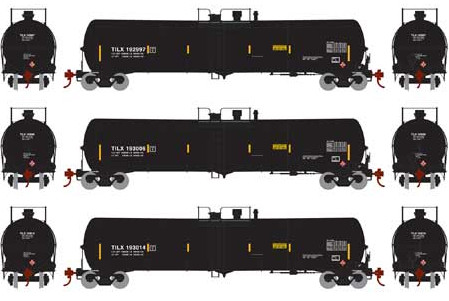 Athearn N 30,000-Gallon Ethanol Tank
In early December, Athearn announced new road numbers for its popular N 30,000-Gallon Ethanol Tank. Orders are due by December 29, 2017 with an estimated release date of November 2018.
This product will be available in one new road number for six road names (Union Tank Car, Trinity Industries Leasing, GATX Rail Canada, Transport Equipment Inc (White) and Archer Daniels Midland). It will come in singles for $29.98 and a 3-pack for $84.98.
Some product features will include body-mounted McHenry scale knuckle spring couplers installed and separately applied walkway platform, manway, outlet, ladders, brake rigging detail, safety rail supports and tank saddles.
Here is a link to the
Athearn pdf for this product.
Here is a link to
other Athearn N 30,000-Gallon Ethanol Tank on TroveStar.