Atlas Announces New Paint Schemes & Road Numbers for N Scale NE-6 Caboose
Published: 2016-12-06 - By: Jenna
Last updated on: 2020-05-10
visibility: Public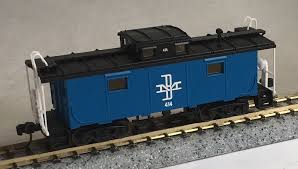 N Scale NE-6 Caboose
Earlier this month, Atlas announced it will produce new paint schemes and road numbers for its Master EMD MP15DC loco.
The pre-order date for this caboose is January 3, 2018.
This caboose will come in two different body styles: New Haven (windows spaced closer to the cupola) and Nickel Plate (windows spaced further from the cupola).
Some product features include finely detailed end rails, smokestack and ladders, weighted chassis and friction-bearing or roller-bearing caboose trucks as appropriate.
Here is a link to the
Atlas website.
Here is a link to
other N Scale NE-6 Cabooses on TroveStar.