JTC Model Trains
Published: 2017-12-07 - By: Jenna
Last updated on: 2021-08-13
visibility: Public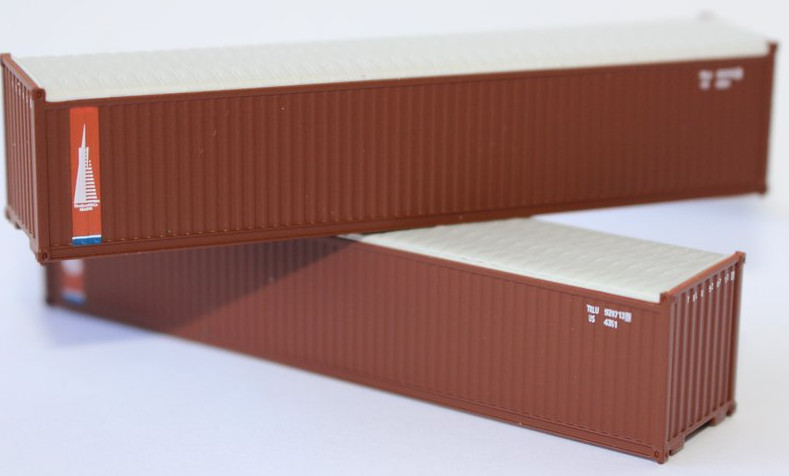 Transamerica 40 foot "wave"-style corrugated side canvas/open-top containers
Jacksonville Terminal Company, LLC (JTC), a new manufacturer of model train products, has embarked on producing a new tooling for n-scale: a series of canvas/open-top intermodal containers. The company is made up of small group of modelers who are dedicated to producing compatible, quality n-scale container models in a large variety of styles. JTC's first release (November 2017 at Trainfest 2017) was the 'Rib-style' corrugated side Canvas/Open top container. Their second release (January 2018) will be the more common 'wave' corrugation sides version. Release styles 3 & 4 (which represent the most popular container styles in use) will be available in March 2018.
The "wave" version of these containers will be available in six company names (Hapag-Lloyd, GVC, Transamerica, Seaco, Yang Ming and UASC) with seven different door types available to match prototypes. These products will come in 2-packs and retail for $29.95.
Some product features include: removable canvas top, IBC (connecting pins) and a magnetic connecting system, which will work with JTC 20 foot and 40 foot containers as well as the Atlas 40 foot standard container and the Walther's 40 foot HC panel side container.
About the prototype: 40 foot rib-style corrugated side canvas/open-top containers
According to Containerauction.com (an auction and marketplace for shipping and cargo containers) "Open top containers are a type of shipping container designed with for specific uses in mind. This type of shipping container is similar to that of a standard 20' or 40' container, with one key difference: the top of the container is not solid, and is removable. This unique feature makes them very easy to load and carry over sized equipment, materials, bulk items like coal, or other similar items." You can learn more
here.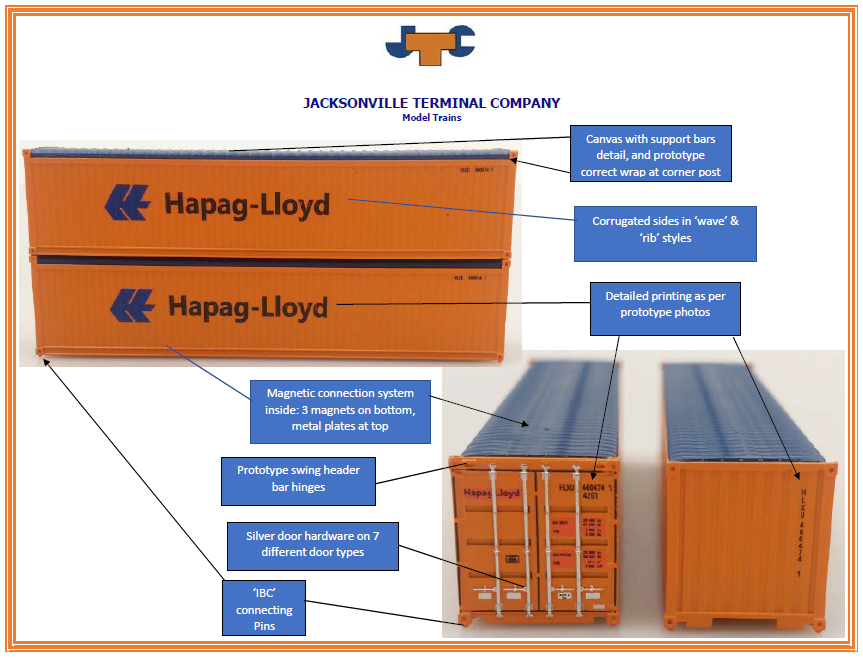 Features of 40 foot rib-style corrugated side canvas/open-top containers
More N-Scale Manufacturers Added to Database
We are always very excited to be able to add more model train manufacturers to the TroveStar N-Scale Model Trains Database. JTC is our latest "new" manufacturer. This addition brings the total number of companies (who produce n-scale products) listed in the database to close to 150!
Here is a link to the
JTC website.
Here is a link to
November 2017 JTC 40 foot rib-style corrugated side canvas/open-top containers on TroveStar.