Atlas N-Scale NE-5 Caboose
Published: 2018-01-02 - By: gdm
Last updated on: 2021-01-01
visibility: Public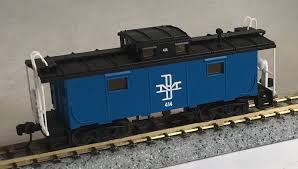 Atlas N-Scale NE-5 Caboose, December 2017 release.
This body style was announced in 2016 and first delivered in December of 2017.
The tooling was categorized by Atlas as part of their Master® line of products. The model is fairly pricey for what you get. As a Master® product one would expect a lot of detail as well as premium components. While it does have some detail parts (smokestack, ladders and applied roof walk), the handrails are molded and the stirrups are kind of fat for a 2017 vintage tooling.
The lack of metal wheels is a total (bad) surprise as we have come to expect better of the Master line. Heck! Even the most recent Trainman trash cars have metal wheels.... The body mount couplers are nice to see, but for such a new model this is expected.
Lastly, the assembly quality is deficient; the first model I examined had its smokestack improperly glued on. Without the good wheels or interesting detail parts, this is a sad attempt at a 3rd generation model. (Please see our blog,
The Evolution of N-Scale Rolling Stock Models.
)
There seems to be two core problems here. First: the BLMA toolings acquired by Atlas in 2015 have raised N Scale modelers' expectations of Atlas, especially their Master line. Now, when we see 'Master' on an Atlas box, we expect BLMA quality, and here we simply are not getting it. Second: the quality of some of their more recent Trainman models has been exceptional. For example, the aforementioned 85 Foot Trash Flatcars have better quality construction and components (metal wheels) at a lower price than these new cabooses.
Simply to set our expectations in line with the model's qualities, Atlas likely should have released this as a Trainman or 'Classic' release despite the lack of classic-ness.
Here is a link to the
Atlas NE-5 Caboose on TroveStar.