Broadway Limited N-Scale NYC Steel Boxcar
Published: 2018-01-11 - By: gdm
Last updated on: 2021-07-28
visibility: Public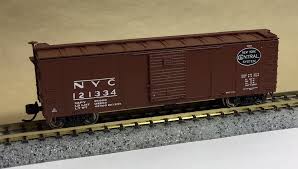 We just got our hands on one of the new NYC Steel Boxcars from Broadway Limited Imports. According to the label inside my box, these were made in China in November of 2017. They hit the shelves in January of 2018 and mine just arrived in the mail today (Jan. 10th).
This is a nice model. It is a full-fledged 3rd generation model (please see our blog,
The Evolution of N-Scale Rolling Stock Models
) and priced appropriately at $29.99 for singles; $99.99 for 4-packs (which makes the 4-pack a bargain).
It features metal wheels, body-mount couplers and enough detail parts to make most modelers and collectors feel they are getting their money's worth.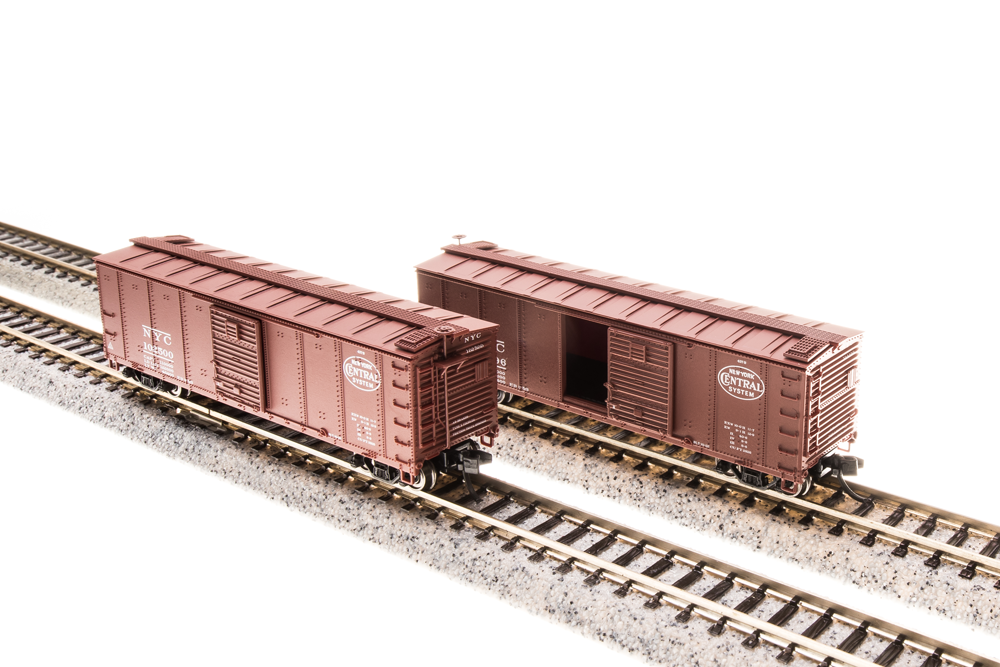 The fully-functional opening doors on this boxcar is a nice feature.
Of special note is the fact that these cars feature opening doors. Operating doors are a bit of a rarity outside of Micro-Trains releases and it is nice to see other manufacturers note that modelers like these kinds of features! Furthermore, I took my finger and tried to pop out the doors to test the reliability. These doors are in there well. That is not always the case as other manufacturers' operating doors sometimes come off with the least amount of jarring.
The model has a nice heft to it and the wheels run smoothly on Kato Unitrack. These two features can make operators/runners happy that these cars will track well. They feature MTL-lookalike couplers, never as good as the real thing in my opinion but they cut a couple of dollars off the price and these appear to be relatively well-made clones.
The print quality and rivet placement both look good to my untrained eye. The color looks accurate and the underframe details are awesome. These cars feature a die-cast underframe with a plastic skeleton affixed to it. The result is an underframe that others should envy. I know, I know - who looks at an underframe? I do, and when I see a half-hearted effort, I call it out.
So where is there room for improvement?
1) I prefer jewel boxes. Cardboard boxes don't take wear and tear very well.
2) The end-platforms, placards, hatches, grab-irons and ladders are all molded in. I know that these things all cost money to add to an N Scale model, but I like to see them.
Furthermore, the roof walk could have been etched metal. It isn't. It is a separate part (not a molded-in detail) but it seems to me that the marginal cost of making the roof walk out of etched metal shouldn't have added more than $0.50 to the cost, but it sure would have taken this model up to the top ranks of N Scale.
All that being said, I am sure someone at BLI stated "Darnit! Make this car retail under $30 or you are all fired!", and something had to give. Oh well. You can't have everything. But you can have one of these cars for under $30 :)
Happy Modeling from the editors at TroveStar.
Here is a link to the
Broadway Limited NYC Steel Boxcars listed on TroveStar.