Bachmann N Scale Open Hopper Ore Car
Published: 2018-01-12 - By: gdm
Last updated on: 2021-01-01
visibility: Public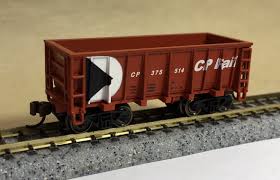 Bachmann Open Hopper Ore Car, January 2018 release.
This N scale ore car is one of Bachmann's new high-quality releases. It hit the shelves in January of 2018 in five different paint schemes, two for the Pennsy and one each for the UP, CP and the Duluth Missabe & Iron Range.
This is a pretty nice car though it likely could have been a bit better, especially at the above $30 price point. It is clearly an attempt at a true 3rd generation car, (please see our blog,
The Evolution of N-Scale Rolling Stock Models
) but for reasons I will discuss, leaves a little to be desired.
So what do I like?
Metal Wheels! Body-Mount couplers! Nice heft. These cars should run well as long as those clunky EZ Mate II couplers hold on to whatever you are coupling them to. Not always a given since the E-Z Mates are a little larger than Accumates or MTL's.
The printing looks okay. The color is nice and these models are built to take a pounding. Bachmann clearly has some younger modelers in mind when they designed these as nothing can break off except perhaps the brake wheel, which is the one detail part that isn't molded in to the model. The brake wheel is nicely done to scale and appears somewhat delicate compared to most of the construction of this model.
However, for $33, a modeler will typically expect more. For example, the thickness of the walls of the hopper are not to scale. They are too thick. This makes the model durable but also makes it look more like a toy.
This is also true with the ladders and stirrups. On the plus side, these stirrups are not going to brake off easily. Next, the printing could be better. The edge of the Multi-Mark "Pac-Man" is noticeably blurry. We usually expect better of the modern pad-printing process. Yes, these are some pretty deep ribs on the side of the car, and you would expect some blur there, but the blur you see is on the
flat
parts of the car. Lastly, the
only
detail part is the brake wheel, which although done nicely to scale, is kind of lonely floating on a sea of molded detail.
With the modern metal wheels and couplers, these are a notch above their Atlas predecessor, and if your retailer is selling both for the same price, you will be getting a better model for your money with this new Bachmann model. Is it setting a new standard in N Scale production or even matching the best from the competition? No.
Here is a link to these
Bachmann Open Hopper Ore Cars on TroveStar.