Athearn to Re-release N Scale 50 ft FMC Double Door Box Car
Published: 2018-02-02 - By: Jenna
Last updated on: 2018-02-02
visibility: Public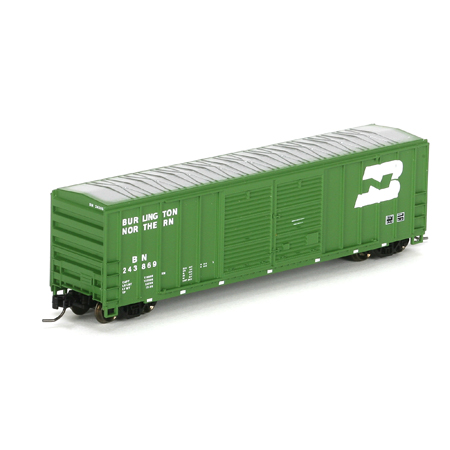 Athearn is re-releasing this 50 foot FMC Double Door Box Car.
On January 26, 2018, Athearn announced that it will re-release the n-scale 50 foot FMC double door box car (this is a tooling originally purchased from Roundhouse).
With this announcement, Athearn continues to issue re-releases that include what more and more n-scalers have come to expect as standard features on n-scale rolling stock: body-mounted couplers and highly-detailed cars (via injection molded technology).
This re-release will include 3 new road numbers for each of the 12 road names: British Columbia Railway, Burlington Northern, Chicago & North Western, Chesapeake & Ohio, Northern Alberta Railway, Western Pacific, Amador Central, East St. Louis Junction, Galveston Wharves, Longview Portland & Northern, Southern Pacific and Wisconsin Central. Orders are due February 23, 2018 with an ETA of January 2019.
MSRP is $22.95 per car.
These ready-to-run cars will feature some of the following: Machined metal wheels, Screw mounted trucks and Body-mounted McHenry knuckle couplers
Here is a link to the
Athearn pdf for this product.
Here is a link to
previous releases of the 50 foot FMC double door box cars
on TroveStar.