2018 Winterfest (n-scale convention) at Amherst Train Show
Published: 2018-02-06 - By: Jenna
Last updated on: 2021-07-23
visibility: Public
This year's
50th Anniversary Amherst Railway Society Railroad Hobby Show
(January 27 & 28, 2018) was another whirlwind of activity at the Big E (Eastern States Exposition) in West Springfield, MA.
N-Scale and Winterfest
As head of marketing for the
N-Scale Model Trains Database on TroveStar,
I focused on
Winterfest,
the annual n-scale / NTRAK convention held in conjunction with the Amherst Train Show. This year marked the 24th Winterfest. Over the course of two days, I made my way (along with some 17,000+ attendees) in and out of 4 buildings covering 400,000 square feet to see all the n-scale exhibits (there were three in total: one in the Better Living Center, one in Mallory and T-trak in Young) and to chat with n-scale manufacturers.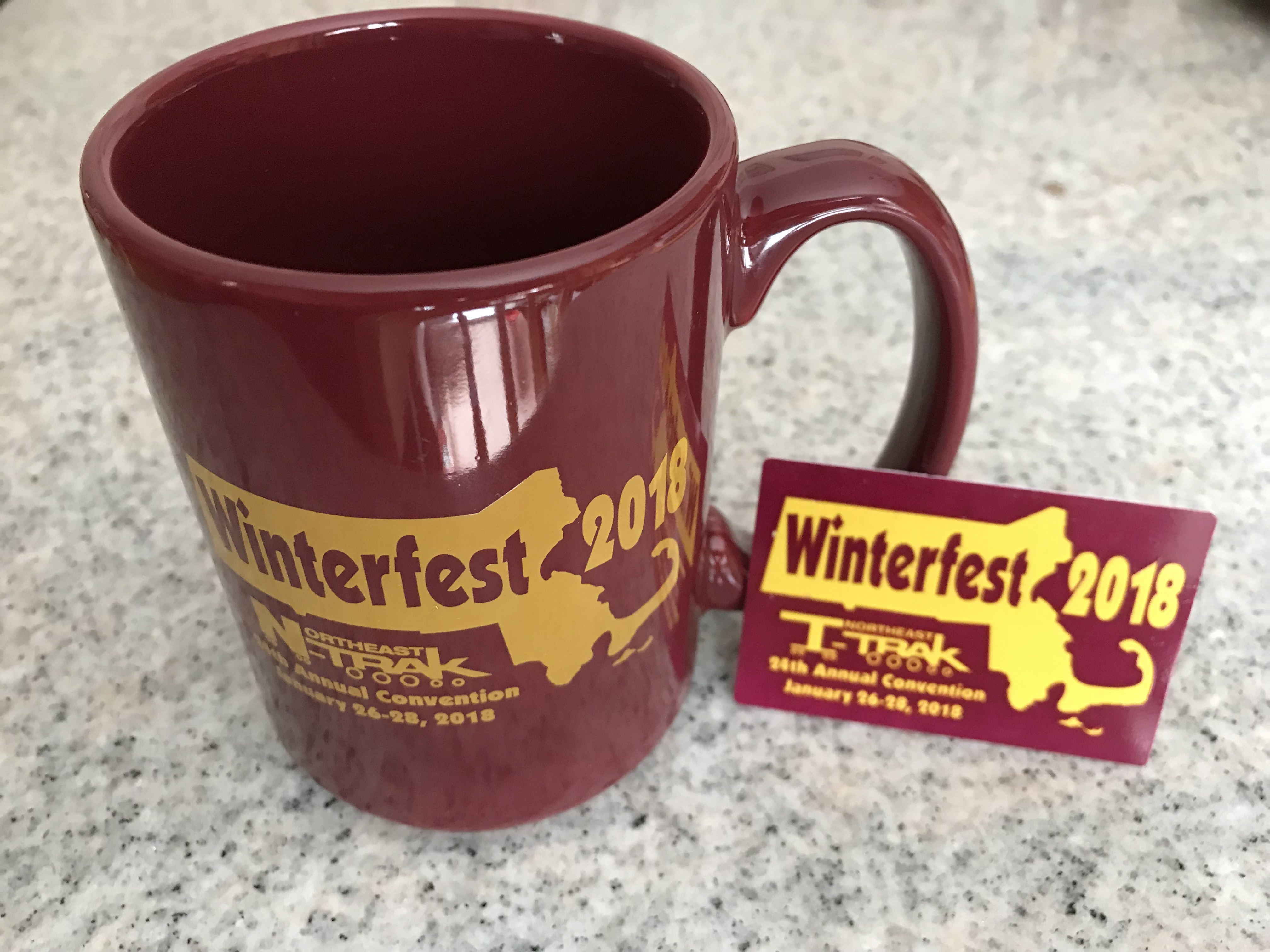 Northeast N-TRAK
hosts Winterfest and coordinates with a number of regional clubs (with members from all over the northeast and Canada) to provide modules to exhibit at the show. Some of these clubs include:
Northeast T-TRAK
,
MaiNE Track
, and
Valley N-Trak.
Friday: Registration & 1st Manufacturer's N-Scale Mini-Show
Club members spent the better part of the day unloading their modules, rolling stock, engines, tools, electronics, etc. from their cars, vans, pick-up trucks and trailers and setting up their layouts.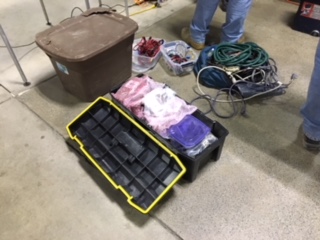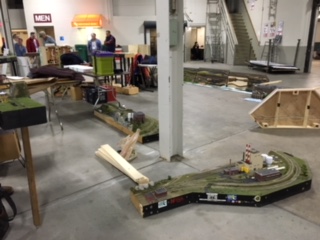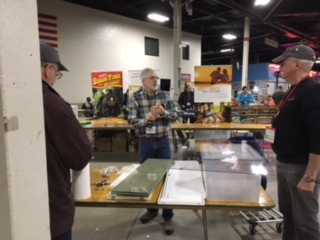 After dinner, folks picked up their registration packets (which included cars and containers from MicroTrains, Scale Trains and TroveStar).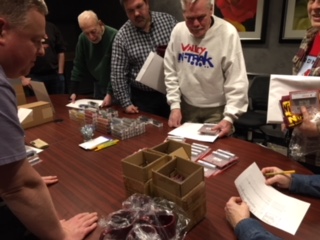 Many attended Winterfest's very first Manufacturer's N-Scale Mini-Show. At the mini-show, more than 100 attendees had the chance to chat with representatives from MicroTrains, ScaleTrains, Fox Valley Models and North American Railcar Corporation (each had mini-displays). They also had a chance to shoot the breeze with Lowell Smith, known for his Signature Series/Special Editions.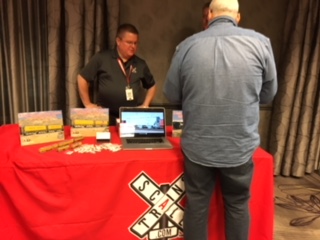 Shane Wilson, President of ScaleTrains with an attendee
Prototypically Correct!
Dan Huberman, president of North American Railcar Corp presented "The Boxcar Nobody Would Make." Huberman focused on the company motto: building toolings that feature detail, accuracy and quality and are truly representative of prototypes. In particular, Huberman discussed the 36 structurally different versions and 93 paint versions of the
Pullman Standard 5077 cu.ft. single door box car
, which will be available in 2018. Huberman noted some of the unique features these 36 versions will showcase, including side sills, under frames, roof heights, ends and door styles.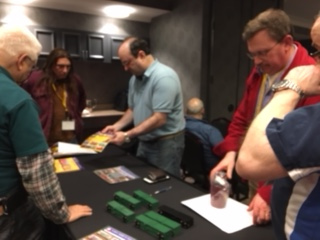 Dan Huberman President of North American Railcar Corp (in blue shirt)
Huberman had sample H0 models to show attendees what the n-scale models would look like. North American Railcar Corp is part of Pacific Western Rail Systems (PWRS), the largest model train store in Canada, which sells other company's products like Micro-Trains and Fox Valley. However, not many people know of the subsidiary, North American Railcar Corp, which makes its own toolings (available only through its own website) and does not sell to stores.
Huberman also mentioned two new cars coming out:
National Steel Car 5093 c.f. combo door box car
and the
K+S Potash Canada
, a new blue covered hopper that models a brand new prototype that is being produced by K+S Potash Canada since August 2017. Potash is used to help fertilize soil. The n-scale model will feature many Canadian road names and be available in about 18 months.
I got a chance to chat with Shane Wilson from Scale Trains and Fox Valley Models' Matt Gaudynski. ScaleTrains announced the
Greenbrier (Gunderson) 5188 cubic foot covered hopper
(due out this summer) at the show and had pre-production samples of this model.
On the horizon?
When asked what consumers could expect to see in 2018 and going forward in the industry and from their companies, both men echoed familiar themes: engines with factory-equipped DCC and sound capabilities and more highly-detailed cars with refined detailing such as see-through walkways, roof extension vents and railings.
Eric Smith, President and CEO of MicroTrains talked to me about some of the already-announced releases, such as the
DODX 68' FGE Heavy-Duty Flat Car with M-1 Abrams Tank Loads
(which he expects to be released by the National N-Scale Enthusiast convention in Salt Lake City, Utah this June). He noted that the tanks (which will be available as stand-alone items) on these military trains are made using injection molded tooling (versus resin and white metal used in the past), which allows for more detail and uniformity in size. He noted that military items are very popular and hopes customers will like this option.
In 2018 and going forward, MicroTrains will continue to expand on their heavyweight passenger cars and produce more freight cars that will be more prototypically-accurate. These cars will have new underframes (so the bottom of the train car to the top of the rail will be lower and more realistic to real-life prototypes). In order to create more detailed and accurate cars, MicroTrains will use injection-molded tooling (versus etched metal) to create see-through roof walks. Other details to look out for will be a brake wheel step (in etched metal) and of course, the ever-popular body-mounted couplers. MicroTrains will begin re-tooling its existing (out-of-date toolings that harken back to the 1970s when the company first started in n-scale) boxcars beginning with 50 foot cars and then moving on to 40 foot cars. "Customer expectations are higher and MicroTrains is responding to that," said Smith.
Over the course of Saturday and Sunday, I chatted with a number of n-scale vendors and have written
N-Scale Manufacturer Highlights: 2018 Amherst Train Show.
Feedback from attendees was quite positive. Many did say they would appreciate more presentations / slide shows from manufacturers. Kudos to Bob Fallier, president of NE-Ntrak club, which runs Winterfest, for putting together this first Manufacturer's N-Scale Mini-Show!
As an aside, it was quite apropos to hear a freight train rumble by the hotel while writing this blog article.
Saturday
Similar to last year, it was kind of neat and apropos to see some prototypes (several 30,000 gallon tank cars) standing idle on the tracks adjacent to the show entrance. (You can read my 2017 inauguration to this mighty train show event
"What to Expect at the Amherst Train Show")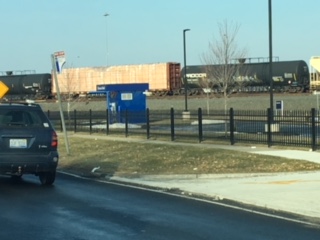 Getting into the show meant a long wait as there was a long line to get into the parking area at Gate 9. George Michaels, NE N-Trak Vice President (in charge of DCC for the n-trak layout in the Better Living Center) did not have any delays getting into the parking area as he got to the show by 7:00 a.m. because there were unresolved DCC issues from the previous night.
I got to chat a bit with
Lowell Smith,
who works primarily in n-scale and works with vendors (mostly MicroTrains) to create special run products. He supplies the art work/graphics for trains that he "wants to see produced in his lifetime" and the manufacturers supply the toolings. He did mention that he has bought the Walthers' toolings for n-scale passenger cars and plans on producing more special run products.
I stopped by the
T-trak layout
and chatted with Fay Chin, a true T-trak talent. He happily reported that this year's T-trak layout was the largest ever for Winterfest and included some 88 modules from club members who hail for Canada, Georgia, NY, NJ, Maine, CT and MA. In addition to all the modules, Fay had a special table that included mini-scenes that he created as a way to show folks how to add animation (add interest to the module) to their layouts. There were samples of lighting (bulletin boards and signs created using 3D printing) and action (a backhoe at work).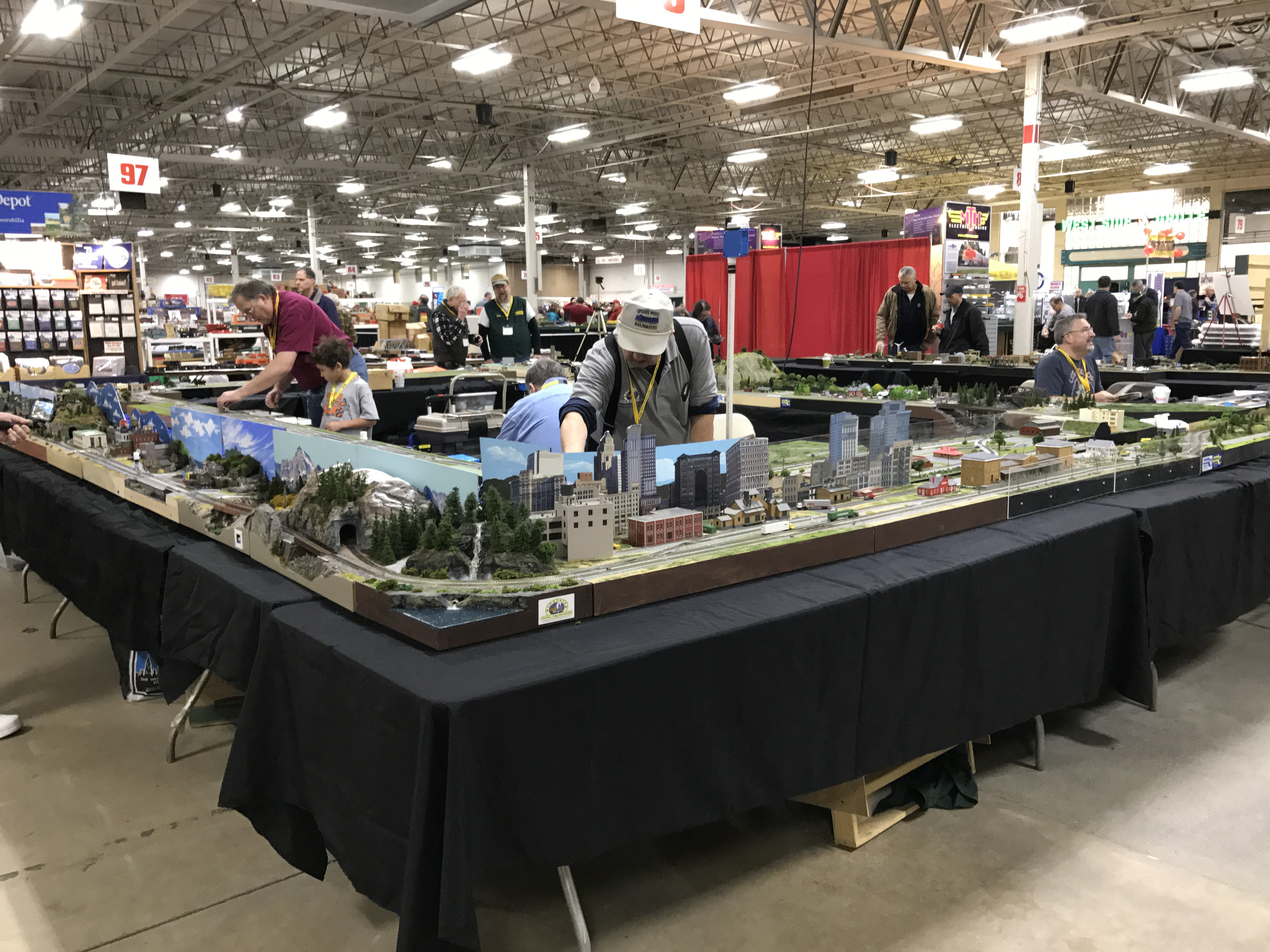 Northeast Region T-TRAK layout
You can read Fay Chin's show re-cap
"Northeast Region T-TRAK at 2018 Amherst Railway Society Railroad Hobby Show."
Pix on Facebook
In addition to the t-trak layout, I took lots of pictures and videos of both n-trak layouts (Mallory building and Better Living Center). They are posted on the TroveStar facebook page:
2018 Winterfest n-trak
,
2018 Winterfest t-trak
and
2018 Winterfest videos.
Saturday: Banquet Dinner
The Winterfest dinner banquet was chock full of good 'ole comradery, contest and special recognition awards, freebie giveaway items, raffle prizes and a short presentation on the N-Scale Model Trains Database on TroveStar. You can visit the
Northeast N-TRAK website
to see contest winners. According to Bob Fallier, the organizer for Winterfest, folks were awarded or given merchandise worth more than $8,000 retail. Thank you to the many manufacturers and retail stores who donated products.
While folks gobbled up their cheesecake dessert, guest speaker Lowell Smith shared some of his story as a "lifer model railroader who always loved trains." He first got into n-scale in 1968 (when boxcars cost $1.99). Model railroading really took off for him with the advent of DCC, which allowed him and his fellow model railroaders to run trains realistically / prototypically.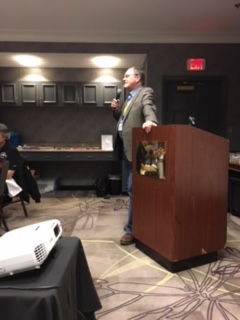 Lowell Smith
At the end of this talk, he encouraged the audience to pass along the love of this hobby. (As a little kid in the grocery store, he wanted a magazine on model railroading, but his mom said he couldn't have it. However, an older gentleman bought it for him.) And now he's producing Lowell Smith Special Runs!
Hats off to the Amherst Railway Society. For more than 50 years, this organization has been dedicated to educating and informing the public about model railroading and railroads in general. The Society also dons a philanthropic hat and has donated over $750,000 to railroad preservation and restoration projects all over the United States. Thank you!
See you in 2019!