Atlas to Release Modern NJ Transit Commuter Train in N Scale
Published: 2018-02-13 - By: Jenna
Last updated on: 2021-08-13
visibility: Public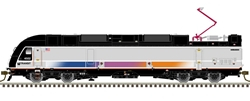 ATLAS MASTER® N ALP-45DP LOCOMOTIVE
The ALP-45DP loco and multi-level commuter cars were a big hit in HO so it's no surprise that Atlas officially announced (on February 7th) that it will release an n-scale version of this commuter train set under its Master product line.
(I stopped by the Atlas booth at the Amherst Train Show in late January, and got the chance to see teaser models (unpainted versions) of this loco along with the multi-level commuter and cab cars it pulls. Please see our blog,
N Scale Manufacturer Highlights: 2018 Amherst Train Show.)
The pre-order due date is Wednesday, March 14th with an estimated release date of 3rd quarter 2018.
Silver version MSRP ($149.95); Gold version ($259.95) and 3-packs: cab and trailer ($179.95); commuter train set ($274.85).
This loco and commuter/cab cars represent completely new n-scale toolings for the New Jersey-based company. It is based on modern equipment used by NJ Transit, which shuttles 300,000 commuters to and from New Jersey to NYC every day. It's no secret that model train enthusiasts like to model what they see, especially modern equipment. "Folks see this as a regular site here in New Jersey," said Eric Mosher, Vice President of Marketing, Atlas Model Railroad Co. "This was a big hit for us in HO so it made sense to produce an n-scale model," added Mosher.
The commuter train set will come with the dual mode ALP-45DP loco capable of drawing power from either overhead electrical wires or its own pair of 12-cylinder Caterpillar diesel engines. These flexible locomotives were designed to provide a one-seat commute from NJ TRANSIT's various diesel-only lines into the electrified territory that leads to New York City's Penn Station.
It will also feature multi-level coaches and cab cars [with and without toilets ($54.95) (you can tell which car has a toilet by the missing rear window.)] The cab cars ($69.95)(which have no power) but allow train engineers to remote control the "push-pull" operations of the train (ie this eliminates the need for the train to turn around, thus saving commute time and money).
The cars and cab will come in a variety of road numbers including several with safety slogans ($59.95), such as Hands Free and Power Steering.
Similar to
other engine product announcements from Atlas over the past year
, this loco will be available with and without built-in DCC-Sound functionality.

N MULTI-LEVEL TRAILER W/TOILET NJ TRANSIT
Some coach features will include: interior includes seat details and LED illumination, separately applied lift lugs, end barriers, and rubber diaphragms.
Some cab car features will include: provision for mounting a speaker, separately applied air horn, antenna, lift lugs, end barriers, and rubber diaphragms.
Both coaches and cabs will feature free-rolling metal wheels and body-mounted couplers, two features indicative of 3rd generation rolling stock. Please see our blog
The Evolution of N-Scale Rolling Stock Models.
Here is a link to the
Atlas website page
for this announcement.
On the horizon:
According to Mosher, Atlas plans on officially announcing the Canadian version of this commuter train set, the AMT (AMT is the Montreal equivalent to NJ transit, transporting commuters from the suburbs of Montreal to Montreal proper.)