Athearn 57 ft FGE Mechanical Reefer with Sound
Published: 2018-04-19 - By: gdm
Last updated on: 2021-01-01
visibility: Public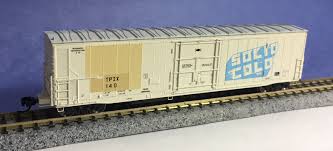 NOTE: This review has been edited/updated based on information shared by Christopher A. Palomarez, Brand Manager, Athearn Trains. Thank you Chris!
The Athearn 57 foot FGE (Fruit Growers Express) mechanical reefer is a newer model that was first released in 2014. Athearn has done an excellent job of producing a
3rd generation rolling stock model
at a reasonable price. The prototype is the
FGE (Fruit Growers Express) 57 foot (50 usable) mechanical reefer,
which was developed in the early 1970s by FGE.
This model has been re-released in 2018 with a variety of paint schemes in both basic and sound-equipped versions. Each paint scheme/road number combination is available in both versions.
This car has a peak roof and smooth side and is very similar to Athearn's PC&F 57 ft reefer, which has a curved roof and rib sides. Thanks to Chris Polomarez, Brand Manager, Athearn Trains for clarifying this.
The FGE reefer comes in a total of five body styles. Two body styles have different under frames, one is considered a "rebuilt" version where the refrigerator compartment was
opened up.
Another has "bead welded" sides where as all the others are riveted, and the last a a straight side sill where as the others have a "fish belly" side sill.
Model features
Specifically, the new release features body-mounted McHenry knuckle couplers (Athearn is revamping its entire n-scale line to body mounted couplers), blackened-metal low-profile wheels, and an array of stirrup and underbody detail parts.
Metal wheelsets
The wheelsets have high-quality blackened metal low-profile wheels. They are VERY low profile, which look really good and as far as I have tested, run fine on Code-80 and Code-55 track. The version I tested has the sound module (more on that soon) and the metal wiper adds some friction to the wheels, which means they aren't as free-rolling as non-sound versions. That being said, the friction is not overwhelming, so unless you run 20 of these things (sound version), your locomotive likely won't complain.
Excellent detail
The detail is excellent. I really like the stirrups; similar to the wheels, they really strive to be prototypically scaled. I believe they may be wire (not plastic) as they feel very durable and look simply too thing to be produced using injection molding. This is a REALLY nice touch. Furthermore, the underframe detail is excellent. The rod details are superlative but appear to be able to take some handling without breaking - a difficult task to achieve. The end platforms are painted etched metal and it appears the plaques above them are separate detail parts. The only thing one might ask for beyond this would be for the ladders to also be detail parts. I suppose the grills covering the mechanical refrigeration units could be etched metal too, but I won't hold my breath for that.
McHenry couplers
As readers of my reviews have surely noticed, I am not a huge fan of McHenry's. They will couple with MTL's but not particularly well. This really comes into play if you run long trains. This may be OK for 10 car consists on your home layout, but when there is enough tension or height differential between different coupler types, breakaways become common and are very disruptive when you are participating in a busy NTRAK meet. Enough said. They are operating knuckle couplers and they do (pretty much) work with other knuckle couplers. They are also body-mounted, which looks nice and operates well (except on tight radius turns).
Sound effects
OK, so finally on to the sound module. Like the
Broadway Limited Stock Cars
, some of these cars contain sound modules to produce prototypical sounds. "We added the sound module as an option for the modelers that want to capture not only the look of the real thing but the essence as well," says Palomarez. The sound module picks up power from the track and generates 'reefer' noises of a modern mechanical refrigerator box car equipped with an inboard or exposed engine/condenser unit that provides active cooling to the perishable load. The sound periodically powers down and then cycles back up again. It runs on either DC or DCC power (though I only tested with DCC). I suspect that if run on DC track that it will only work if the throttle is above 25% or so. The sounds are pretty cool. Maybe not as distinctive as the BLI models' livestock sounds, but still quite interesting. The sound would definitely get lost in the noise of an NTRAK meet, but for home layouts, the sound is reasonably loud. I tested it in my kitchen using a T-Trak DCC module and could easily hear the sound over the ambient noise of our dishwasher. Not too bad. I have never heard an FGE reefer in person but based on the
youtube video of a similar car with the mechanical refrigeration unit running
(shared by Athearn's Palomarez), I'd say Athearn's sound effects are pretty impressive.
The models with sound have an MSRP of $60 and retail around $45. The non-sound models have an MSRP of $30 and retail for about $23. The non-sound models are a reasonable price for what you get, which is a fully-3rd generation piece of rolling stock. The sound models are a little gimmicky, but not overly pricey for what you get and in my opinion are pretty darn cool (pun intended).
For a full list of all the cars of this body style on TroveStar
please click here.