Atlas Announces New Paint Schemes for N scale Trainman 60 foot Passenger Cars
Published: 2018-05-04 - By: Jenna
Last updated on: 2018-05-05
visibility: Public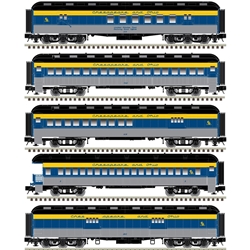 Atlas Trainman 60 foot passenger cars
In its May 2018 All Scales Monthly Catalog, Atlas announced it will re-release its Trainman 60 foot passenger cars in new paint schemes.
The pre-order deadline for these items (MSRP $23.95) is Wednesday, June 13, 2018. Estimated arrival is Q4 2018.
These cars will come individually (MSRP $37.95) and in 5-packs (MSRP $179.95) for the Rio Grande, Central RR of NJ, Milwaukee Rd, Boston and Maine, NY Central and Grand Trunk Western (each with a different combination of baggage, RPO, Combine, Coach and Observation cars). Here is a link to the
May 2018 All Scales Monthly Catalog pdf.